WATCH: As Indian Army Carry Medicines to Help the Affected, Kerala Residents Applaud Standing in Deep Water
'Wherever you go, we'll save you,' wrote Indian army on Instagram.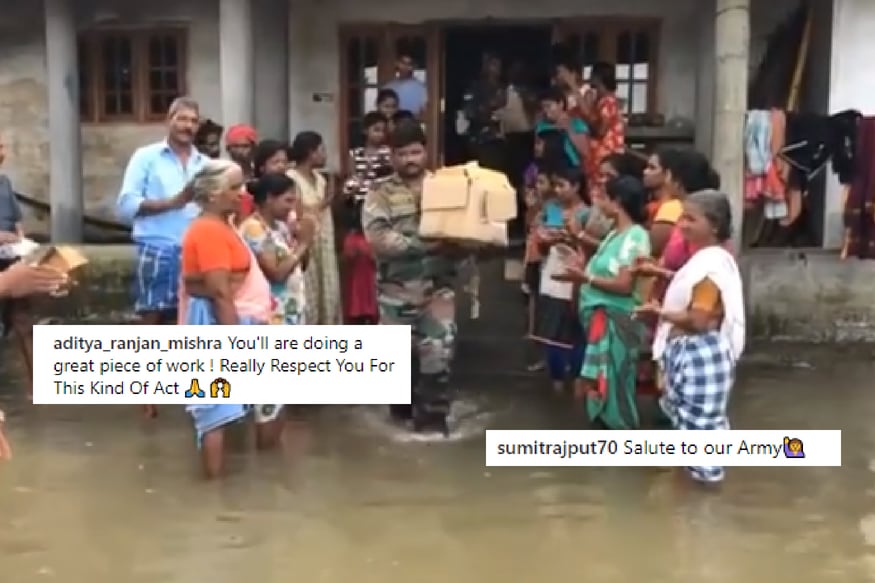 Image credits: Indian Army / Instagram
Kerala and its residents have seen a lot in the past couple of weeks.
After the chaotic rainfall, floods, and landslides, the state also saw a lot of heroes emerge to bring Kerala back on its feet.
Recognising their round the clock efforts to rescue the distressed, the fishermen were given a superhero-like welcome when they came back home. And, now, a video of the rescue and relief operations carried out at Chatengkeri by Indian Army is winning hearts on the Internet.
The video shared by the official handle of the Indian army on Instagram shows several residents standing in ankle-deep water as the army men carry boxes of medicines.
"2018 Rescue & relief ops carried out at Chatengkeri. Engineer Task Force of 120 Engineer regiment along with Military Hospital Thiruvananthapuram carried medicine to affected people."
"Salute to our Real HEROS," wrote one user. "Take pride in being an indian." "jai hind Mere desh ke sainik Jaan ki parwah kiye bina logo ki Madad krte h," wrote another. A quick look at Indian army's Instagram account shows how the army personnel have been selflessly working to keep the citizens safe.
Earlier, a rescue operation carried out by Indian Navy Commander Vijay Verma earned him praises from the citizens.
Verma had managed to save a pregnant woman stranded on the roof of her house in flood-ravaged Kerala.
A 'thanks' note was left, painted on the roof of a house from where he had carried out the rescue mission.
#OpMadad #KeralaFloodRelief #KeralaFloods2018 A Thank You note painted on the roof of a house where the Naval ALH piloted by Cdr Vijay Varma rescued two women. Bravo... pic.twitter.com/xsaD1RfeIk

— SpokespersonNavy (@indiannavy) August 20, 2018
The efforts of Indian Navy have been applauded on several occasions. Captain P Rajkumar had earlier landed a helicopter on a narrow rooftop, rescuing 26 people in a daring attempt.
Yup. We can land just about anywhere. That's a @indiannavy Seaking 42B on a narrow rooftop evacuating people in #KeralaFlood The story gets even more amazing. (See my next tweet) pic.twitter.com/3GPg2JC0ra

— Shreya Dhoundial (@shreyadhoundial) August 18, 2018
The Indian army, fishermen, volunteers, and the common man have been working tirelessly to ensure Kerala and the residents get the much-needed assistance in these testing times.
Get the best of News18 delivered to your inbox - subscribe to News18 Daybreak. Follow News18.com on Twitter, Instagram, Facebook, Telegram, TikTok and on YouTube, and stay in the know with what's happening in the world around you – in real time.
Read full article