Watch British PM Theresa May's Viral 'Maybot' Dance Videos from Her Africa Trip
May's got the moves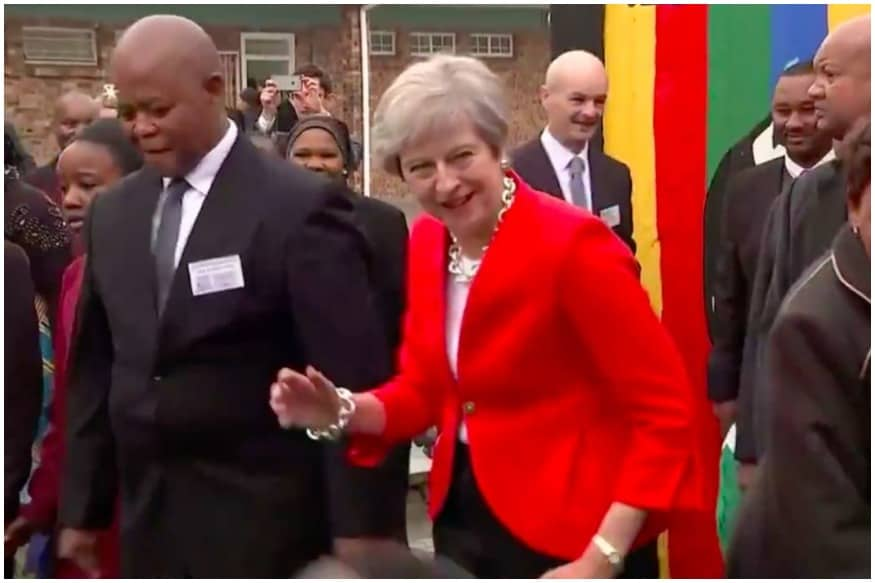 May's got the moves
The British are known for their stiff upper lips. But UK Prime Minister Theresa May's latest dance moves in Kenya prove that it's not jut the English lip that's stiff.
May, on the last leg of her Africa trip, decided to break into a dance with some scouts of  United Nations' Nairobi campus.
The UK PM had been visiting the Nairobi Camp to launch a new 'plastic challenge' badge for volunteers and she was accompanied by UN Environment chief Erik Solheim. At the end of her interaction with young volunteers, the scouts broke into a jig and May too joined the merrymaking.
May, who has a reputation for being a stiff dancer, showed some awkward moves, as can be seen in this video:
Theresa May filmed dancing again on her African trip pic.twitter.com/Zq4vXTpV07

— The Independent (@Independent) August 30, 2018
There to discuss trade ties between UK and Africa, this was the second time May broke into awkward dance, much to the delight of the Internet. The first one was in Cape Town at the beginning of her trip when she danced with school children in senior secondary school.
PM Theresa May dances with school children during her South Africa visit 😎😍https://t.co/TiBqPVEtuZ pic.twitter.com/qZ4e9jGoWj — Bali Promotion Center💅 (@translatorbali) August 28, 2018
In both videos, May can be seen performing robot-dance sequences that had the internet in splits, with some calling her 'Maybot':
#Maybot trying to dance. Hilarious. @Theresa_May #capetown https://t.co/z8tVREYTZ8

— Frank Karimba (@KarimbaFrank) August 28, 2018
"Wobbling like a fridge", 🇬🇧 Theresa May @theresa_may shows off her "Maybot" dance move in South Africa 🇿🇦@guardian asks if it was incredible, cringeworthy – or a threat to international diplomacyhttps://t.co/3lMazGNsrShttps://t.co/plO9NMZKWH — SaadAbedine (@SaadAbedine) August 29, 2018
@theresa_may's last dance in Africa #FridayFeeling #TheresaMayDancing pic.twitter.com/M4UD4lsAGV

— Northernmonkey_ (@Honest_Reply) August 31, 2018
Where is @theresa_may's press team telling her to NEVER DANCE AGAIN!?! https://t.co/xEAAyKk5ec — Ben (@benh96) August 31, 2018
I expect @theresa_may to have a dance DVD out for Christmas 2018. pic.twitter.com/oRlvUKdEvZ

— Jayne Mortimer (@jaynemortimer) August 30, 2018
Who was your dance teacher Mr bean pic.twitter.com/Sd0tYsG1WT — a.l.f ♈ (@simpson_anton) August 29, 2018
But despite all the memes, May sure looked like she was thoroughly enjoying herself.
Get the best of News18 delivered to your inbox - subscribe to News18 Daybreak. Follow News18.com on Twitter, Instagram, Facebook, Telegram, TikTok and on YouTube, and stay in the know with what's happening in the world around you – in real time.
Read full article