WATCH: Little Hanuman's Unexpected Twist to 'Jai Shri Ram' Has Left the Internet in Splits
It happens only in India.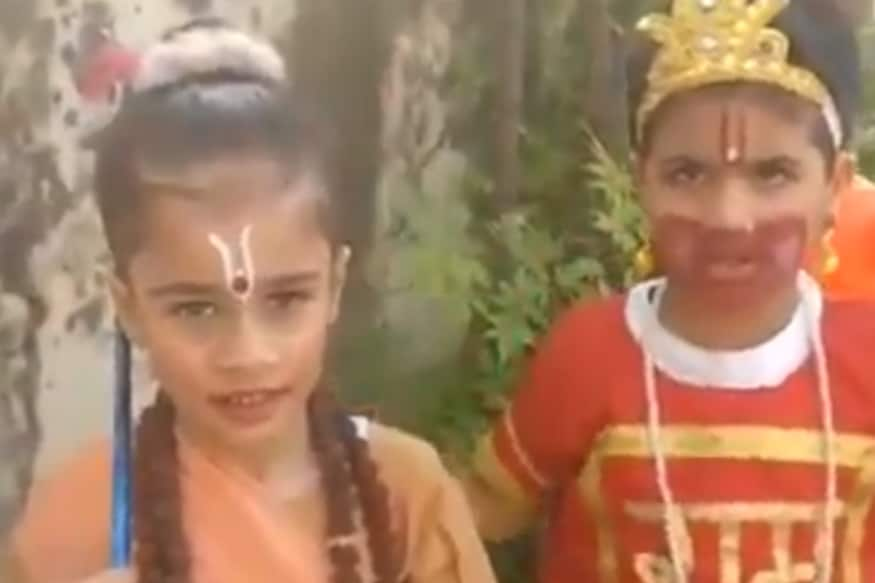 Image credits: @nihang / Twitter
The Internet is a gift that keeps on giving.
Union Minister for Science and Technology - Harsh Vardhan recently turned heads on social media after he portrayed Sita's father Janak during the Luv-Kush Ramlila at Delhi's Red Fort
And, now, a little boy dressed up for Ramlila has left the netizens chuckling with his cute innocence.
Like every year, Vijayadashami or Dusshera - a day that marks the end of Ramlila and commemorates lord Rama's victory over the Ravana - was celebrated with great zeal across India. Each year, children dress up in fancy, mythological costumes to celebrate the day, either in school or in their home and neighborhood.
This year, taking a cue from this cosplaying tradition, a boy dressed up as Hanuman and was seen chanting slogans of 'Jai Shri Ram' on Dussehra. The boy has since gone insanely viral on microblogging site Twitter. However, if you're wondering what is so remarkable about a kid in a  Hanuman costume on Dusshra, here's the catch.
The boy follows up his 'Jai Shri Ram' slogan with popular Punjabi phrase 'Waheguruji da Khalsa Waheguruji di Fateh'.
Titled When Hanuman lands in Punjab, the video was posted on Twitter on Friday and has been viewed almost 50K times.
When Hanuman lands in Punjab pic.twitter.com/NZu2sLBR6x

— ਸਰਬਜੀਤ ਸਿੰਘ (@nihang) October 19, 2018
Everyone who watched the video shared the same feeling.
Precious.. — Chicago007 (@Chicagos007) October 20, 2018
agar punjabi nahi hotey iss desh mein to wo iss desh ka sabse Bada durbhagya hota, gazab ke hi log hai, Dekh kr sunn kar Anand ka Anubhav karwate hai ye log!

— sagar yadav (@sagaryaduvansha) October 19, 2018
Jai shree Ram. Wahe guru ji da khalsa wahe guruji di fateh.. !!!:) — Shiv Kishore Mishra (@shivkishore_) October 20, 2018
Awww....made my day ,,,, Jai Shree Ram, wahe guruji ki khalsa, wahe guruji ki wateh❤

— Chinky Dube (@ChinkyDube) October 19, 2018
How cute and innocent... — Katherine (@Katherine050416) October 22, 2018
मासूमियत at its best

— vikas awasthi (@VikassAwasthi) October 20, 2018
hahahahahhahhahahahha sooo cute...... — Uday Singh (@udaysin67469919) October 20, 2018
बहोत सुंदर। प्यारा बच्चा हैं। cute..

— हार्दिक (@hardik9900) October 21, 2018
Wow so nice to hear....Jai Jai Shri SitaRam...Shri waheguru​ ji ka khalsa Shri wahe guru ji ki fateh — Deepesh Pandey (@deeps_dp85) October 21, 2018
Read full article
Countdown To
Elections Results
To Assembly Elections 2018 Results