Watch: Some Russians Disguised Themselves as a 'Human Bus' to Cross Vehicles-Only Bridge
'When in doubt, be a bus'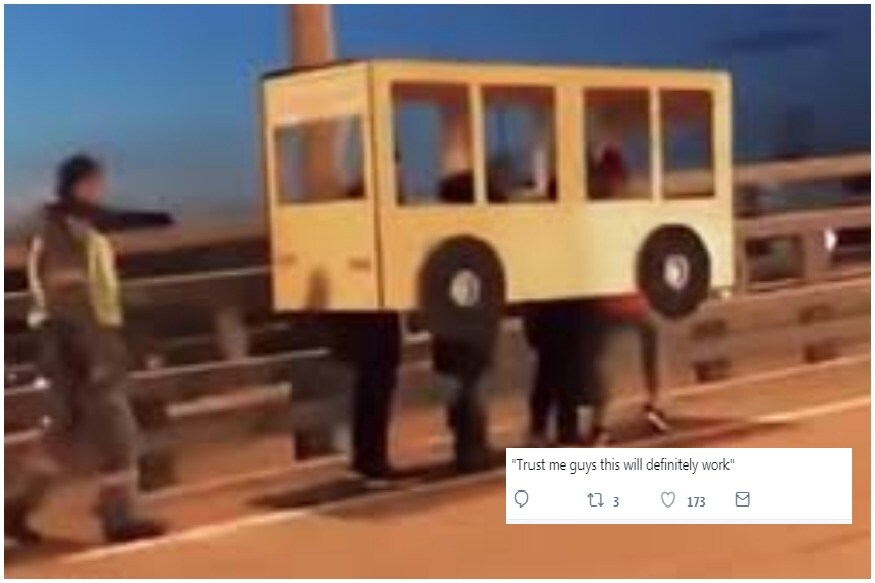 'When in doubt, be a bus'
In a bizarre incident, a group of decided to dress up as a bus to cross a vehicle-only bridge. The hilarious incident took place on the 2 km long Zolotoy Bridge in Vladivostok.
The bridge, which opened in 2012, was closed three years later to pedestrians for safety reasons. However, in a video shot by another driver on the bridge, a group of people can be seen disguised as a 'human bus'. The were huddled together under a yellow 'bus', which seemed to have been fashioned out of cardboard.
Золотой мост во Владивостоке закрыт для пешеходов. Но русской смекалке запрет не помеха: четыре жителя города притворились автобусом и таки попали на мост pic.twitter.com/37nXHihufZ

— Snob (@snob_project) November 13, 2018
The creative lawbreakers did not make it too far however as midway through the video, a security personnel can be seen approaching the 'bus'. Reports remain unclear about whether the people were punished for the act or not.
According to reports, locals in the area had protested against the walking ban on the bridge, claiming it was a major inconvenience. They said it was easier and faster to walk the bridge to be caught in traffic on the bridge.
Videos of the incident were widely shared on the internet with many lauding the lawbreakers for their creativity. The clip also became a meme in absolutely no time.
it's different out East. 4 men in Vladivostok try to cross no-pedestrians bridge by pretending to be a bus. GAI not amused, it seems https://t.co/2PGDWrXvUo

— greg white (@whitegl) November 13, 2018
I only hear good things about Vladivostokhttps://t.co/KJPI9TCTNr

— Scott Rose (@rprose) November 13, 2018
November 13, 2018
"Trust me guys this will definitely work"

— EatSleepCode (@codejs42) November 13, 2018
November 13, 2018
I don't understand how it didn't work. I mean, it was spot on.

— Travis Rexrode (@travis_rexrode) November 13, 2018
November 13, 2018
This is the drunkest thing I've ever seen.

— Ashley (@OohlookitsAsh) November 13, 2018
When in doubt, be a bus, like these Russians on Vladivostok's Zolotoy Bridge https://t.co/B2Bmo4Mrzu pic.twitter.com/eLZBYB5Gpi

— The Moscow Times (@MoscowTimes) November 13, 2018
Get the best of News18 delivered to your inbox - subscribe to News18 Daybreak. Follow News18.com on Twitter, Instagram, Facebook, TikTok and on YouTube, and stay in the know with what's happening in the world around you – in real time.
Read full article