Watch World's Shortest Horror Story Unfold on Camera as Bear Cub Tries to Climb a Snow Mountain
The 3-minute video has had the Internet on the edge of their seats.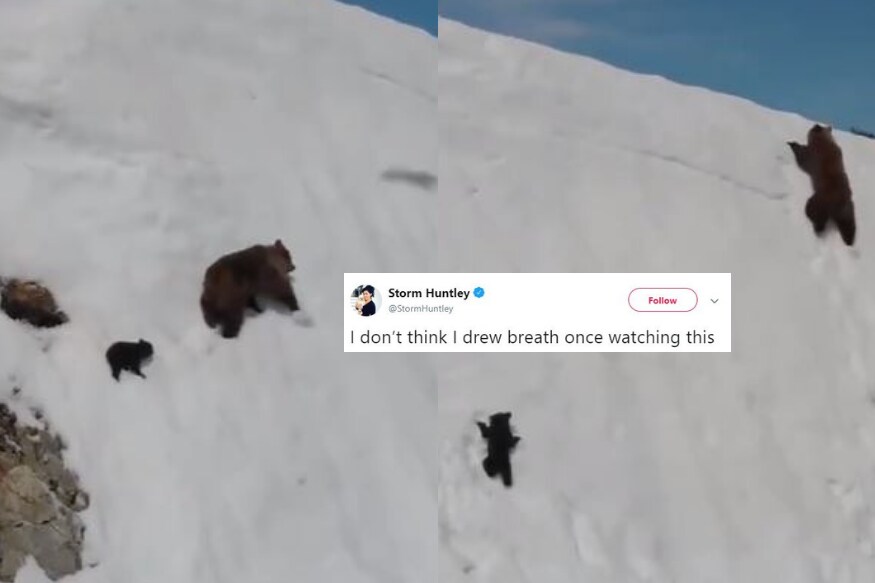 Image credits: Storm Huntley / Twitter
The Internet was on the edge of their seats after a video of a bear cub struggling to reach its parent surfaced on social media.
In what seems like a drone footage, a bear along with its kid is seen making its way atop a snowy mountain when things go downhill and the cub slips down the steep range.
Determined to scale the peak and reach its mama, the cub starts its journey all over again only to slide down the treacherous slope as the parent looks on helplessly.
The video shared on Twitter by user @StormHuntley on Sunday has been viewed more than 10 million times and Twitterati were left gasping for air.
I don't think I drew breath once watching this ... pic.twitter.com/YzGg4gLIkG

— Storm Huntley (@StormHuntley) November 4, 2018
All of us.
This is my girlfriends reaction the whole time😅 pic.twitter.com/98rYhVZ40c

— Jamie Hooks (@HooksJamie) November 4, 2018
— Nuisance Gamer (@NuisanceGamer) November 5, 2018
Wow! That had me on the edge of my seat Storm, I wanted to fast forward but couldn't just incase the outcome wasn't what we all wanted? That's one 'eck of a plucky cub, but I'd put myself in the place of Dad having to go home to Mam having to explain how Jnr. was not with me? 😱

— granchahayes (@granchahayes) November 4, 2018
I can't breath watching that either man! 😂

— Ashley Garwood (@ash_garwood) November 4, 2018
That was more tense than watching the Bodyguard.

— Mark Bickley (@MarkBickleyart) November 4, 2018
But did the good people of web learn anything from a 3-minute video? Yes. In fact, the Internet was rooting for the cub, wanting it to succeed after several failed attempts. "A lesson in 'if you want something enough you have to work for it', wrote one user.
Wow 😲 this shows that you never give up by all means however hard it is, just keep trying till you achieve your goals.

— Is-haq Early (@ishaqearly) November 4, 2018
Oh my God - that little bear has marvellous perseverance - natural instinct to scramble after mummy bear but what a task ....👍

— Alison Donovan (@grannygermalee) November 4, 2018
The fight for survival right there! Magnificent footage.

— Andy Cameron MBE (@andycameron1940) November 4, 2018
Same.
Didn't think I'd spend part of sunday morning cheering a bear up a mountain on my phone 😂

— Stuart Fisk (@StuartFisk) November 4, 2018
I had to fast farward to the last 5 second to make sure he got up.

— Richard (@RJCM0811) November 4, 2018
I did a little cheer when he got to the top.

— Denise Evans (@DeniseKEvans) November 4, 2018
Anyone else give a little cheer when he got up?

— Darren Boyce-Smith (@Boyce_SmithDJ) November 4, 2018
While others were busy debating if the adult bear in the video was a mother or a father.
Perhaps it was Daddy bear.

— [phil] (@RedLlwynog) November 4, 2018
Safe to assume its the mother,most male bears kill cubs on sight . As for the little one,who knows but tough little one to be sure.

— Jennifer (@Jen_Win_) November 4, 2018
It's not the point. It's the assumption. Most people on here aren't bear experts, they assume.

If men assume things like that we get hammered, women always worm their way out of it. They assume it's their role to be the nurturers but get annoyed if we suggest that they are.

— [phil] (@RedLlwynog) November 4, 2018
Of course, there were puns too.
I guess you could say you couldn't bear to watch it.... pic.twitter.com/XYRWI82h4f

— Jamie (@Jamie__1739) November 4, 2018
I had to PAWS it many times

— . (@Owls2k) November 4, 2018
— Amritpal Singh (@SusoSingh) November 4, 2018
Get the best of News18 delivered to your inbox - subscribe to News18 Daybreak. Follow News18.com on Twitter, Instagram, Facebook, Telegram, TikTok and on YouTube, and stay in the know with what's happening in the world around you – in real time.
Read full article