What Can India Inc Do to Safeguard Women Employees Now that #MeToo India is Here to Stay?
With a flurry of complaints being received from their female employees, corporates are now worried about the spotlight shifting to their organisations and are quickly taking measures to implement sexual harassment policies.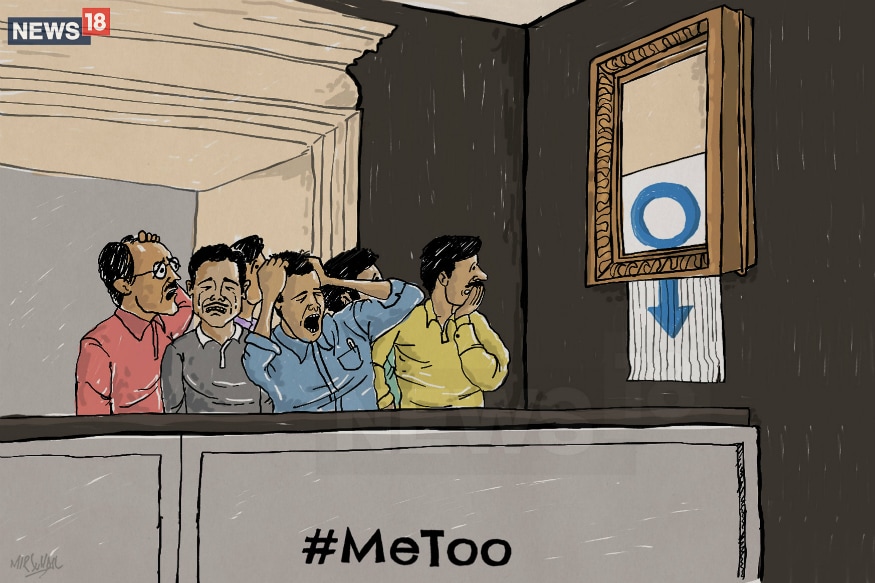 News18 Creative by Mir Suhail
It is said that the genesis of India's MeToo movement occurred back in 2017 in the Malayalam film industry, even before allegations against Harvey Weinstein sparked the movement in the US. At that time, however, there was no support from Bollywood artistes.  A year later, on 26th September 2018, Tanushree Dutta's accusation of sexual harassment against Nana Patekar led to spate of public accusations from a number of women in the film industry.
Within less than a month, Dutta's accusations spiralled into a India's own MeToo movement, which spread like wild fire to the world of media, politics, financial institutions and even educational institutions, where positions of power had been abused by men to attempt to gain sexual favours from women subordinates or those in a weaker position. Victims who had chosen to remain silent out of fear of recrimination or even social ostracism have now, thanks to MeToo, got the strength to voice their anguish and pain for the things they had been made to suffer.
Complaints have also been made about corporate honchos in offices, though these allegations are usually publicised less. The Visakha case followed by the passing of The Sexual Harassment of Women at Workplace (Prevention, Prohibition and Redressal) Act, 2013 laid down the measures needed to be taken to ensure that women are protected against sexual harassment in the workplace. An Internal Complaints Committee (ICC) is required to be set up to which any aggrieved woman can submit a written complaint and orientation programmes have to be conducted for the members of the ICC. The ICC should make a fair and full enquiry into the complaint and based on its finding recommend punishment. A safe working environment has to be provided at the workplace and the employees have to be sensitised on the provisions of the Act by holding workshops, etc. Many corporates have however been very lackadaisical or tardy in implementing the Act and getting their sexual harassment policies in place.
Now with a flurry of complaints being received from their female employees, corporates are worried about the spotlight shifting to their organisations. Those who do not yet have their policies in place are hurriedly getting their ship in order. Still others are taking steps to build awareness regarding the existing policies by educating their employees and holding regular training sessions. Complaints are also being taken seriously which earlier were brushed under the carpet or the victims even chastised for complaining.
I, in my capacity as lawyer and independent member on the ICC of certain large corporates, have been fortunate that the companies I worked with had well framed policies, my co-members were aware of their duties and conducted the enquiry in a fair and open manner. However that is often not the case. I have heard complaints from many independent members as well as Presiding Officers that the sexual harassment policies followed by many corporates still leave much to be desired. Most members of the ICC are untrained and blissfully unaware of what is expected of them. Female employees continue to be afraid to openly complain about the harassment faced by them and complaints which are filed are not adequately dealt with and the perpetrator goes unpunished.
This has led to various individuals and women's organisations taking up the cudgels to support women who have spoken out. As far as the Government is concerned, the National Commission for Women in India has set up a dedicated email address, ncw.metoo@gmail.com for women to submit their complaints to.
In the private space too there are various individuals offering assistance to victims under the MeToo Movement. Some lawyers have offered pro bono services and consultations for those who have been threatened with defamation for daring to voice their grievances or who choose to go the route of filing an FIR.
Other women too have shown the desire to be there for their counterparts in distress. Recently I met a dozen senior business women who are Managing Directors and Senior Creative Directors in advertising and design who called themselves The Collective. They wish to establish a mechanism for all voices of women employees in the corporate world to be heard and to ensure that their employers take cognisance of the complaints. They are in the process of firming up their plans including taking legal advice.
The Ladies' Wing of the IMC Chamber of Commerce and Industry is planning to hold a round table comprising of representatives from the fields of law, police, the corporate world, independent members of ICC and even a psychiatrist to discuss how this movement can be helped and strengthened. They are also working towards conducting  workshops to train both the external and internal members of ICCs.
With so much sympathy and encouragement being showered on MeToo, it seems tat the Movement is here to stay, but it is essential that we women too show some responsibility while using this powerful tool. If false and malicious complaints are filed and innocent men are accused and harassed, it will bring disrepute to the entire movement and cast a shadow on something which is far-reaching, laudable and absolutely necessary to improve the position of women in this male dominated world.
(Ms. Mohana Nair is a corporate lawyer specializing in Banking, Insurance, Company, Intellectual Property and Information Technology laws. She is also the President of the Ladies' Wing of the IMC. All views expressed are personal.)
Read full article