What is a 'Corpse Flower' and Why is Everyone Talking About It?
Drama in the garden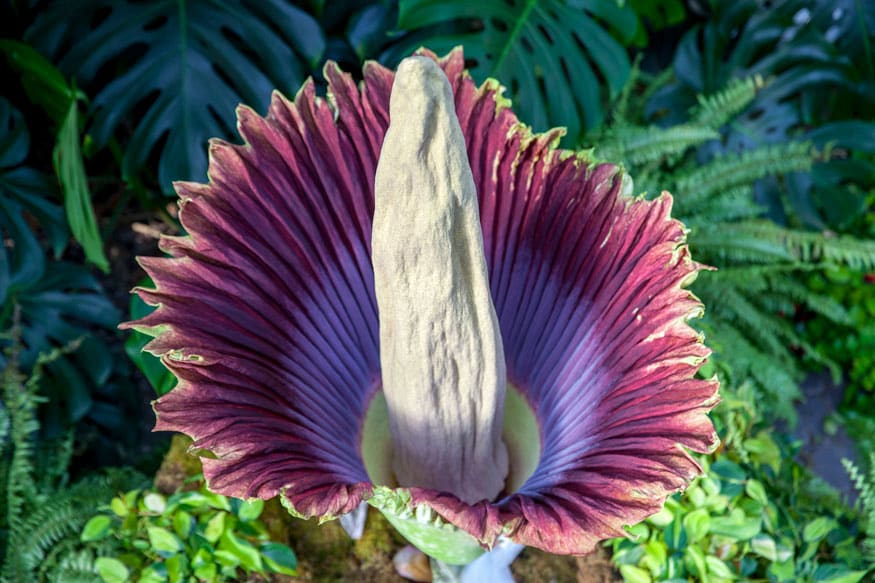 Drama in the garden
The world is full of many bizarre wonders. One such wonder is in bloom this week for a short time in Canada's Toronto Zoo.
The 'Corpse Flower' is an extremely rare flower that blooms every seven to ten years and is anywhere from eight to ten feet tall. Originating from the Indonesian island of Sumatra, the rare flower has blood red petals and when in bloom, gives off a terrible stench - like rotting flesh. Hence the macabre name.
This is the first Corpse Flower to grow in the Toronto Area and the zoo's proprietors are more than happy. They plan to keep the Zoo open after hours for more and more visitors to catch a glimpse of the rare, which will stay in bloom for eight-thirty six hours at most.



Drumroll please… the name of our corpse flower is Pablo"Pe-ew"caso.


Learn more about our corpse flower at https://t.co/16icnCgysI. #WhatsThatSmell #ZooHorticulture pic.twitter.com/79Y2SmW4Mu

— The Toronto Zoo (@TheTorontoZoo) September 6, 2018
This is also the fifth Corpse flower to ever grow in Canada. Known as Amorphophallus titanum, it usually takes about a decade for these plants to bear the first flower. But the Toronto Zoo flower, nicknamed 'Pablo "Pe-ew" Caso', as reported by the Independent, is four years premature and is set to bloom at just five years of age. A blooming 'Corpse flower' looks splendid and is one of the most spectacular sights in nature:
BEHOLD! The @NYBG corpse flower in all its stinky, smelly, blooming glory pic.twitter.com/JRA7IvGNBl — Science Friday (@scifri) June 27, 2018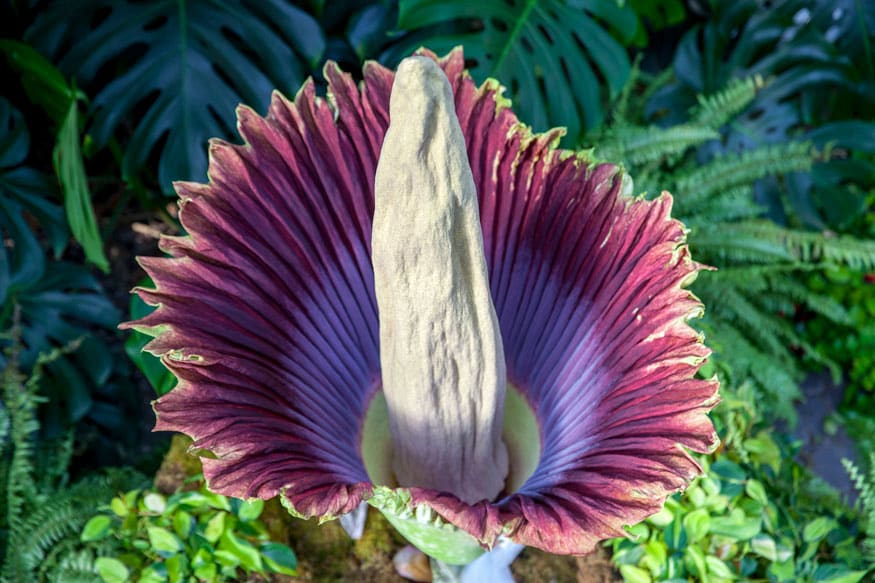 The dramatic flower is listed as "vulnerable" on the International Union for Conservation of Nature's (IUCN) Red List of Threatened Plants and the fall in its numbers has been attributed to a loss of natural habitat.
Canadians, who were already looking forward to the bloom, arrived in large numbers at the zoo to watch the flower and social media was abuzz with videos and images of the blooming flower. Nature enthusiasts hope the promotions and frenzy would help in better conservation of the majestic plant.



Corpse flower in bloom ⁦⁦@TheTorontoZoo⁩ Stink not as bad as last night but still pretty putrid. Only blooming for a few more hours! pic.twitter.com/bzOB2RhS6C


— Linda Ward (@LindaWardCBC) September 14, 2018

The rare corpse flower plant at @TheTorontoZoo is blooming. It usually takes 10 years to bloom but this one is blooming early, only 5 years in. @globalnewsto pic.twitter.com/usdgActCuN

— Kamil Karamali (@KamilKaramali) September 14, 2018




Great to see another Corpse Flower is blooming @TheTorontoZoo this week! https://t.co/vGEdLQMYNg pic.twitter.com/sQQInQiEaI


— Vancouver Park Board (@ParkBoard) September 11, 2018
literally abouta fly out to toronto this weekend to see the corpse flower — Queeblo (@alienlover6669) September 11, 2018
Read full article
Countdown To
Elections Results
To Assembly Elections 2018 Results