'Who Works On Diwali? Fireworks': Twitter is Sparking it Up With These Hilarious Jokes
Wishing you a happy and humorous Diwali.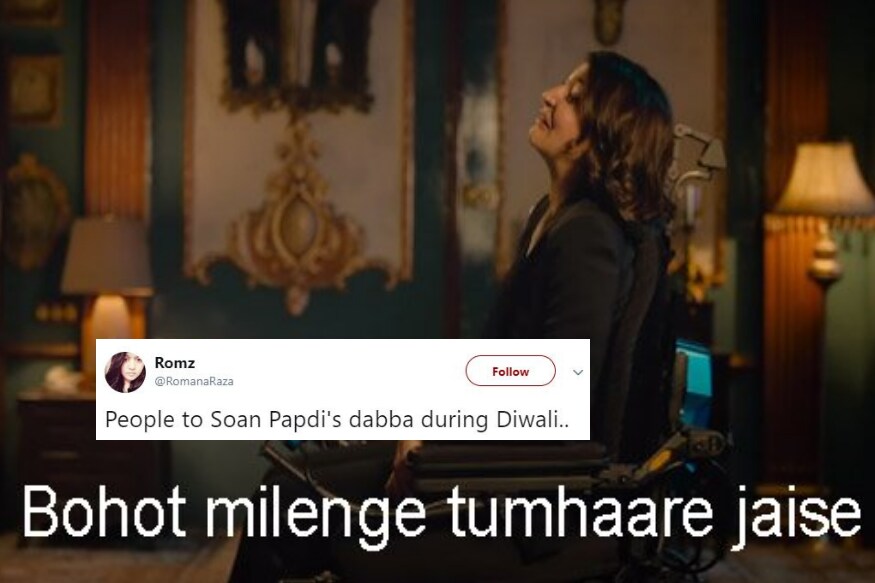 Image credits: @RomanaRaza / Twitter
"Use Diwali80 code to get 80% off"
A quick scroll on your phone and this is all you'll see this week. And if you are a part of a family WhatsApp group, god bless your gallery.
Diwali arrives every year with the smell of fresh paint, lit houses and streets, diyas, kurtas, and a lot of sugar rush. Who can say no to mithas, right?
While the Supreme Court has fixed the 8-10pm slot for bursting firecrackers on Diwali, it hasn't dampened the celebrations on Twitter as netizens lit up the microblogging site by cracking jokes.
Take a look:
Bro1: Bro I love how diwali's a holiday for everyone.

Bro2: Not true bro.

Bro1 : Really? Who works on diwali bro?

Bro2 : Fire bro. Fireworks.

— Vaidehi Murthy (@ButVai) November 6, 2018
#Diwali is a festival of (traffic) lights pic.twitter.com/cYFgQBC6MN

— Bollywood Gandu (@BollywoodGandu) November 5, 2018
Me *goes to relative's place*

Aunty : check out this rangoli meri beti ne banayi

Me : nice

Aunty : aur society ka Diwali fest bhi organise karwa rahi hai woh

Me : awesome

Aunty : itni mehnati hai bade ho kar kuchh banegi

Me : itni mehnat se to HR banegi

— Pakchikpak Raja Babu (@HaramiParindey) November 6, 2018
Sc - Burst crackers only between 8-10pm.

*Me at 9:59pm* - pic.twitter.com/A4ln71H8CX

— Mask Ishan (@Mr_LoLwa) November 6, 2018
Delhi couples right now #DelhiAirPollution pic.twitter.com/8IuIP4BaIL

— Moody Motu (@MoodyMotu) November 5, 2018
Imagine tumahre bacche poochenge "papa aapko jail kyon hui thi?" And you'll be saying "beta wo 10 baje ke pehle saanp ki goli jala di thi" 😭😂😭😂😭😂

— Maithun Woke (@Being_Humor) November 5, 2018
Crush - Can you help me in diwali cleaning at home ?

Me - pic.twitter.com/dUYSTwoqmJ

— शिvam. (@Oye_Protein) October 29, 2018
Domestic flight prices per ticket during #Diwali Season. pic.twitter.com/IAj7yH24ht

— Bollywood Gandu (@BollywoodGandu) October 29, 2018
When your manager says Diwali par Ghar chala ja: pic.twitter.com/DlU6Kj0YPz

— Kshitiz Bhardwaj (@ImmaJoking) November 4, 2018
Green Crackers 😜 pic.twitter.com/waKQ5flCI6

— Troll Tax (@Vishupedia) November 5, 2018
People to Soan Papdi's dabba during Diwali.. pic.twitter.com/yU6xOHRFk9

— Romz (@RomanaRaza) November 5, 2018
Munna and Circuit this Diwali 😂 pic.twitter.com/ywLBqL00jW

— Ankur Singh (@iAnkurSingh) November 6, 2018
Before and after Diwali ki safai pic.twitter.com/Jh5ydn56Np

— Punit_TNT (@Punit_TNT) October 23, 2018
Mom : Teri sabse zyada fun memory kya hai ghar ki diwali ki

Me : Woh jo aap mehmano ke liye mithai banati thi aur main hadap leti thi

Mom : Meri bhi same

Me : Matlab?

Mom : Woh jo mehmaan tere liye paise dekar jate the aur main hadap leti thi

— SwatKat- The dancing human💃 (@swatic12) November 5, 2018
*Marwadi*

Son: Papa iss diwali me mujhe kya gift denge?

Dad: Bata kya gift chayiye?

Son: iPhone

Dad: *Gets second hand iPhone4s*

— Akshay (@AkshayKatariyaa) November 5, 2018
Get the best of News18 delivered to your inbox - subscribe to News18 Daybreak. Follow News18.com on Twitter, Instagram, Facebook, Telegram, TikTok and on YouTube, and stay in the know with what's happening in the world around you – in real time.
Read full article