Why 19 Out Of The Top 25 Dirtiest Cities Are Located in West Bengal
What makes the cities in West Bengal so dirty?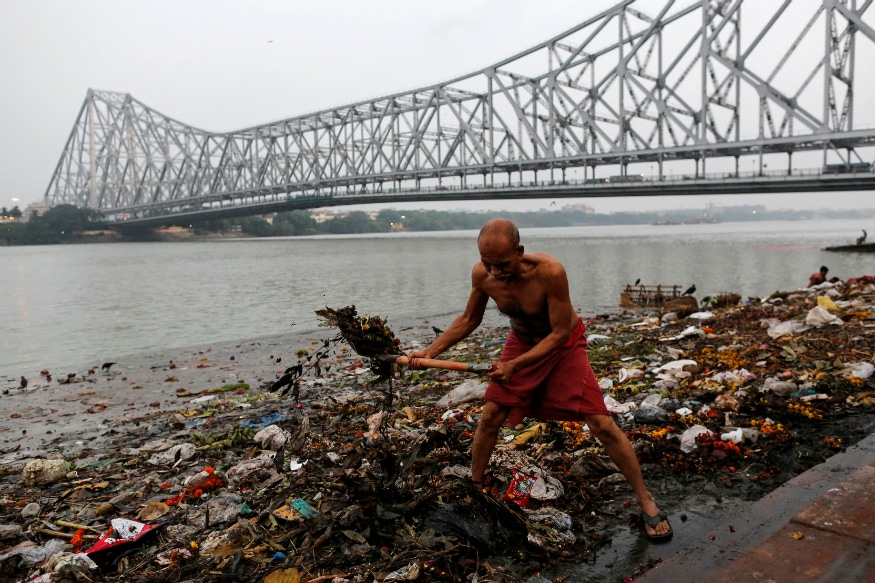 Representative image/Reuters
A survey conducted by the Swachh Survekshan which released the list of the cleanest cities in India by ranking, revealed that 19 of the top 25 most polluted cities happen to be in West Bengal.
Initially, the only rankings revealed were of just cities that were based on cleanliness – and showed the top most cities, putting Indore at #1.
West Bengal, which hadn't participated in the last two surveys conducted in 2016 and 2017 respectively, ranked poorly this time, being in the last four for cleanest state with a population of over one lakh.
Data from the Swachhta Status Report revealed in 2016-17 showed how West Bengal has the highest number of growth rate for construction and creating public toilets, with the third highest growth rate for Individual house latrines, and the highest number of constructions for both school toilets and Anganwadi toilets, despite there being a slow decline in the numbers from 2013 to 2017.
If this is the case – where West Bengal has such a high progress rate to create public sanitation, why are 19 of the top 25 dirtiest cities located in West Bengal?
Primarily, the reason is that the factors that were used for evaluation were more than just the progress rate for creation of public sanitation. The factors were:
1. Waste collection, 2. Solid-waste management 3. Construction of toilets 4. Sanitation strategies.
5. Behavior change communication.
From the 2016 survey, West Bengal produces 8675 metric tonnes of waste a day, which is similar to other metropolitan cities like Delhi(8400) and Karnataka(8784.) However, this is a much lower rate than other highly urbanized centers like Maharasthra(26820) and Tamil Nadu(15272.) The reason, then, why it ranks lowly on solid waste management is because the processing rate for solid waste management is incredibly low – at just 6%, while for most urban centres it is several times multiplied: For Delhi it is 52%, Karnataka it is 34% - so somewhere the waste itself is generated, but not processed well.
So, while West Bengal may have a better method for construction and availability of public toilet and sanitation, it lacks severely behind most urban centers in processing its waste.
Bhadreswar, in the Hugli-Chinsurah district of West Bengal ranks the lowest, 485 of all Indian cities.
And where Indore, which is ranked the cleanest city, has a ULB (Urban Local Body) score of 1359/1400 for Service Level Progress, the cities in West Bengal have a score of 0.
Out of the 10 Dirtiest Cities in India, 8 Belong to West Bengal| See Photos
The state average for Kolkata is also low compared to other states, placing it at 16.9% placing it at 31st out of the 48th rank.
The survey was conducted by ULBs in the states had parameters to test the progress in centers as well, which was inconclusive for West Bengal anyway, as it was the only state that neither participated in the Swachh Bharat Abhiyan, or in providing data in the 2016 and 2017 surveys.
So while progression in certain factors should ideally put West Bengal ahead of many other cities, it still has a long way to go before it is considered a clean city again, as Kolkata had ranked 25th in the 2010 cleanest cities census.
Read full article
Next Story
Next Story
Also Watch

India Will 'Stop' Flow of Our Share of Water to Pakistan, Says Nitin Gadkari
Countdown To
Elections Results
To Assembly Elections 2018 Results