Why Did GQ Use Quotations on its Cover To Describe Serena Williams' Gender, Eh?
An editorial decision taken by a fashion magazine hasn't gone down well with Serena Williams' fans.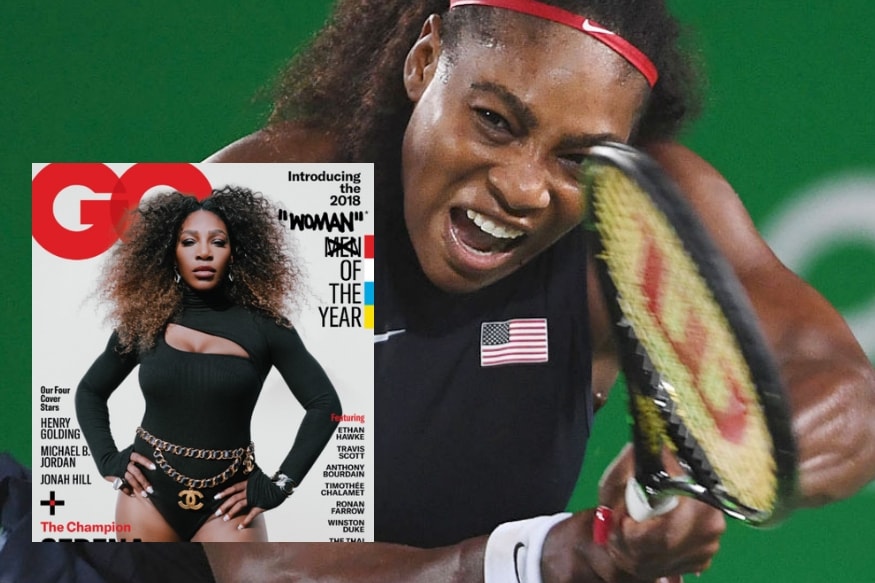 Image credits: Getty / @GQMagazine
Serena Williams just made it to GQ's yearly cover but not everyone is liking it.
For the second year in a row, the outlet has chosen a woman to grace its 'Men of the Year' edition. Gal Gadot was its face last year. But GQ's editorial choice to use quotation marks for the word "woman" on Williams' cover has irked several online.
On Monday, the magazine announced that Michael B. Jordan, Henry Golding and Jonah Hill were its Men of the Year. Tennis superstar Serena Williams its fourth.
Announcing GQ's Men (and Woman) of the Year 2018: @michaelb4jordan, @henrygolding, @jonahhill, and @serenawilliams (featuring handwriting by @virgilabloh) https://t.co/EpG3lKCJ3r #GQMOTY pic.twitter.com/6MgczSxSpq

— GQ Magazine (@GQMagazine) November 12, 2018
As soon as the covers surfaced on the microblogging site, hordes of Twitter users came out to ask one question: why is the woman written in quotes?
Okay but why is woman in quotation marks @GQMagazine

— Anna Wagner (@Anna_F_Wagner) November 12, 2018
Hey @GQMagazine ...what the heck? Why "woman" and not WOMAN? ..seriously?!!!

— Carolyn (@careme10) November 12, 2018
I can't believe no one at GQ thought perhaps with misogynistic and violent trans insults that Serena (and Venus) have dealt with for the last almost 20 years, to not put woman in quotation marks. Editorial rooms are a fucking disaster, all over this country. I'm offended for her pic.twitter.com/97yaP18etC

— #ImWithStacey (@seabethree) November 12, 2018
Writer E. Alex Jung put Gal Gadot and Williams' covers side-by-side and called out the difference in their treatment.
hmm pic.twitter.com/hG4vAtTDTE

— E. Alex Jung (@e_alexjung) November 12, 2018
Although, it's worth noting that the handwritten edit on Williams' cover is done by Virgil Abloh - artistic director at Louis Vuitton who has previously collaborated with the tennis star and has even designed Williams' famous US Open tutu dress. In his designs, Abloh routinely uses quotation marks as a signature.
Serena Williams responds to catsuit ban by competing in a custom Virgil Abloh-designed tutu: https://t.co/kkPS1quqAn pic.twitter.com/sjMfjlMooc

— Highsnobiety (@highsnobiety) August 29, 2018
.@Nike x @virgilabloh for @SerenaWilliams "Queen" collection coming soon. pic.twitter.com/DgsipabE5g

— Highsnobiety (@highsnobiety) August 13, 2018
This was pointed out by several users.
Because it was handwritten by Virgil Abloh of Off-White, who has styled everything in quotation marks as of late (see Serena's US Open apparel that he designed)

— Mick Rouse (@mickrouse) November 12, 2018
It quite literally has tags/quotations around it because that's Virgil's own style/branding, including in his partnership with Nike and Serena herself. That's the only "message" behind it. pic.twitter.com/uaGV1DYDhC

— Mick Rouse (@mickrouse) November 12, 2018
Look up Virgil Abloh, the designer of her us open apparel.

— Marc Elfassy (@marcelfassy) November 12, 2018
This, however, didn't help the cause as many still found quotation around woman weird and totally uncalled for.
so why didn't he put "men" in quotation marks on the men's covers? https://t.co/5mjTatH3xo

— king crissle (@crissles) November 12, 2018
i get the @virgilabloh reference but that quotation around woman is weird af and totally uncalled for. https://t.co/6tKReal3CP

— Ryan Mitchell (@TheSlayGawd) November 12, 2018
Perhaps what caused the outrage and put off netizens was how Williams has been criticised in the past for not being "womanly". "It's definitely off-putting especially for an athlete who has been critiqued for not being womanly/not a real woman in all sorts of racist and problematic ways," wrote one user.
Last year, Williams penned an emotional letter on Reddit in which she gave an insight on what she has been dealing with since the age of 15.
I've been called man because I appeared outwardly strong. It has been said that that I use drugs (No, I have always had far too much integrity to behave dishonestly in order to gain an advantage). It has been said I don't belong in Women's sports -- that I belong in Men's -- because I look stronger than many other women do. (No, I just work hard and I was born with this badass body and proud of it).
Read full article