Why is Twitter Replacing Photos of Donald Trump with Penguins?
Bizarre satire.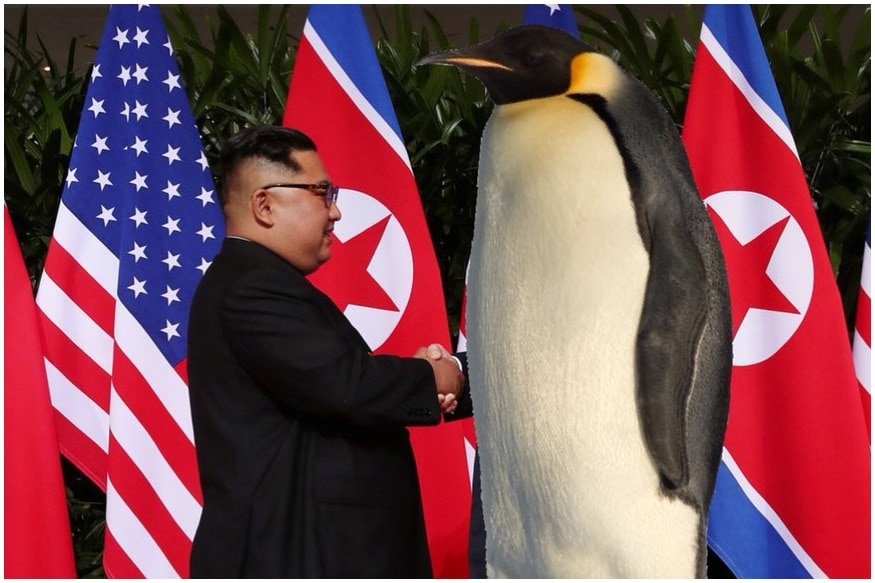 Bizarre satire.
The Internet is usually a weird place. But on some days, it crosses over to be truly bizarre.
Take this latest fad on Twitter, for example - photoshopping images of penguins to replace US President Donald Trump in some of his iconic photos.
Recently, UK-based writer and satirist Armando lannucci posted a 'proposal' on Twitter, asking people to replace Donald Trump from his photos with images of penguins. He claimed that the expression on the faces of the rest of the people in the photo, or the circumstances recorded in it, would still make sense if the POTUS was indeed a penguin.
While UK humourists are known for their disdain for the US President, this challenge surely took the cake for provoking some of the most hilarious images in the White House's history.
Here are our 10 best picks from the thread:
1. Kim and the penguin
— John Stansfield (@johnwinsagain) September 6, 2018
2. Putin it in perspective
pic.twitter.com/yjXI68j5XO — Unnamed Insider (@Unnamedinsider) September 6, 2018
3. Presidential penguin
@F7065 pic.twitter.com/1Y7dtsIuek

— Chris Madra (@ChrisMadra) September 6, 2018
4. Ballistic bird
— Matt Crivelli (@MattCrivelli) September 6, 2018
5. Hip-Hop penguin
pic.twitter.com/hUeyk1F6Ki — Tom (@tommo_tv) September 6, 2018
6. Giving the flipper
This almost makes him seem too likable. pic.twitter.com/AEF9R6SGnf — AL'S TOY BARN (@Alex_kw92) September 6, 2018
7. French friends
#replacetrumpwithapenguin pic.twitter.com/HRWP5WvPYY

— Cybernaticus (@Cybernaticus) September 6, 2018
8. Penguin Royale
— Tom (@tommo_tv) September 6, 2018
9. Solemn penguin
#replaceTrumpwithapenguin pic.twitter.com/fXeprBlSq5 — Dylan Brady (@dylanfbrady) September 6, 2018
10. The 'Bowie' look
#TrumpReplacedByPenguin pic.twitter.com/eRYJUoleNM — Phillip Smith (@PhilAtCreamCow) September 6, 2018
There. We are done too.
Done. pic.twitter.com/vOD39X47xZ — Mélanie (@ncismelanie_) September 6, 2018
Get the best of News18 delivered to your inbox - subscribe to News18 Daybreak. Follow News18.com on Twitter, Instagram, Facebook, Telegram, TikTok and on YouTube, and stay in the know with what's happening in the world around you – in real time.
Read full article