Why Siddharth Mallya's sexual orientation is none of our concern
Ever since Mallya started posting 'Sid Sessions' online, he has been flooded with questions about his sexual orientation.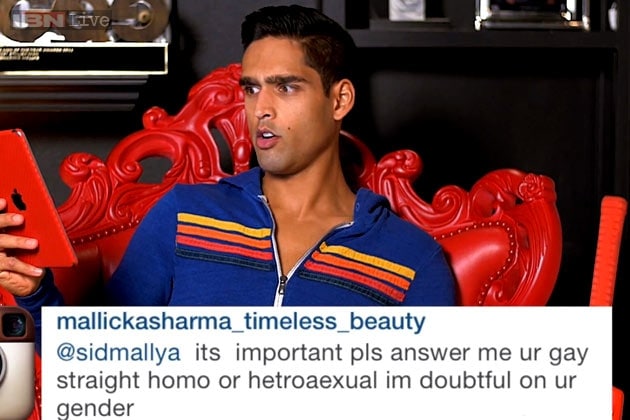 Ever since Mallya started posting 'Sid Sessions' online, he has been flooded with questions about his sexual orientation.
New Delhi: Gay men are impeccably well dressed, they happen to have an exceptionally defined jawline and also tend to be constantly surrounded by women. Well, we are not saying that, but this definition comes from son of aspiring actor and business tycoon, Siddharth 'Sid' Mallya. In his new episode of 'Sid Sessions', the 27-year-old can be seen answering questions regarding his sexual orientation. In the three-and-a-half minute video, Mallya is being constantly bombarded with questions by his Twitter, Instagram and Facebook follower. Taking all comments sportingly, Mallya tries to be as witty as he can while responding to the awkward questions.
Since Mallya has started posting these "sessions" on his YouTube channel about a month ago, he has been flooded with comments, questions and statements by his followers.
While many of the questions/comments featured in these videos are not flattering -- they even border on offensive -- Mallya reacts to them in a surprisingly sane and sporting manner.
His image in the outside world is that of a snotty, spoiled brat which he is trying to clear with video blog of sorts.
There were many funny moments in the latest session of Sid Sessions, all of which revolved around Mallya's sexual orientation.
Clearing the rumours and answering the questions directly, Mallya says in his pronounced British accent, "Contrary to popular belief, I am straight as an arrow. I know you guys are convinced that I am gay, but I assure you that I am not."
Another comment featured on the show said, "Your mother must be so sad because you are gay son (sic)". To this Mallya replies, "To be honest with you, I make my mother sad because I have lot of other things. Unfortunately for you, gay is not one of them."
Going by the three episodes of Sid Sessions uploaded so far, it seems the world is obsessively interested in Mallya's crotch, his tool size and his sexual orientation. Don't people have better questions to ask to the son of liquor baron Vijay Mallya?
####
Get the best of News18 delivered to your inbox - subscribe to News18 Daybreak. Follow News18.com on Twitter, Instagram, Facebook, TikTok and on YouTube, and stay in the know with what's happening in the world around you – in real time.
Read full article