'Why That Tight Costume?' Marvel's Sexualised Niqab Superhero Gets an Appropriate Makeover
After pointing out Marvel for portraying a female superhero in a sexualised outfit, a girl decided to fix the problem herself.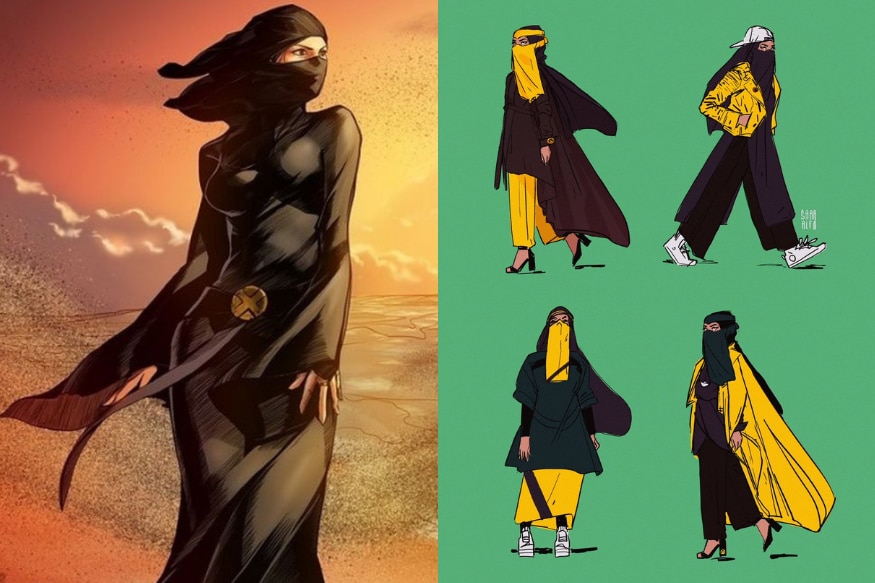 (Image: Twitter/@TheFoofinator)
New X-Men #133 released in December 2002 marked the first appearance of female superhero Dust. With an origin based in an "unrevealed location in western Afghanistan", Sooraya Qadir or Dust was rescued from slavery by Wolverine. Characters in the comic book series often refer to Dust's outfit as a burqa. Although, Dust wears an abaya with a niqab covering her face. It wasn't until X-Men Vol. 2 #42 that her fellow crime-fighters learned about the specifics.
Marvel, at the receiving end of endless criticism for the poorly-researched superhero, was pointed out for the sexualisation of Dust's avatar.
While "It is a business decision" may be the comic book makers best defense, many women like Shreya Arora have been taking to social media to call out the existing sexism in the comic book universe, often taking matters into their own hands and fixing the problem.
Sara Alfageeh, too, decided to call out the sexualisation of Dust on Twitter.
y'know.

I love comics. I do, I really do. but wow y'all. who signed off on this Dust art. who looked at a niqabi character and still gave her the latex costume treatment. I'm laughing so damn hard oh my god. pic.twitter.com/nyk4CYbAlE

— Sara Alfageeh (@TheFoofinator) August 26, 2018
Several other users pointed out that comic-book makers had an unhealthy obsession with accentuating female breasts.
I love when the fabric is loose and flowy but somehow- tits

— Erica Henderson (@EricaFails) August 26, 2018
THAT IS NOT HOW CLOTHING WORKS. PEOPLE NEED TO STOP USING NAKED LADIES FOR REFERENCE!

— Jeffery J. Manley (@manleycomics) August 26, 2018
ARTIST: so I made this strong female Muslim X-character…

SALES DIR: how do we tell she's female?

ARTIST: the niqab?

SD: …maybe?

ARTIST: look at the eyes

SD: …more female?

ARTIST: [pause] …you need boobs for core market

SD: yup

ARTIST: *headdesk*

— Miss Emily Phoenix (@MsEmilyPhoenix) August 26, 2018
I mean, I honestly think a lot of people need to look at boobs more to see how they work

— Erica Henderson (@EricaFails) August 26, 2018
WAYMENT. Isn't the point of a niqab...? nevermind. pic.twitter.com/VCdacNAGiA

— theblerdgurl™️ (@theblerdgurl) August 26, 2018
Vacuum sealed Niqab, because why not I guess

— Shubbabang (@Shubbabang) August 26, 2018
They: pic.twitter.com/DarKNAyefa

— 🍋 Lemòn 🍋 (@_lemontarte) August 27, 2018
Poor thing. How can she breath under this tight abaya?😹😹😹😹

— Anile (@Anilelicious) August 28, 2018
I've hated the way Sooraya Qadir's costume has been drawn since her introduction in 2002. Its style does have no Afghani inspiration and it's usually cut so resemble a wet T Shirt contestant. It's disrespectful to her ethnic background and the abuse survivor she represents.

— D. Illing (@zeichenleere) August 26, 2018
It's so funny cuz you just know that was a dude. No female artist would ever pretend that's how boobs work. At least hopefully not.

— Aggressive Bisexual (@Julie_Kav) August 27, 2018
completely missed the point of a niqab thanks

— anoosha syed (@foxville_art) August 26, 2018
But Sara did not stop just there. She needed a fix and with no alternatives left, she simply decided to fix Dust's sexualised outfit.
If you want something done right dO IT YOURSELF.

Here are some Dust redesigns, fueled by bitterness and a deep love of street fashion. pic.twitter.com/OwVEdfxJgL

— Sara Alfageeh (@TheFoofinator) August 27, 2018
And Twitter was erupting in jubilation, commending Sara's efforts and even asking Marvel to take some notes.
THESE ARE FANTASTIC IM CRYING/DYING

— آيمي روكو (@AmyRoko) August 27, 2018
stop I can't

I want to dress like this now pic.twitter.com/5Ca1kpYQUx

— آيمي روكو (@AmyRoko) August 27, 2018
YES YES YES

— Anka (@kristaferanka) August 27, 2018
How come all of them look amazing??!?

— picolo (@_gabrielpicolo) August 27, 2018
The attitude in her eyes is everything omg

— Souha Al-Samkari 🌻 (@sousourocket) August 27, 2018
SarA....uR GONNA KILL ME these r sOO cool !!

— Nabigal-Nayagam Haider Ali (@ab_varaham) August 27, 2018
This is so dope.

— Zac Thompson (@ZacBeThompson) August 27, 2018
Oh shit this is great. Love the yellows. It's a real shame a lot of artists have NO idea how to do fashion.

— Tríona Tree Farrell (@Treestumped) August 27, 2018
@Marvel hire her for a new Dust series.

— Big Mike Energy (@MjolnirMK86) August 27, 2018
That's some morning double shot niqabi swag

— Neha Prakash (@umm_summi) August 27, 2018
Get the best of News18 delivered to your inbox - subscribe to News18 Daybreak. Follow News18.com on Twitter, Instagram, Facebook, TikTok and on YouTube, and stay in the know with what's happening in the world around you – in real time.
Subscribe to Moneycontrol Pro and gain access to curated markets data, trading recommendations, equity analysis, investment ideas, insights from market gurus and much more. Get Moneycontrol PRO for 1 year at price of 3 months. Use code FREEDOM.
Read full article