Why This Video Calling Out AIB For Sexism In Their Sketches Is Important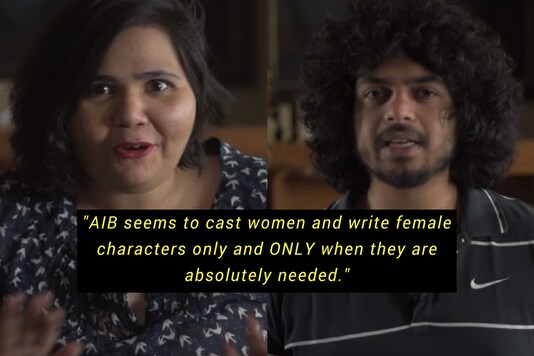 Photo credits: Aayushi Jagad | YouTube
Comedians Aayushi Jagad and Sumedh Natu, who've both worked with All India Bakchod, put out a video explaining what really is wrong with the AIB sketches.
Last Updated: February 23, 2018, 13:37 IST
FOLLOW US ON:
We have a lot of comedies in this country. But most of them can be defined in three adjectives—crass, cringe-worthy and sexist. I mean, we live in a country where movies about three friends with minimal intelligence and raging libidos cracking rape jokes and saying "boobsurat" become blockbuster hits.
So, when All India Bakchod (AIB) happened to us, we were relieved. Their sketch had the word periods, it had a woman talking about her breasts, it had Kalki Koechlin do a fantastic satire on why rape is a woman's fault—essentially the comedy group created a mark for taking a stand on gender issues.
But, that's not the only way to pass the Bechdel Test. Comedians Aayushi Jagad and Sumedh Natu, who've both worked with All India Bakchod, put out a video explaining what really is wrong with the AIB sketches. Surprise: They are sexist.
The video discusses the difference between AIB's "regular" videos and their overtly women-centric ones. The hugely celebrated comedy group often uses women as a plot device that do not have well fleshed out characters. As they point out, you can very replace the women in their sketches with a table lamp—and nothing would have changed.
However, when it does have a strong woman character—the sketch is always about feminism and breaking gender stereotypes. What AIB does, as the two comedians point out, is to put women on a different planet from that of men. The idea that both the gender can co-exist on the same planet with just one thing in common—equality, is apparently so difficult to understand.
The video that was uploaded on Facebook and has already gone viral features a clip from a clearly fed-up Kaneez Surka, a regular fixture in many AIB videos, who says she is "playing a sexy teacher," because that's what she does in AIB videos. Ouch.
Of course, this isn't just some AIB problem. This is a larger problem of the entire Indian Internet. But here's the thing. It's not even limited to the Internet. Whenever a politician or even the government has to show how they are helping in women empowerment, they will either start a fund that won't be used or create an all-women team in a small railway station.
That is the problem. Because whenever someone announces an all-women any-sort-of-name team, it essentially means that women need a separate space to function and can be working only with each other. It fails to achieve the larger idea on gender equality—that men and women can't be two different teams.
It felt surprisingly fresh when AIB didn't decide to start defending their sketches and actually took the video as a challenge to improve their future work.
Rohan Joshi, one of the AIB members commented on the FB video, saying, "Thank you for this Aayushi Jagad. Legit appreciate the perspective, and this is something we're all gonna think hard about. I'm gonna personally work harder and be better at adding more diverse, better represented female voices in our stories."
The official AIB handle took to Twitter and wrote:
Some fantastic points in this video, and a privilege check if ever there was one. Thank you Aayushi and Sumedh for calling this out. All of us at AIB hear you, and we'll be better and work harder to create things that are more inclusive. https://t.co/nikELqzPYH

— All India Bakchod (@AllIndiaBakchod) February 21, 2018
The video is definitely a start to a very important conversation.
Watch it here:
Next Story