With 324 people dead, Kerala is witnessing one of the worst natural calamities to have hit the state in a century. The rains have not only brought floods but also triggered landslides in the state, bringing Kerala to an abrupt. All means of transportation have been affected by the torrential rains which have displaced almost three lakh people.
Several funds and arrangements have been set up to help out those affected by the deluge and people at large have been rampantly sharing helpline numbers and details for contributing money and amenities to the state. But with all the chaos and the madness that is ensuing, it is fairly easy to get confused.
Here is a collective list of contact helplines and websites through which one can contact for relief operations or make a donation to Kerala at its time of need:
Making a contribution to the Chief Minister's Fund



Here's how you can help those affected by the unprecedented floods in Kerala. Now you can make donations online to Chief Minister's Distress Relief Fund through the site, https://t.co/OFHTHlZ9by #KeralaFloods #StandWithKerala. pic.twitter.com/XNlBKqdCUT


— CMO Kerala (@CMOKerala) August 14, 2018
Saving their lives was our priority. Now it is our duty to help them rebuild it. Contribute generously to the Chief Minister's Distress Relief Fund. #KeralaFloods #KeralaFloodRelief pic.twitter.com/eNHjyENt8d — CMO Kerala (@CMOKerala) August 11, 2018
CM Pinarayi Vijayan has been repeatedly sharing the details of how to contribute to the CM's fund on his social media handles. You can go the
direct link
https://donation.cmdrf.kerala.gov.in/
to make a donation. EVERY CONTRIBUTION COUNTS.
You can also send money by cheque/DD or internet banking.
Account number: 67319948232
Bank: SBI
Branch: City Branch, TVM
IFSC Code: SBIN0070028
Name of Donee: CMDRF
PAN detail: AAAGD0584M
SWIFT CODE: SBININBBT08
Address for cheques:
The Principal Secretary (Finance) Treasurer, Chief Minister's Distress Relief Fund, Secretariat, Thiruvananthapuram.
Helpline numbers for relief and rescue operations
The chief minster has also shared a list of telephone numbers to reach out to when assistance is needed to carry out rescue operations.



Alert: People in the low lying areas along Chalakudy river and its tributaries are requested to move to higher locations as a precautionary measure. All stranded people are being attended by the forces in maximum capacity. #KeralaFloods2018 pic.twitter.com/6QWiTj2Guc


— CMO Kerala (@CMOKerala) August 16, 2018
Kasargod:
91-944-660-1700
Kannur:
91-944-668-2300
Kozhikode:
91-944-653-8900
Wayanad:
91-807-840-9770
Malappuram:
91-938-346-3212 / 91-938-346-4212
Thrissur:
91-944-707-4424 / 91-487-236-3424
Palakkad:
91-830-180-3282
Ernakulam:
91-790-220-0400 / 91-790-220-0300
Alappuzha:
91-477-223-8630 / 91-949-500-3630 / 91-949-500-3640
Idukki:
91-906-156-6111 / 91-938-346-3036
Kottayam:
91-944-656-2236 / 91-944-656-2236
Pathanamthitta:
91-807-880-8915
Kollam:
91-944-767-7800
Thiruvananthapuram:
91-949-771-1281
News18 Google Form to help reach local authorities in times of crisis:
Interactive Map for locating contact details of relief operations near you:
Donate an amount, enlist as volunteer or contribute other essentials through independent websites: 
Considering how it is often difficult to communicate during natural disasters, the state government along with Kerala State IT Mission and IEEE has come up with
KeralaRescue
– a website specifically designated for the relief and rescue mission in the state.
The website has six categories for
request for help
,
district needs
,
contribution
,
volunteer work
,
registered requests
,
request map
,
register as NGO
, and
contact
.
Rapid Response India has also released an appeal for donating to the Kerala Relief Fund.
You can go to the
website
or donate through their
Ketto fundraiser campaign
or through a cheque/DD. All Donations to Rapid Response are 50% Tax Exempt under section 80G of IT Act, 1961.
BY BANK TRANSFER/NEFT:
Account Name: Rapid Response
Account Number: 50200002115108
IFSC Code: HDFC0001038
Bank: HDFC Bank, Branch: Avadi.
Bank Address: No: 369, Kamaraj Nagar, Avadi, Chennai - 600 071.
BY CHEQUE:
Please write the cheque payable to RAPID RESPONSE and post it to: Rapid Response, #10, Vysial Street, Heritage Town, Pondicherry - 605001.
The NGO Goonj is also asking you to
contribute money
and/or essentials to the nearest
drop centre
available in your city.
World Vision India too has started a fundraiser campaign on their
website
and is accepting donations for relief and rescue operations.
Contribute to the Collectors' Relief Campaigns
The collectors of
Idukki
and
Kannur
have also started a relief campaigns.
A campaign by the name #DoForKerala has been launched on several social media platforms by Anbodu Kochi, a social media collective in association with Ernakulam district administration. As many as four collection points have been arranged by the group in the city, namely, Weavers Village in Rosscote Lane, opposite Trivandrum Club and Sri Mulam Club at Vazhuthacaud and B'hub, Mar Ivanios Vidyanagar, Nalanchira. People can contact the district coordinators by calling on the numbers 9809700000, 9895320567, 9544811555.
Contact the 24*7 News18 Helpline:
News18 too has released a helpine for 24*7 assistance for flood affected people.
Helpline number: 630-492-3453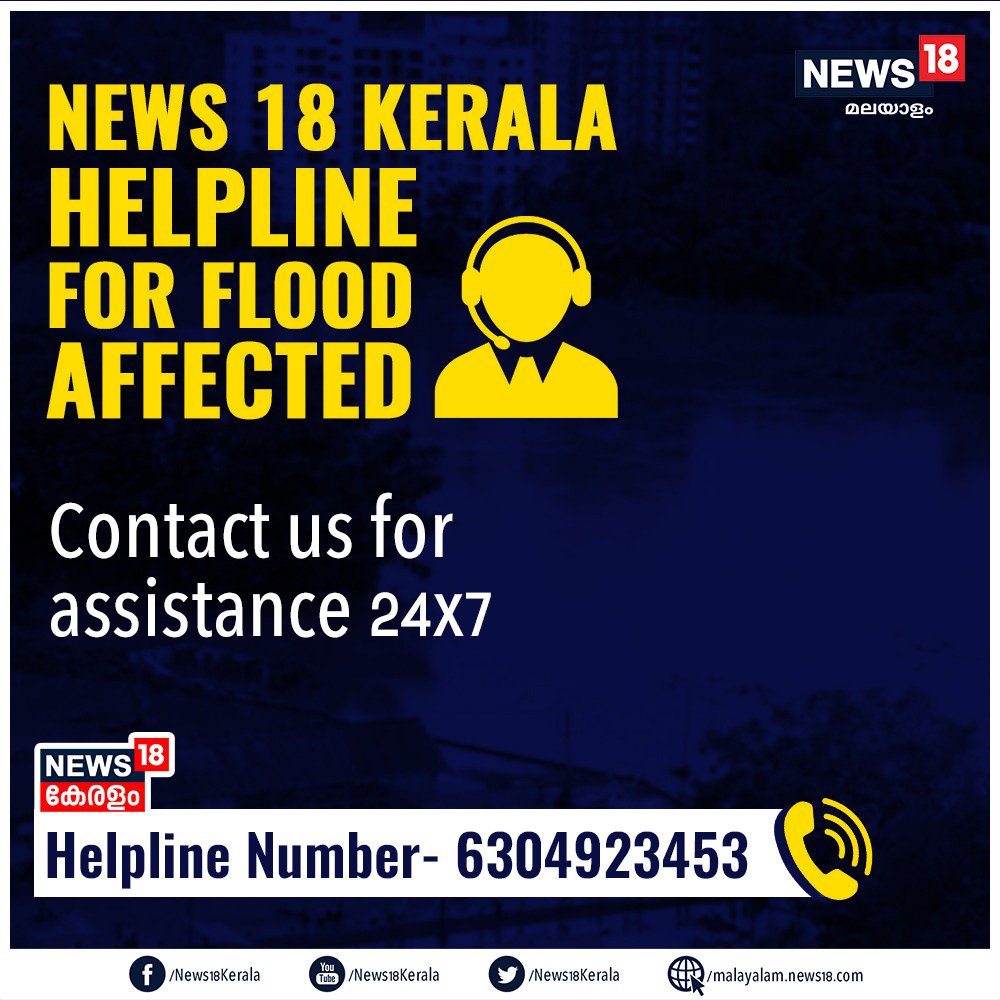 Remember,
every
contribution will make a difference.