With Google Plus Shutting Down, Several Users Wondered Why It Was Still Around Anyway
The announcement came after a massive security breach exposed the data of over 500,000 users on Google Plus.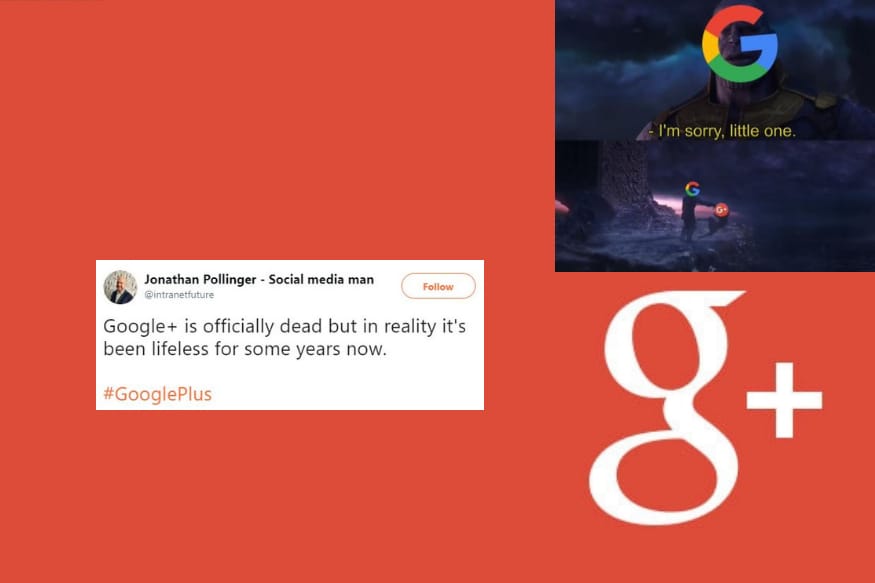 Image credits: @Treeba4 / Twitter | News18
The search engine giant Google on Monday announced that it will bring down the curtain on its social media network - Google + after an API vulnerability exposed the data of several users to external developers.
In a detailed blog post, Google said it couldn't confirm which users were impacted by the bug. However, after running a detailed analysis it found out that the accounts of up to 500,000 Google+ accounts were potentially affected.
As news of the massive breach spread, Google Plus hashtag became the top trending topic of the day and Twitterati wondered how and why it was still around.
Google+ is shutting down! Shit! I was only using it the other d...it was 2013...but still...#GooglePlus

— Andy Coates RPT (@AndyWoodturner) October 8, 2018
I'm gonna miss this place and all my 3.65 million followers!

Rest in peace Google plus!

#RIPGooglePlus #GooglePlus pic.twitter.com/gaLAalGbCn

— Justin Rios |14| (@o14hJRs) October 9, 2018
Farewell #GooglePlus, I shall remember with fondness all the times I have accidentally opened you, said "fuck", then closed you again.

— . (@cripesonfriday) October 8, 2018
It's finally happening #GooglePlus pic.twitter.com/owryZgt2BK

— Oshiri Studios (@OshiriStudios) October 8, 2018
So @GooglePlus is dead now? ☠️ #RIP #GooglePlus pic.twitter.com/N1tOCEfDqW

— Erik Reichenbach (@ErikReichenb4ch) October 8, 2018
When you hear #GooglePlus is being discontinued.. pic.twitter.com/II5dJlf9Fa

— KP (@ILoveKPAlot) October 8, 2018
Google Is Shutting Down Google+ After Exposing Data Of Up To 500,000 Users.

SHOCKING. Never Knew Google Plus Had 500,000 Users #GooglePlus https://t.co/Zg9kwBYMLo

— Sir Ravindra Jadeja (@SirJadeja) October 8, 2018
#GooglePlus has finally gone!

(Yep, it was still around until today...)#socialmedia pic.twitter.com/8OgyvIP2Pe

— Tom (@tomlangan) October 8, 2018
Google+ is officially dead but in reality it's been lifeless for some years now. #GooglePlus pic.twitter.com/xqbAMYsBPF

— Jonathan Pollinger - Social media man (@intranetfuture) October 8, 2018
#GooglePlus is gone. The repeated efforts for @Google to get into social show that sometimes it's important to stick to what you know pic.twitter.com/vX78Cxyj7m

— Seán Cannon-Earley (@seanearley) October 8, 2018
#GooglePlus it's about time time pic.twitter.com/4jKf4ZN9FJ

— Kareem Dasilva (@DasilvaKareem) October 9, 2018
End of #GooglePlus , the social network we all forgot we had an account on

— Rishi Bagree (@rishibagree) October 9, 2018
I have never been that fond of #GooglePlus but when heard the announcement that it would have its last breath soon , I have just logged in perhaps for the last time. Any way #RIP pic.twitter.com/TyU3YTsHoO

— Prashant Ranjan (@pranjan21) October 9, 2018
#GooglePlus makes me sad pic.twitter.com/0OXuxTU9Gg

— Treeba (@Treeba4) October 9, 2018
In its blog post, Google said it will give its users a 'full opportunity to transition' and it will wind-down the platform in the next 10 months with a complete shut down happening in August 2019.
The company will also provide assistance in migrating user data, it further said.
Get the best of News18 delivered to your inbox - subscribe to News18 Daybreak. Follow News18.com on Twitter, Instagram, Facebook, Telegram, TikTok and on YouTube, and stay in the know with what's happening in the world around you – in real time.
Read full article