Woman Catches Thief on Tinder After First Matching With Him and Then His Victim
Emily Cochran put two and two together after she matched with a person who had lost his crate of bottle La Croix sparkling water and then with another who had recently 'found' a similar crate on the same day.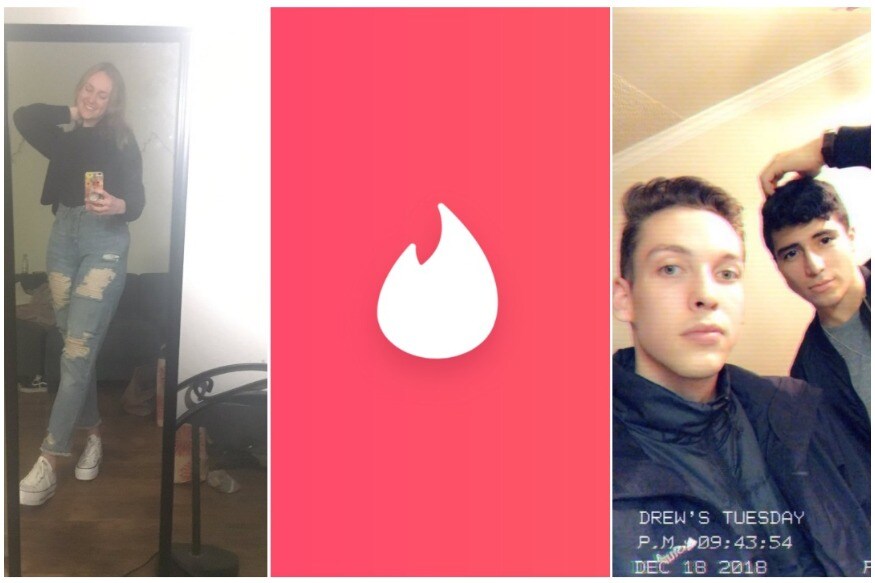 A woman used Tinder to solve a theft. (Credit: Twitter/@holycacamole)
Tinder may act like a matchmaking platform for many but it certainly isn't a place where one would expect their lost goods to show up.
However, that's exactly what happened recently after a woman helped a man reunite with his misplaced goods with the help of the dating app.
Emily Cochran was surfing Tinder for prospective persons of interest when she chanced upon the profile of Drew. The latter was having a great day and they instantly hit it off. In fact, Drew even confided to her the reason for his good mood: He had just found a crate of La Croix bottled water unattended.
Things got interesting when Cochran, who had continued to swipe on other profiles, met Raymond. Unlike Drew, Raymond had not been having such a great day. The reason? He had just lost a crate of La Croix bottled sparkling water! He told Cohran that he had just left the crate unattended for 'a moment' but that it had been enough for a thief to whisk the whole thing away.
It did not take Cochran long to realise that the crate of La Croix that turned up in two of her consecutive conversations on Tinder had to be one and the same. Cochran soon joined the dots and pieced the puzzle together.
She got in touch with Drew and informed him of the situation. She then put both Drew and Raymond in touch to work the matter out, thus ingenuously solving the crime.
After finding out that he had picked up someone else's La Croix, Drew was more than happy to return the crate to its lawful owner. In fact, Cochran shared videos of the 'thief' meeting his victim and returning the goods. They even shared a La Corix in their's investigators' honour.
From updates that Cochran shared, it appeared that the three hung out after the discovery.
IM TALKING TO A GUY WHO GOT HIS LACROIX STOLEN, AND THE GUY WHO STOLE HIS LACROIX. CAN YOU BELIEVE THIS pic.twitter.com/QaZLQAz82q

— Emily Cochran (@holycacamole) December 18, 2018
UPDATE: THEY FOUND EACH OTHER AND SHARED A LACROIX IN MY HONOR. THEY SOUND LIKE THEY ARE BROS pic.twitter.com/FxWCpEZTUD

— Emily Cochran (@holycacamole) December 18, 2018
December 18, 2018
@lacroixwater @Tinder me now that I'm famous pic.twitter.com/SyHVQlLwNN

— Emily Cochran (@holycacamole) December 18, 2018
Her tweets on social media regarding the event have since gone viral. Many felt that this was the best use of Tinder that they had ever seen.
As much as I cant stand the drink. pic.twitter.com/dq2HFEmN8w

— Kuso (糞) (@LnSe7en) December 18, 2018
Ben Shapiro is a human La Croix so this fits.

— Konstantine Anthony (@KonstantineinCA) December 19, 2018
This isn't how I pictured my entrance into fame

— Drew Stevens (@_DrewStevens) December 18, 2018
This is the best threesome, ever. Also, the most millennial.

— (((Shaindel שֵׁײנדֶל Beers))) (@shaindelr) December 18, 2018
cheers to our brethren! pic.twitter.com/3zUjwonkJ7

— Melisa 🌻 (@Melisa_Haracic) December 18, 2018
omg funny finding you here pic.twitter.com/teFfbt5gM0

— caitlin (@carliinnnn) December 19, 2018
Lolol this may be the funniest thing I've seen in forever

— koko's kitten🔥💖💜💙 (@pyrrhicvictor) December 19, 2018
Read full article
Countdown To
Elections Results
To Assembly Elections 2018 Results