nda:
Needmore seats to Win

Needmore seats to Win
upa:
Woman Shared Videos of a Stranger Following Her in Building. It Will Freak You Out.
A frightening experience of a woman who was followed inside her apartment complex.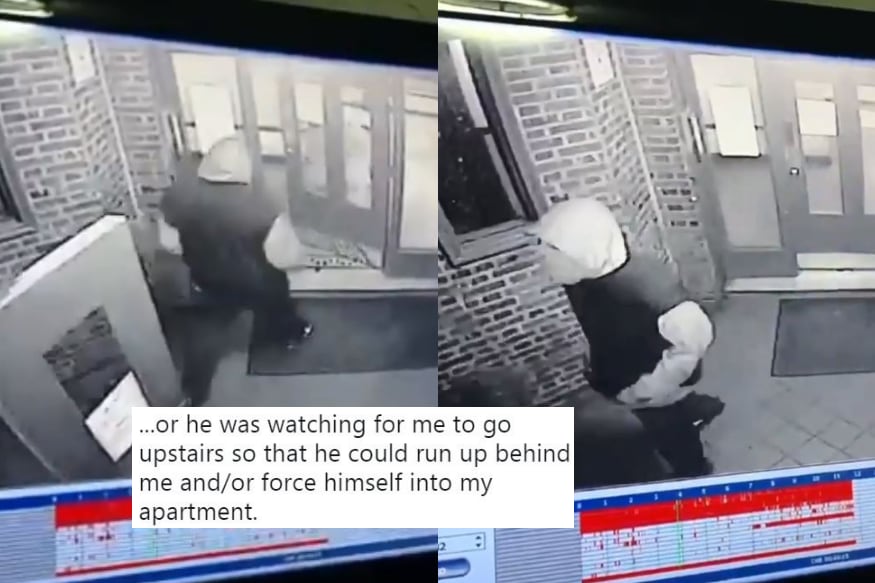 (Image: Twitter)
You're walking steadily and you notice someone behind you. You naturally ignore it. It's a big world. People have places to be. But the person keeps walking behind you; their movement in near-perfect synchronisation with yours. You're scared. The person has been walking behind you for quite some time. "What if...?" you wonder. You try to unsuccessfully console yourself with, "I'm just being paranoid." You reach your apartment complex. You think you've lost the person. "Finally!" you sigh. But what you don't know that the person is still lurking in the shadows and watching you.
Being stalked is a frightening experience for anyone, but more so if you're a woman. Recently, New-York based 30-year-old Alex Araujo shared her experience of being stalked by a man.
Unfortunately, living in an age where a woman needs to repeatedly clarify why she decided to speak up about a harrowing experience that traumatised her, Alex began by saying that is not sharing her experience to garner sympathy but to raise awareness about the issue.



A thread:



The following set of tweets detail what happened to me coming home Saturday night to University Heights in the BX. I am not doing this for attention/sympathy, but rather to warn the public, especially my fellow women, who may live in the area or know some1 who does.
— A.A. (@ojoscafe) September 26, 2018
She starts off with the importance of Uber drivers dropping their female customers outside the front door and waiting until they are safely inside. Alex points out that her designated driver that night did not do so.

My Uber dropped me off at 3:50AM. I'll also take this opportunity to reiterate the importance of drivers waiting for their passengers to arrive at their front door safely before driving off. In this case, mine didn't.

— A.A. (@ojoscafe) September 26, 2018

Then she posts a video of a man who followed her into her building at 3:50 am, some seconds after she entered the building.



The following footage is me walking up into my building. You'll notice a man walk behind me moments later. I did not see or hear him. pic.twitter.com/oxCtNvcstN


— A.A. (@ojoscafe) September 26, 2018

I walk with my keys in hand so i was as to get into my building quickly. Just a force of habit of mine.

— A.A. (@ojoscafe) September 26, 2018

Alex could feel someone following her. Believing it to be a ghost, she was ready to face the supernatural.



I get into my lobby, and a few steps in this strange feeling comes over me, like something was warning me to be cautious or that I wasn't alone. Now, I'm a believer in the super natural so I honestly was ready to confront a ghost if needed.


— A.A. (@ojoscafe) September 26, 2018
However, she was quick to notice the dark silhouette of her stalker through a mirror.

My lobby has mirrors on both the left and right side walls. I turn my head and notice the reflection of a dark figure standing outside the front door. It looked like a shadow. I approach to see who/what it is and as I get closer I realize I couldn't see a face.

— A.A. (@ojoscafe) September 26, 2018

Absolutely scared, Alex told herself to lock the door.



So I immediately thought to myself "make sure the door locked". I extend my arm and shut the door closed. He had his foot on the corner to stop it from closing behind me after I enterd. The following video is from inside my lobby, showing everything I just explained. pic.twitter.com/aGZkIOr7Pw


— A.A. (@ojoscafe) September 26, 2018
She then shared another CCTV footage of the man, explaining that looking at his demeanour, he intended to attack her before she entered the building.

This video is the recording of me entering my building with my keys, & the man coming behind. Note that this video is happening in parallel to the one from inside my lobby. He most likely doesn't follow me inside because he intended to attack me before I entrd my building.... pic.twitter.com/dDocMQ4YSU

— A.A. (@ojoscafe) September 26, 2018

Or maybe he was waiting for her to enter the building so that he could force himself into her apartment.



...or he was watching for me to go upstairs so that he could run up behind me and/or force himself into my apartment.


— A.A. (@ojoscafe) September 26, 2018
Thankfully her stalker leaves after he notices that Alex has seen him. Clearly scared, she quickly calls the police as soon as she locks herself in the apartment.

When he notices me coming back to the door, he turns his face so that I can't see him. Walks away from the door, notices the camera above, puts his arm over his eyes, and walks towards the door to try to push it open again but sees I'm still standing there watching him.

— A.A. (@ojoscafe) September 26, 2018




After the failed attempt to get into my building, he leaves. I get to the second floor of my building and immediately call 911 to report what happened. My hands were shaking & I was stuttering so hard that the operator thought I was hurt. The police show up minutes later.


— A.A. (@ojoscafe) September 26, 2018
Looking at the CCTV footage, one could make out that the stalker was in fact a predator looking for a woman. No guesses why.

Viewing footage the following day, I learned there were men coming in and out my building all night, even minutes before I got home. None were followed, confirming he was scouting a woman. No need to go into the obvious details on why a woman.

— A.A. (@ojoscafe) September 26, 2018

The incident forced Alex to replay the experience with a new outcome each time. "What if?" Alex was just grateful for all the gods watching her that night.



Since Saturday night I keep replaying the incident over and over, thinking of the many factors that could've caused a different outcome; me dropping my keys or stopping to look for them in my bag, being drunk and taking my time walking in, being distracted on my phone.


— A.A. (@ojoscafe) September 26, 2018

As women we always worry about falling victim to situations like these, but I let my guard down because I was home. I just thank God and his angels, my angel, for being with me that night.

— A.A. (@ojoscafe) September 26, 2018

Alex, however, could never see his face. He wore a hoodie and had a scarf covering his face.



He was about 6'3, around 220 lbs, wearing a black jacket w/dark grey sleeves & hoodie & dark grey jeans. He wore a scarf up until just under his eyes so I couldn't see his face. If you have any information, contact your authorities, or me. If not, RT this thread to save a life.


— A.A. (@ojoscafe) September 26, 2018
Several people expressed their relief that Alex had not been hurt in any physical way, with many hoping that the man was caught soon.

I'm so glad you're ok my anxiety was rising with each tweet and only calmed when you stated that he just left the scene. I hope they catch him!!! And ASAP!!

— *KiM*♡ॐ (@__K_i_M__) September 26, 2018




Uh I don't have anxiety but I 100% agree every single video and tweet my heart was pounding harder hoping something bad wouldn't happen to that poor girl 😭


— Beks 🌈😏 (@bekahkashtan) September 26, 2018

I started sweating and sinking deeper into my blankets, then after I got up and made sure all my windows and doors were locked because this fucked me up.... my hearts still pounding 😢

— Beks 🌈😏 (@bekahkashtan) September 26, 2018




Oh my god I just watched this and got chills! Thank god that you're safe!! Literally makes me want to watch my surroundings at all times. 😭


— Ashley_Collado (@ashleycollado_) September 26, 2018
(Get detailed and live results of each and every seat in the Lok Sabha elections and state Assembly elections in Andhra Pradesh, Odisha, Arunachal Pradesh and Sikkim to know which candidate/party is leading or trailing and to know who has won and who has lost and by what margin. Our one-of-its-kind Election Analytics Centre lets you don a psephologist's hat and turn into an election expert. Know interesting facts and trivia about the elections and see our informative graphics. Elections = News18)
Read full article
Countdown To
Elections Results
To Assembly Elections 2018 Results