Woman Who Almost Fell Off Mumbai Local in Viral Video Gets Slammed With Charges
The woman who fell off the foot-board of the local train is now being charged for travelling on the foot-board.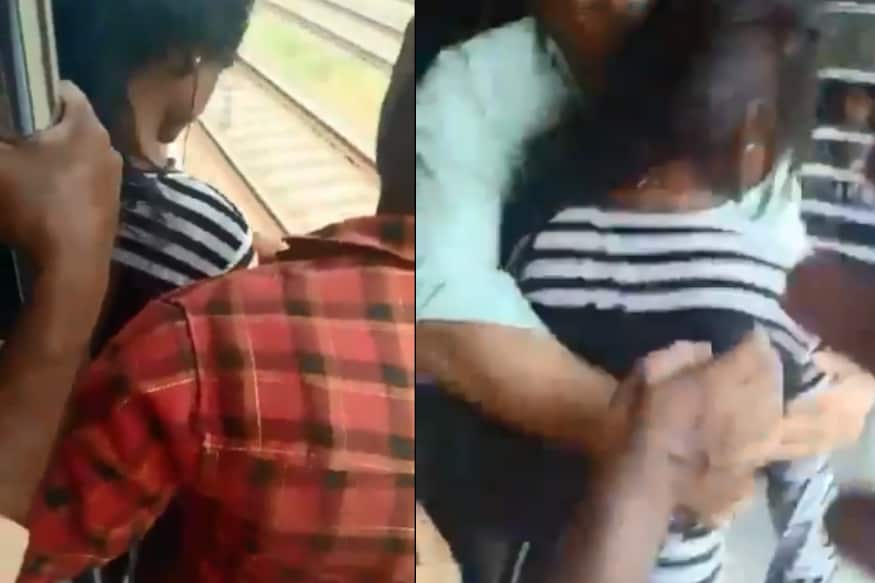 The woman who fell off the foot-board of the local train is now being charged for travelling on the foot-board.
A video which went viral on Tuesday showed a woman 
falling off a local train in Mumbai,
 who was saved from death by the quick action of a few passengers.
In the video, the woman, who is adjusting her earphones, can be seen standing on the edge of the train compartment's foot-board when she loses her balance and falls off the train only to be pulled back inside by her co-passengers.



Dont travel on footboard, what a lucky escape. #Mumbailocal #MumbaiTrain
@Central_Railway @Central_Railway @PiyushGoyalOffc @PiyushGoyal @awasthis @raydeep @Shehl @k_navjyot @News18India @preetiraghunand pic.twitter.com/icFAgkKpZB


— Vivek Gupta News18 (@imvivekgupta) October 3, 2018
After the video went viral, several people pointed out how unsafe her situation was.

It's really bravo,hats up to savior.we must b cautious while standing beside a door in a running train or else.....

— Balaram Ojha (@BalaramOjha5) October 3, 2018




Omg! This is why we need coaches with closing doors.


— Renison. Pereira (@Renison007) October 2, 2018
Following this incident, the Railway Protection Force have booked her under Section 156 of the Railway Act.
The Section 156
in The Railways Act, involves travelling on roof, step or engine of a train states that: "If any passenger or any other person, after being warned by a railway servant to desist, persists in travelling on the roof, step or foot board of any carriage or on an engine, or in any other part of a train not intended for the use of passengers, he shall be punishable with imprisonment for a term which may extend to three months, or with fine which may extend to five hundred rupees, or with both and may be removed from the railway by any railway servant."

Mumbai: On the basis of a viral video, Railway Protection Force has booked a woman under section 156 of the Railway Act for travelling on the footboard of a local train coach.

— ANI (@ANI) October 4, 2018

People on Twitter, however, are not very pleased with this. They pointed out how hundreds of people travel by local train every day, and yet, it was only after the viral video did police take action against one woman.



WTF. Everyday thousands of commuters travel on footboard of train coach in Mumbai. No action agst them.


— संदीप भोसले 🇮🇳 (@SandeepSBhosle) October 4, 2018

Utter Nonsense, do they require viral video to book for traveling on footboard, CCTV camera's are installed at all stations, will they book cumuters who all are traveling on footboad.

— अमोल आचरेकर (@amolacharekar) October 4, 2018

Not only did the woman have a near-death experience, now she has to face police charges as well.
Read full article
Countdown To
Elections Results
To Assembly Elections 2018 Results