'Would You Rather Worship A Donkey or an Elephant?' Republican Party Draws Flak for Ganesh Chaturthi Ad
A tone deaf Ganesh Chaturthi ad in the US has left Indian-Americans offended.
Last Updated: September 20, 2018, 13:22 IST
FOLLOW US ON:
A controversial advertisement which depicted an image of Ganesha, directed at Hindu-Americans has been drawing flak on social media.
The advertisement which originally appeared in the September 12 edition of the Indian Herald, a local paper in Texas, carried a caricature image of Ganesha, which was originally posted by Zomato,  with a controversial caption - "Would you rather worship a donkey or an elephant?" The logo for the Republican party is an elephant.
This advertisement, which was printed for the occasion of Ganesh Chaturthi, drew a lot of flak, after Hindu-Americans pointed out how offensive this was, and how nobody "worships political parties."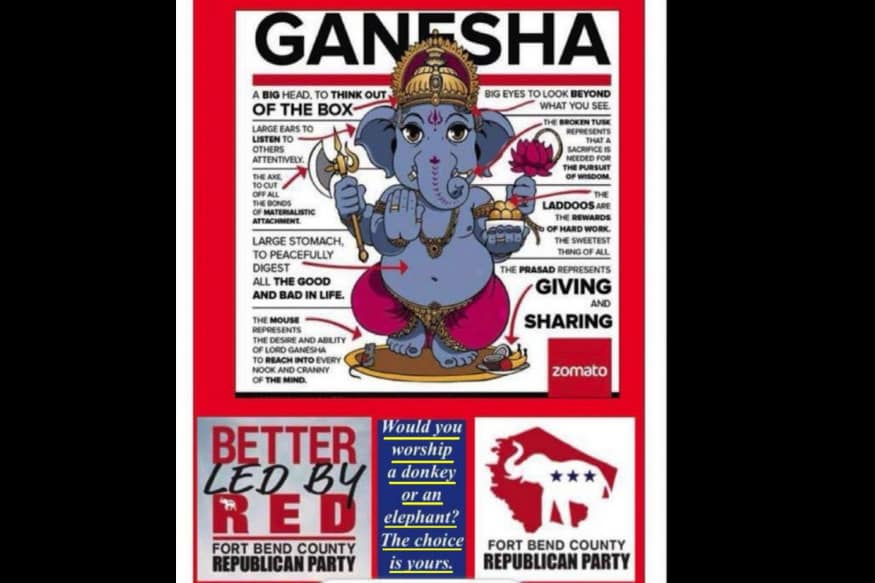 Indians on social media were also not pleased and were quick to call out the ad. They pointed out how the Zomato logo, from where the image was originally created, was still included in the print. Not only did they steal a copyright image, they took it out of context and politicized one of the largest festivals in India.
Following the ad, the Hindu American Foundation (HAF) asked for clarification on the advertisement, stating how it was offensive to Hindu beliefs.
In a statement, Rishi Bhutada, HAF Board Member and Fort Bend County resident said, "While we appreciate the Fort Bend County GOP's attempt to reach out to Hindus on an important Hindu festival, its ad — equating Hindus' veneration of the Lord Ganesha with choosing a political party based on its animal symbol — is problematic and offensive."
He further stated that using religious imagery in order to explicitly appeal for political support should best be avoided by any political party.
The press release also added how, "The implication regarding the worship of animals as gods was also disheartening to HAF leaders, as that is a common misconception taught in US schools, which frequently ends up becoming a taunt used to bully Hindu students."
According to the Foundation's Media Toolkit, "Although Hindus respect and honor the cow, they do not worship the cow in the same sense in which they worship the Divine. Hindus consider all living things to be sacred, an attitude reflected in reverence for the cow."
Following this, the Republican party apologized, with a statement clarifying how its intent was different and chairman Jacey Jetton offered their "sincerest apologies" in a statement.
First Published: September 20, 2018, 12:59 IST
Next Story