WWE Star Matt Hardy Strikes a Classical Note on Indian Idol, Stuns Desi Fans
The nine-time WWE tag-team champion is on a promotional tour to India.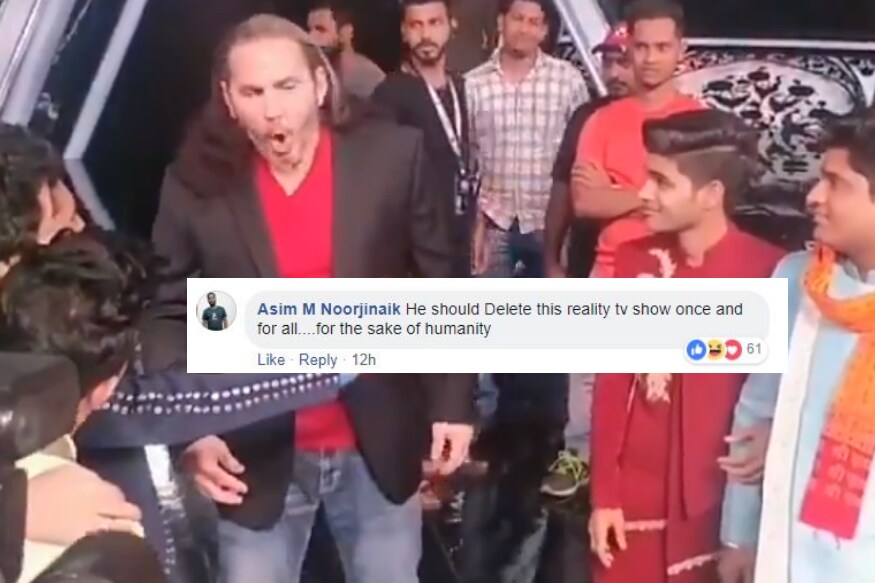 Image credits: WWE India / Twitter
Who would've thought that the wrestling star Matt Hardy could sing?
India's obsession with the wrestling world is no secret. Remember when Bollywood fooled us into believing that Akshay Kumar actually wrestled the "real" Undertaker in Khiladiyon Ka Khiladi?
Realising how passionate Indian fans are for ring-side entertainment, WWE most recently announced that it will visit India in search for the next generation of WWE Superstars, by holding the first-ever talent try-outs in the country.
WWE superstar Matt Hardy, who is on that same promotional tour of India, is busy checking off items on his to-do list. To everyone's surprise, Hardy stormed on to the sets of the on-going Indian Idol contest and exhibited his singing skills. Or at least he tried to.
It's hard to explain how his face-off went with the contestant, so here's a video for you to watch, and decide for yourself.
Guess what sound the #IndianIdol set is echoing of? #IndiaWelcomesMattHardy pic.twitter.com/x4sau4Mlb5

— WWE (@WWEIndia) December 5, 2018
Soon fans grabbed popcorn and asked for more.
December 5, 2018
Great to see him on the set of Indian Idol, it would have been awesome

— Sanju (संजू)💯 (@Sanjeev66501144) December 5, 2018
That's so incredible! Not surprised though because it's Matt/Zenith 😊 He never ceases to amaze me! Bravo 👏🏻👏🏻👏🏻👏🏻

— Leigh Langleben (@Leahlangleben) December 5, 2018
Fans on Facebook weren't as appreciative of his appearance on the talent show.
"I thought I read the name of the page wrong, then I thought I read the caption wrong. Then I realized, the world is gone horribly wrong."
"He should Delete this reality tv show once and for all....for the sake of humanity."
Apart from singing, the nine-time WWE tag-team champion also tried his hand at Indian cuisine.
Today, @matthardybrand was on a conquest to try & finish this #peshawari #naan! Do you think he succeeded?#IndiaWelcomesMattHardy pic.twitter.com/1XOtzszjFC

— WWE (@WWEIndia) December 5, 2018
Hardy also played a soccer match with Special Olympic kids during his visit.
"Played my 1st full game of Soccer with WONDERFUL Special Olympic kids, completed 4 MAGNIFICENT Meet & Greets, eaten Traditional Indian Food with my hands, appeared on Indian Idol & performed a Bollywood Dance on TV-And it's not even 11am in Cameron, NC..I FEEL ACCOMPLISHED," the wrestler wrote on his Twitter page.
Played my 1st full game of Soccer with WONDERFUL Special Olympic kids, completed 4 MAGNIFICENT Meet & Greets, eaten Traditional Indian Food with my hands, appeared on Indian Idol & performed a Bollywood Dance on TV-And it's not even 11am in Cameron, NC..I FEEL ACCOMPLISHED 🙏🏼 pic.twitter.com/rmdIv1SooS

— #WOKEN, yet #BROKEN, Matt Hardy (@MATTHARDYBRAND) December 5, 2018
Read full article