Yanny or Laurel? Internet is Going Bananas Over This Audio Illusion
This illusion is going to break friendships.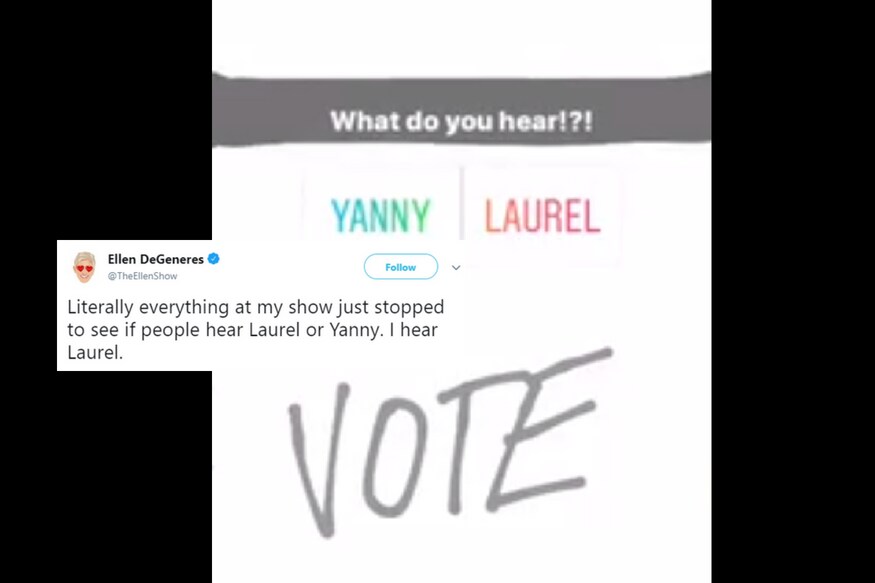 This illusion is going to break friendships.
The Internet is a funny place. Remember the white/gold dress or blue/black dress illusion that caused a thousand headaches across the globe?
The newest illusion on the web, an audio clip in a robot voice, has divided the netizens like never before.
What's the fuss, you ask? Go ahead and listen to the audio clip. We dare you. Now forward the clip to your friends, family and office mates and see relationships shatter caused by the debate storm.
What do you hear?! Yanny or Laurel pic.twitter.com/jvHhCbMc8I

— Cloe Feldman (@CloeCouture) May 15, 2018
Yanny or Laurel? The only question that matters.
Yanny....I listened 10 times and cant figure out how anyone hears laurel

— Kay◟̽◞̽ (@hazzasxinfinity) May 15, 2018
How are y'all hearing yanny😭😂 it clear as day says laurel 😭

— Divonte Wilson (@Wilson1Divonte) May 15, 2018
how are y'all hearing laurel? it clear as day says yanny

— lexy rose (@imlexyrose) May 15, 2018
They are saying they hear "yanny" because they want attention....

— Domenic Z (@DomZenga) May 15, 2018
Things get even more complicated as new theories have surfaced.
Ok, so if you pitch-shift it you can hear different things:

down 30%: https://t.co/F5WCUZQJlq

down 20%: https://t.co/CLhY5tvnC1

up 20%: https://t.co/zAc7HomuCS

up 30% https://t.co/JdNUILOvFW

up 40% https://t.co/8VTkjXo3L1 https://t.co/suSw6AmLtn

— Steve Pomeroy (@xxv) May 15, 2018
Yanny/Laurel MYSTERY SOLVED! I messed with the audio file and discovered that basically, the lower frequencies say "Laurel," and the higher frequencies say "Yanny." Here's some audio I messed with that lets you hear both sides. #yannyvslaurel #yannyorlaurel #yanny #laurel pic.twitter.com/eyybCNLnQi

— jacob livesay (@JFLivesay) May 16, 2018
you can hear both when you adjust the bass levels: pic.twitter.com/22boppUJS1

— Earth Vessel Quotes (@earthvessquotes) May 15, 2018
Noooooooo
guys help me out, does this dress say yanny or laurel pic.twitter.com/Tl2lfZKYBS

— Alex Zalben (@azalben) May 15, 2018
LOL
I only hear Yanni ;) hahaha https://t.co/WrMMVvl8iX

— Yanni (@Yanni) May 15, 2018
Speaking to New York Times, Dr. Jody Kreiman, a principal investigator at the voice perception laboratory at the University of California, said, "the acoustic patterns for the utterance are midway between those for the two words. The energy concentrations for Ya are similar to those for La. N is similar to r, I is close to l."
The massive headache that the illusion has caused forced Chrissy Teigen muted the words.
it's so clearly laurel. I can't even figure out how one would hear yanny.

— christine teigen (@chrissyteigen) May 15, 2018
it's time pic.twitter.com/1Fruru61kU

— christine teigen (@chrissyteigen) May 16, 2018
The confusion over the audio clip has been so great, Ellen DeGeneres had to drop everything to join the ongoing debate.
Literally everything at my show just stopped to see if people hear Laurel or Yanny. I hear Laurel. https://t.co/efWRw1Gj0L

— Ellen DeGeneres (@TheEllenShow) May 15, 2018
According to Science Alert, the viral illusion clip appears to have started on Reddit under a subreddit dedicated to "black magic f*ckery."
Anyway, my vote goes to Laurel.
THERE IS NO YANNY, ONLY LAUREL pic.twitter.com/K3UPGWC3zQ

— amber ruffin (@ambermruffin) May 16, 2018
Get the best of News18 delivered to your inbox - subscribe to News18 Daybreak. Follow News18.com on Twitter, Instagram, Facebook, Telegram, TikTok and on YouTube, and stay in the know with what's happening in the world around you – in real time.
Read full article