'You Will be Remembered Forever, Missile Man': Twitter is Paying Homage to Dr. APJ Abdul Kalam
It is the third death anniversary of President Dr. APJ Abdul Kalam, but India continues to feel the absence of its favourite President.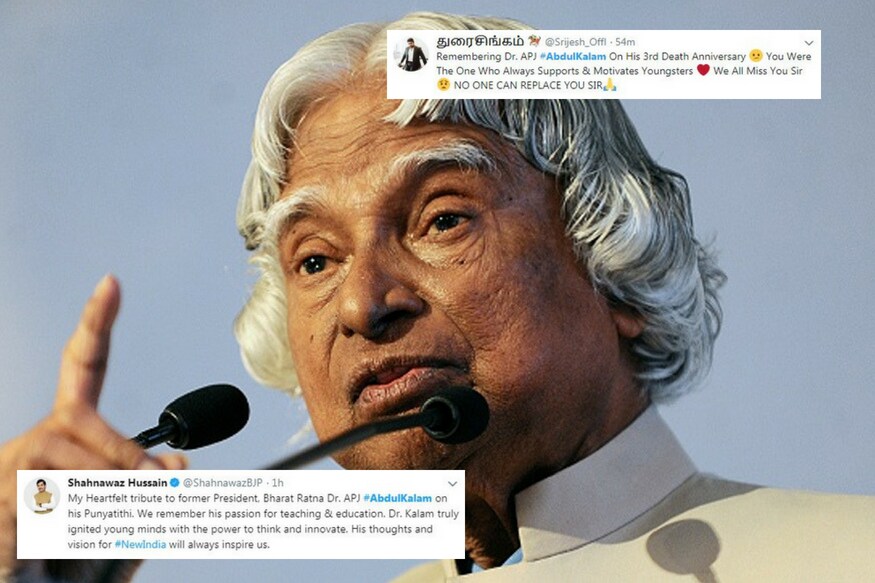 Image credits: PTI
Dr. APJ Abdul Kalam, who has every Indian's vote for the most favourite and obviously most popular President ever, passed away on July 27, 2015. Exactly three years ago.
The beloved scientist, who was the 11th president of our nation, passed away following a cardiac arrest while delivering a lecture at Indian Institute of Management, Shillong.
It has been three years, but the nation still feels Dr. Kalam's absence. It may not be wrong to say that there will never ever be another president as exceptionally extraordinary as Dr. Kalam.
Twitter paid homage to the 'People's President' on Friday.



A pioneering scientist,he made India a Nuclear Power.He was our most beloved President.For him India came first,always. He's a gem.

Tributes to Bharat Ratna Avul Pakir Jainulabdeen Abdul Kalam Ji, India's #MissileMan on his death anniversary 🙏#apjabdulkalam #Kalam #AbdulKalam pic.twitter.com/VJonuQrUMp


— Jagrati Shukla (@JagratiShukla29) July 27, 2018

Remembering Missile Man, People's President,a Gr8 scientist, teacher,an inspiration to ALL & one of the greatest sons India ever produced Bharat Ratna Dr. APJ #AbdulKalam on his death anniversary.
Tribute & Salute to Guru Dr Kalam🙏🌺Jai Hind #APJAbdulKalam #GuruPurnima pic.twitter.com/KlRzh1ERE6

— Maj Surendra Poonia (@MajorPoonia) July 27, 2018




Brilliant illustration by Rajesh Ghosh from Garia, Kolkata (living in Mumbai). Retweet to show your appreciation. #AbdulKalam pic.twitter.com/5lPkaqBGkL


— Anuj Dhar (@anujdhar) July 27, 2018

#AbdulKalam Remembering "Missile Man of India".🙏 pic.twitter.com/XX2yCQQZ5y

— Kirankumar V Patil (@KirankumarVPat2) July 27, 2018




Tribute to people's president, a Great scientist, An Ideal Muslim and an inspiration to all, Bharat Ratna Dr. APJ #AbdulKalam on his death anniversary. pic.twitter.com/g3h70Q9q5Q


— Prashant Patel Umrao (@ippatel) July 27, 2018

WE MISS YOU .
Remembering #AbdulKalam . #apjabdulkalam pic.twitter.com/fH0tdFiJcA

— Kasturi Shankar (@KasthuriShankar) July 27, 2018




My heartfelt tribute to former President of India, Dr. A.P.J. Abdul Kalam on his death anniversary. A beautiful soul with an insightful mind spent in the service of the nation, his life is an inspiration for us all. #MissileManofIndia#AbdulKalam pic.twitter.com/fihe6AVhRu


— Dharmendra Pradhan (@dpradhanbjp) July 27, 2018

Our tributes to the Missile Man of India, Dr. APJ #AbdulKalam pic.twitter.com/SPSJqLe5dM

— Min IT, Telangana (@MinIT_Telangana) July 27, 2018




Some people will touch ur heart. We will get to know on the time of their death, like #AbdulKalam. Exactly 3yrs back when news started trickling in that Kalam ji died, every shop in chennai pulled it's shutter down, silently posters were pasted. India went into mourning. A Hero!


— Siva #Aham Shivoham (@muthushiv) July 27, 2018

#AbdulKalam the man with the Golden heart. Sir you will be remembered forever.
Inspired by your words & speeches.
Only your body rests in peace, but your soul is with all of us & We Indian youths will achieve what you dreamt. pic.twitter.com/L2P68LcJor

— Karthick sivaraman (@ISkarthi) July 27, 2018




"If you want to shine like a sun, first burn like a sun"

My Tributes to Inspiring, revered and remembered fondly a
'Missile Man', of India, former President of India, Bharat Ratna Dr. A.P.J Abdul Kalam on his Punyatithi.#MissileMan #DrAPJAbdulKalam#abdulkalam #GuruPurnima pic.twitter.com/f11yaeHvqe


— Vijay Mahajan (@thevijaymahajan) July 27, 2018

Dr. A.P.J. #AbdulKalam a scientist,teacher, statesman,above all a great human being. Remembering the beloved people's President. 15.10.1931-27.7.2015 #GuruPurnima #arighttribute Gurur brahma gurur vishno
Gurur devo maheshwaraha
Gurur sakshaat para brahma
Tasmai sri gurave namaha pic.twitter.com/3GRc5GxZMo

— Raveena Tandon (@TandonRaveena) July 27, 2018




"Dreams are not those which we see when we sleep but they are those which do not let us sleep".

Remembering the Missile Man of India, People's President Dr. APJ #AbdulKalam ji. He inspired millions to dream, to live for a cause & to never settle until the dream is realised. pic.twitter.com/gDax5oIXno


— Dr Raman Singh (@drramansingh) July 27, 2018

He rejected #NASA for @isro .
He redefined the meaning of president of india.
We can't scale his contributions in the field of science.
He worked for our country,till his last breath.#inspiration for many youngsters #Abdulkalam sir.

Thank you sir !!🙏🙏 pic.twitter.com/g7OiHc7Y8U

— Kumara swamy _Ks (@kumaraswamy_ks7) July 27, 2018




Tribute to people's president, a great scientist and an inspiration for all, Bharat Ratna Dr. APJ #AbdulKalam on his death anniversary pic.twitter.com/jen1upebtU


— Sunil Deodhar (@Sunil_Deodhar) July 27, 2018

Humble tribute to Late Shri #AbdulKalam on his third death anniversary. It was a privilege to have been associated with Dr Kalam, personally and professionally. pic.twitter.com/BztkgcL1jp

— Dr Jitendra Singh (@DrJitendraSingh) July 27, 2018




Remembering Former President of India, Dr. A.P.J. #AbdulKalam on his death anniversary and on the opportune day of #GuruPurnima. He has truly been a Guru,a teacher, who taught us how dreams are not meant to be seen when one's asleep,it is the thing that's meant to keep one awake! pic.twitter.com/NiMUvDNY9R


— Babul Supriyo (@SuPriyoBabul) July 27, 2018

You may have left us; But you remain safe in our hearts! 😇 Remembering beloved Dr. #AbdulKalam! pic.twitter.com/CtOV4TUhzs

— Smile Foundation (@smilefoundation) July 27, 2018

Read full article
Countdown To
Elections Results
To Assembly Elections 2018 Results