GET Stock

Quotes


You Won't Miss The '90s Anymore After Seeing These Insanely High Internet Rates
The leased lines costed Rs. 30,00,000 for 128kbps speed!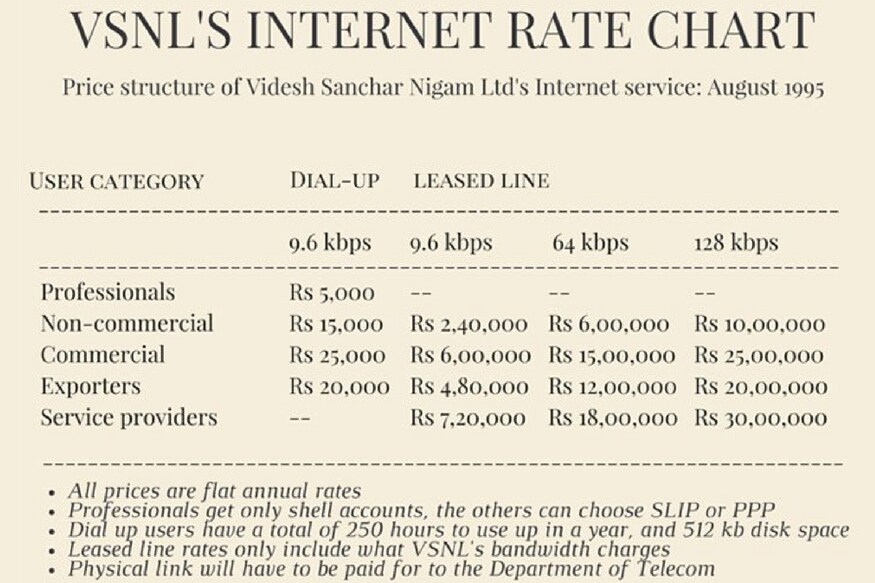 VSNL broadband rates via The Indian Techonomist
In today's world, the Internet isn't just a source of information. It has created jobs that didn't exist half a decade ago. One would have given you a death stare if you told them you were a "Social media manager."
But now, the Internet has moved from the bulky desktops in cyber cafés and arrived into the palms of people.
Today you can find jobs, communicate, shop, pay your bills, order food, open business, work from home, earn and make a career out of your uploaded monetized videos and songs, from the comfort of your home.
But things weren't this easy back in the day.
As India celebrated its 70th Independence Day on Tuesday, Videsh Sanchar Nigam Limited (VSNL) completed its 22 years since its formal launch back in 1995 on the August 15th.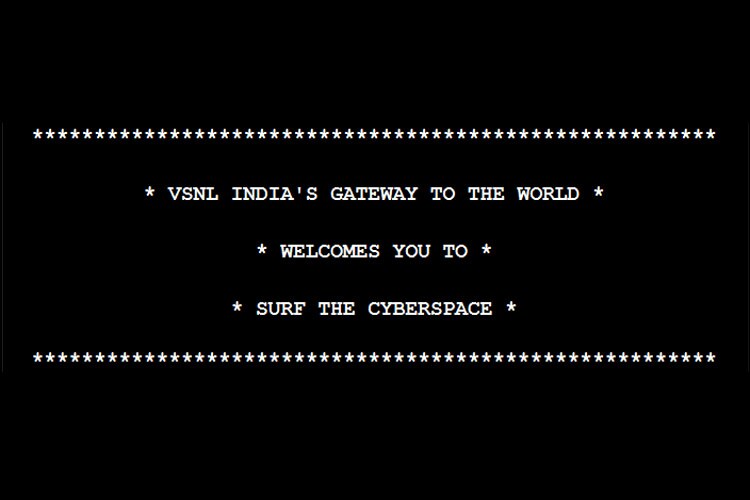 The 
early history of the Internet in India
, in fact, dates back to 1986 when it was launched in the form of Educational Research Network (ERNET) meant only for the use of educational and research communities. It was a joint undertaking of the Department of Electronics (DOE) of the Government of India, and the United Nations Development Program (UNDP), which provides technical assistance to developing nations.
There was also the NICNet that began in 1988, the network was operated by the National Informatics Centre with the purpose of improving communications between government institutions.
Bringing the technology to India wasn't exactly a smooth process; rather marred by negative criticism and publicity when it was first launched as Videsh Sanchar Nigam Limited (VSNL) Gateway Internet Access Service (GIAS).
The Gateway Internet Access Service (GIAS) was launched on August 15, 1995, in Bombay (now Mumbai), Delhi, Calcutta (now Kolkata) and Madras (now Chennai).
The initial launch of Internet services in India was with
 a rate of Rs 25,000 for a 250 hour TCP/IP account for commercial organisations at 9.6 kbps speed
.
While the cost for leased lines went up to Rs. 30,00,000 for 128kbps speed.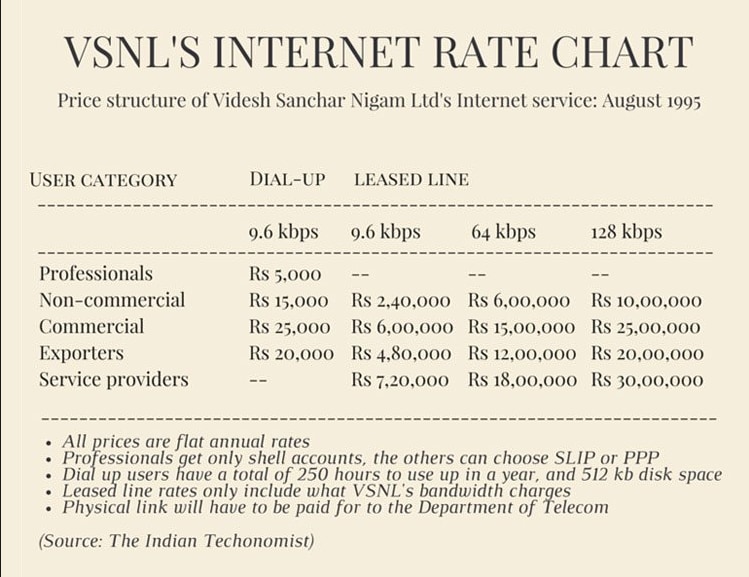 Source
Just to give you a perspective, recently launched Jio fiber broadband plan is offering up to 100 Mbps speed for a data of 100 GB, "free" for the first three months.
Source
The massive push given by the central government to its ambitious Digital India program has led to a massive jump in Internet users in the country. We have over 400 million Internet subscribers as Telecom Regulatory Authority of India (TRAI) and the
number anticipated by the government
is 730 million by 2020.
While Airtel is giving away 1000 GBs just like that till the March 2018.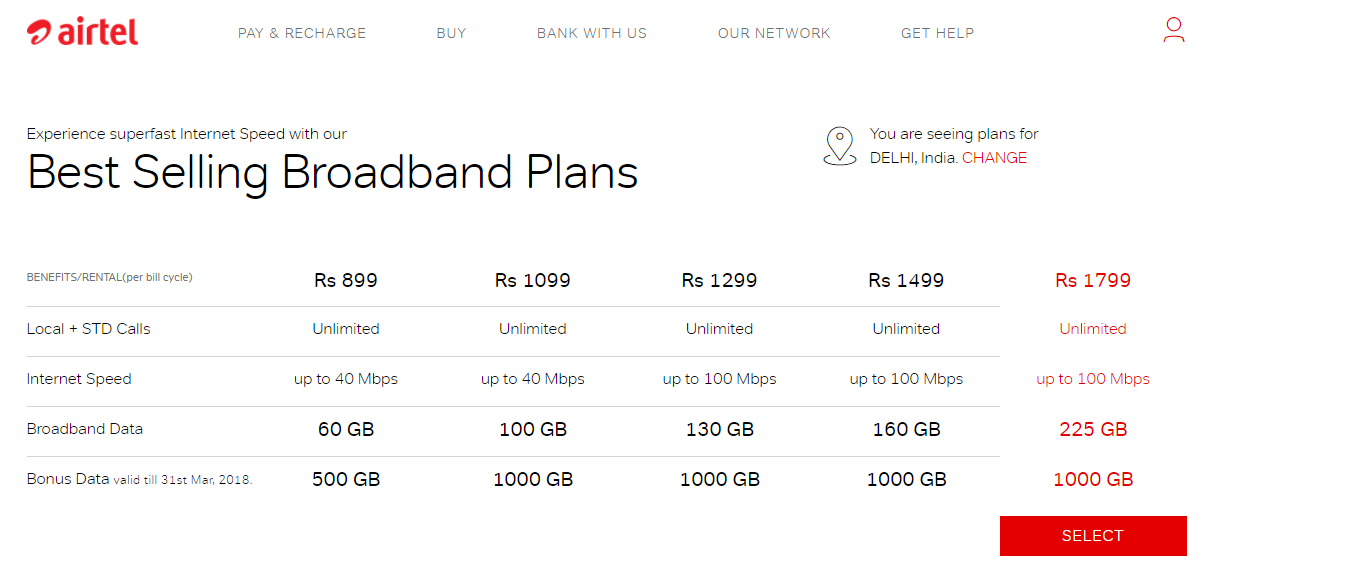 Source
The 22nd anniversary was noticed by Twitterati.



On this day, 22 years ago (August 15, 1995), Indian public got their first access to the Internet. pic.twitter.com/RUEQn6wqc1


— Soumyadip Choudhury (@soumyadip) August 15, 2017

Today in 1995: Internet services were launched in India by Videsh Sanchar Nigam Limited. The rate chart pic.twitter.com/s0BsTnms7A

— Mumbai Heritage (@mumbaiheritage) August 15, 2017




VSNL was able to add 10,000 Internet users in 6 months after its launch in Aug 1995.
Today thr r 450 million Internet subscribers in India


— Mumbai Heritage (@mumbaiheritage) August 16, 2017
While others had something to say.

On top of VSNL internet charge, you had to pay telephone charges for the duration of internet usage. https://t.co/u93palIO3J

— Shashikant Kore (@kshashi) August 16, 2017




Check what data was costing 22 yrs back! #VSNL Today it is less than Rs 20/GB thanks to #Jio #Reliance #JioDigitalLife pic.twitter.com/ZPhLYl0hse


— Ramkrishna (@KashelkarR) August 16, 2017

Eeek! We got our first VSNL connection in June 1999 and the prices had definitely dropped by then https://t.co/wJmkvBdMkQ

— wastrelette (@wastrelette) August 16, 2017




The shell account😂. Still remember never ending vsnl dialup sound. https://t.co/aVobgkbL7a


— Dark Right (@Akkradian) August 16, 2017

Shoutout to those who had VSNL (BOM1, BOM2, BOM3 email IDs), Caltiger and Pacific Internet as their first ISPs https://t.co/1t1lsS7LA2

— thewisecrab (@thewisecrab) August 15, 2017

20 years down the line, our current broadband plans will look laughable. Such is technology. Sigh.
Also Watch
Read full article