YouTuber Pewdiepie Just Dropped a Diss Track on T-Series and It is Fire
Pewdiepie is in no mood to give up.
Last Updated: October 10, 2018, 14:07 IST
FOLLOW US ON:
The YouTube war is on. While it is pretty much a one-sided beef, the world's most subscribed YouTuber Felix Arvid Ulf Kjellberg aka Pewdiepie is leaving no stones unturned to take digs at the #2 YouTube channel - T-Series.
T-Series, an Indian music record label and film production company, founded by Gulshan Kumar in the 1980s, is inching closer to claiming the #1 position on YouTube and this development has got the entire Internet talking. Including YouTube king Pewds.
While the Swedish content creator is backed by 66,802,893 subs, T-Series, on the other hand, is just a hair behind with 65,097,974 subs.
Sensing the end is near, Pewdiepie recently dropped a diss track roasting T-Series and the YouTube community couldn't have asked for more.
Here are some excerpts from the song:
(Friendly warning: Strong language used)
I don't like you T-Series
Nothing personal, kid
But I must go all out
Just this once
Bobs or vegana, whichever will it be?
Sit the f*** down T-Series, I'm here to spill the real tea
You tryna dethrone me from spot on number one
But you India, you lose so best think you haven't won
When I'm through with you
We're gonna be completely f***** done
'Cause we only just begun
I review you *clap clap*
Zero, bye bitch, gone
So come on, T-Series
Looking hungry for some drama
Here, let me serve your bitch lasagna
Bitch lasagna, bitch lasagna
T-Series ain't nothing but a bitch, lasagna
Dropped on 5th October, the diss track has raked 7.5 million views with a million likes.
When the subscriber war first came to light two months ago, T-Series was behind by as many as 6 million followers. The difference right now is less than 2 million.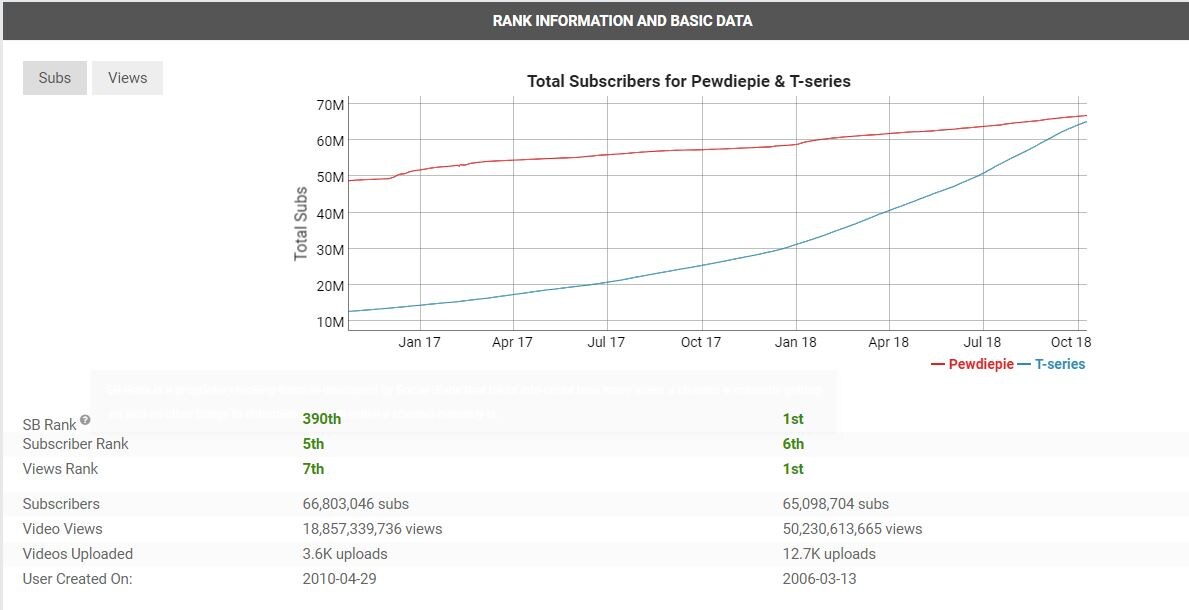 However, several users on the Internet believe that there's no comparison between the two channels. While the Swedish gamer is an independent creator, T-Series is a full-fledged music production company. YouTube's search and recommendation algorithm also benefits musical artists more than independent YouTube creators.
T-Series joined YouTube in 2006 and has released 12,699 videos since. Pewdiepie, who joined the platform in 2010, has 3622 videos to his name.
Next Story