AIFF positive of India hosting 2017 U-17 WC
FIFA secretary general Jerome Valcke also confident of India becoming a major sporting destination.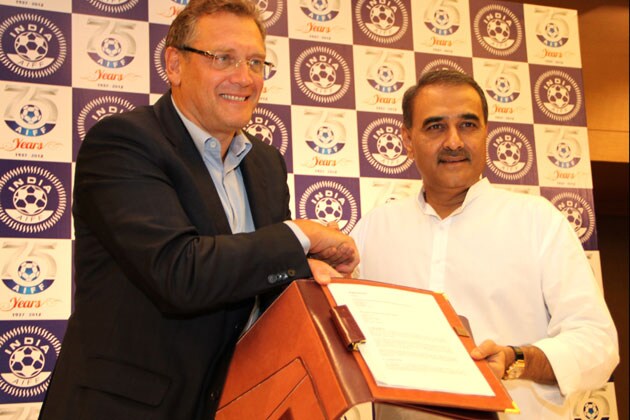 FIFA secretary general Jerome Valcke also confident of India becoming a major sporting destination.
New Delhi: The president of the All India Football Federation (AIFF), Praful Patel, has expressed confidence that FIFA will greenlight India as the host of the 2017 Under-17 World Cup.
When FIFA President Sepp Blatter visited India in March, Patel had announced that India would bid to host the Under 17 World Cup, and on Wednesday he reiterated his assurance. "I am pretty confident that FIFA will give India the opportunity to host the tournament," said Patel, who is also India's Heavy Industries Minister, during a media interaction in the presence of FIFA secretary general Jerome Valcke in New Delhi.
"AIFF are on right track and our main focus is youth development. A strong football base depends on providing facilities from the grassroots level and developing youth footballers. The FIFA U-17 World Cup will be the right event to help India make their mark in international football."
When asked about India's chances of hosting the tournament, Valcke, who is on a four-day trip of India, said the country could not be ignored as a sporting destination. "One country FIFA has to focus on Asia is India. It's a huge country and people love sports. On of the biggest target is to develop domestic football so that they can be recognized and be compared to EPL and La Liga," he said. "There is a lack of infrastructure and if FIFA gives India opportunity to host U-17 World Cup in 2017 then it will be a perfect platform for a country to get recognised in the sports."
Valcke will be meeting leading Indian industrialists Mukesh Ambani and Pawan Munjal during visit to the national capital as the world's football body looks at India as a major football destination.
Get the best of News18 delivered to your inbox - subscribe to News18 Daybreak. Follow News18.com on Twitter, Instagram, Facebook, Telegram, TikTok and on YouTube, and stay in the know with what's happening in the world around you – in real time.
Read full article