Benzema, Kaka help Real cruise past Alcoyano
Two goals by Karim Benzema and one each from Kaka and Jose Rodriguez gave Real Madrid a 4-1 away win.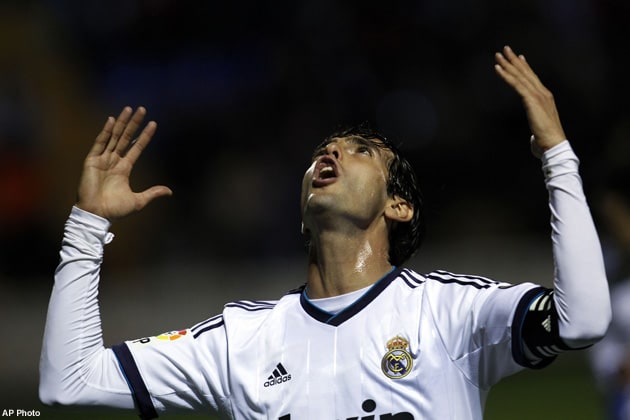 Two goals by Karim Benzema and one each from Kaka and Jose Rodriguez gave Real Madrid a 4-1 away win.
Madrid: Two goals by Karim Benzema and one each from Kaka and Jose Rodriguez gave Real Madrid a 4-1 away win over third-tier club Alcoyano in the first round of the Copa del Rey on Wednesday.
Benzema headed in after Alcoyano defenders Javier Selvas and Arkaitz Perez failed to clear Alvaro Morata's cross in the 21st minute. Alcoyano made a fast-passing start and had pounced on three of Madrid goalkeeper Antonio Adan's short clearances, causing Madrid to have to chase the ball hard in midfield.
"They played as I had expected — with joy, with intensity, with motivation and with self-belief because up until we started to score against them, they even looked better than us," Madrid coach Jose Mourinho said.
Kaka controlled Benzema's assist outside the penalty area, took a step forward and hit a left-footed shot low into goal in the 35th. The 17-year-old Rodriguez made a dream first-team debut with Madrid when he scored in the 67th, before Javier Lara pulled one back for Alcoyano from a free kick in the 77th. Benzema scored his second from an assist by Kaka in the 87th.
Mourinho rested Cristiano Ronaldo, Mesut Ozil, Xabi Alonso, Pepe, Sergio Ramos and captain Iker Casillas.
In the earlier games, Malaga beat Cacereno 4-3, Atletico Madrid trounced Real Jaen 3-0, Almeria won 2-0 against Celta Vigo, Zaragoza beat Granada 1-0 and Las Palmas downed Rayo Vallecano 1-0.
Malaga's United States international Oguchi Onyewu headed into goal in the fifth minute. Roque Santa Cruz doubled the lead 15 minutes later. Malaga's Cameroon international goalkeeper, Carlos Kameni, was beaten by Juan Gabriel Jaraiz in the 36th minute, and Alberto Macias levelled after he buried a pass from Ruben Jurado in the 42nd.
Sergio Duda gave Malaga the lead in the 59th minute, and team-mate Roque Santa Cruz scored in the 71st minute. Cacerano striker Carlos Esteve then headed into the net in the 87th minute.
Atletico Madrid showed the impressive form that has given them the co-leadership of the Spanish league with Barcelona following a solid victory against Jaen. Diego Costa converted a penalty in the 28th minute after Jaen's Daniel Torres had been sent off for handball in the penalty area. Adrian Lopez beat two defenders with a strong run while controlling the ball before hitting a shot into the net. Raul Garcia headed the final goal in injury time.
Things started badly for Rayo Vallecano when goalkeeper Daniel Gimenez was dismissed early in the first half after stopping the ball with his hand while outside the penalty area. Las Palmas' Thievy Guivane Bifouma Koulossa hit the winner in the 21st minute.
Zaragoza forward Carlos Aranda made it 1-0 against Granada in the 80th minute. Almeria forward Jonathan Sundy Zongo from Burkina Faso scored in the 53rd minute, and midfield team-mate Abel Molinero added another in the 87th minute.
####
Read full article