Latest update: England have beaten Colombia in the penalty shootout and Eric Dier scored the winning penalty after Colombia missed two shots.

Catch all the latest updates from the final round of 16 clash between Colombia and England from the 2018 FIFA World Cup in Moscow on News18Sports' live blog.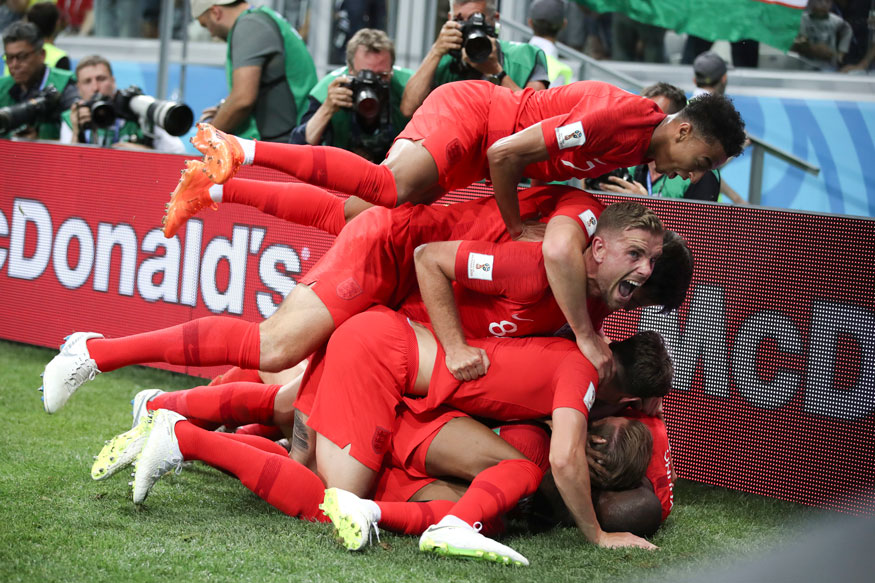 (Image: AP/PTI)

Preview: Colombia's James Rodriguez could be fit in time for their World Cup round of 16 game against England as he races to recover from a leg injury, coach Jose Pekerman said on Monday. The Golden Boot winner at the World Cup four years ago lasted only 30 minutes in their dramatic 1-0 victory over Senegal that saw them advance through the group stage but he could recover for Tuesday's match. "We had good news after his medical test (two days ago). After the MRI scan it was clear there was no serious injury," Pekerman told reporters. Rodriguez did not start the training session with the team on Monday but instead did stretching exercises. It was not clear if he would join in once the media had left. "We still have a day and a half until the game to see how he feels and we hope that he will be fit to play for the games that we have to play here," the coach said. Pekerman said Luis Muriel, who had replaced Rodriguez against Senegal, was an option once more should the midfielder be ruled out. Rodriguez has been involved in 10 of Colombia's last 14 World Cup goals. "Of course Luis Muriel is an option. He was great during match against Senegal and his skills were really valuable. He changed the pace, he is very gifted technically, very fast he can play really well," Pekerman said. "I think the most important thing is to keep creating possibilities without losing possession. My team has managed to develop in this sense. We are quite stable even when things turn difficult," said the 68-year-old. The Argentine praised England, saying they were favourites and had the advantage of having rested many players in their final group match as they had already secured their knockout spot early. Colombia's qualification went down to the wire in their last group match with Senegal. "This tournament has many games and not much time to recover so this is obviously an advantage for England," he said. "But we have played tough matches that have made us stronger, more confident and with more belief in ourselves. "We are very self-confident and that will compensate for the fact that they are more rested. Even if they are considered favourites and they are very good players and fast, we believe our team is in a very good moment."