Former England captain David Beckham has put his weight behind the under-fire Manchester City man Raheem Sterling. The winger was subjected to heavy criticism after he failed to break his goal drought for the national team against Sweden in the quarter-final of the 2018 FIFA World Cup.
Sterling caused a lot of havoc inside the Swedish defensive half with his lightning pace and trickery, but was guilty of wasting chances – the most glaring miss being the one where he ran onto a first time pass from Jordan Henderson and failed to find the back of the net.
"Haven't seen this but whatever it is it's wrong," Beckham wrote on Instagram. "We are in the semi-final of a World Cup. Every player deserves to be applauded. We as a country are united behind the team..."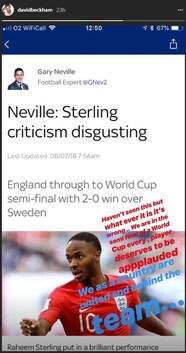 After the quarter-final, former England player turned pundit now, Gary Neville also spoke in support of Sterling's performance by highlighting the positive aspects.
Sterling, who has not scored in more than 1000 days for the England national team has been consistently singled out by some of the media and fans on social media. The 23-year old had previously also admitted that the barrage of negativity did make him reluctant to leave his house prior to the World Cup.