Ibra goal splits opinion on all-time ranking
Ibrahimovic's memorable goal against England has sparked worldwide debate about its place in all time great goals.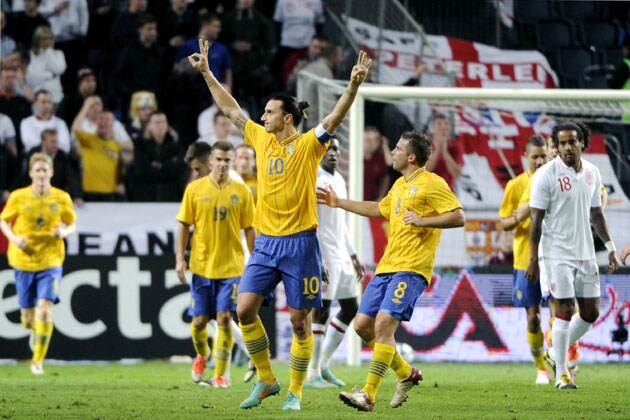 Ibrahimovic's memorable goal against England has sparked worldwide debate about its place in all time great goals.
London: Zlatan Ibrahimovic's memorable fourth strike in Sweden's 4-2 win over England on Wednesday has sparked worldwide debate about its place in the pantheon of great goals. England skipper Steven Gerrard said it was the best he has ever seen live but Norway coach Egil "Drillo" Olsen said it could not be regarded as truly great because goalkeeper Joe Hart was a long way off his line.
Sweden coach Erik Hamren said the goal, scored with a flying left-footed bicycle kick from 40 metres out, was like one "in a video game" while England manager Roy Hodgson said it was "extraordinary - a work of art." Former England manager Graham Taylor said it was "an absolute first class goal and it certainly ranks as one of the best goals I have seen in professional football." The Daily Telegraph hailed it as "Goal of the Century", which is reasonable as the century is still only in its second decade, but whether it will still be spoken of by the year 2099 is debatable.
Tottenham Hotspur manager Andre Villas-Boas was less effusive, describing it as an amazing goal but adding: "It's an awkward goal. Goals come in various different forms, it's really amazing to see, not the best I've ever seen, but really amazing." Olsen did not think it was all that special, but perhaps that was because he is Norwegian. "The goalkeeper wasn't there, so it's not that hard," he told Norwegian newspaper Dagbladet. "Without a goalkeeper you can score from 50 meters," continued Olsen, before adding his respect to the growing pile of plaudits for Sweden's captain.
Counting against it being the best ever is the fact it was scored in stoppage time at the end of a friendly international with Sweden already 3-2 ahead -- all three scored by Ibrahimovic. It also came with the England goalkeeper out of his goal after a botched headed clearance but there is no doubt that Ibrahimovic's athleticism and invention was remarkable as he leapt high in the air. The strike prompted the BBC to put together a selection of some outstanding individual goals, while thousands took to Twitter and other social media sites with their own opinions.
Among those mentioned, by far and away the most popular choice for best international goal ever scored was Diego Maradona's slalom through the England team for Argentina in the 1986 World Cup in Mexico. Marco Van Basten's incomparable angled strike for the Netherlands against the Soviet Union in the 1988 European Championship final is also a perennial favourite among international goals. Dennis Bergkamp's goal for the Netherlands against Argentina in the 1998 World Cup finals, and Roberto Carlos's 35-meter swinging free-kick for Brazil against France in 1997 are also outstanding strikes.
In club matches, Zinede Zidane's volley for Real Madrid in the 2002 Champions League final against Bayer Leverkusen is an obvious contender while England fans remember a bicycle kick just as athletic as Ibrahimovic's scored by Trevor Sinclair for Queens Park Rangers in an FA Cup match in January 1997. There are dozens of other contenders though, with greater claims than Ibrahimovic's because they were in competitive matches or finals. Carlos Alberto's fourth goal for Brazil in the 1970 World Cup final against Italy capped a surging Brazilian build-up and clinched the World Cup.
Ricky Villa's goal for Tottenham Hotspur in the 1981 FA Cup replay, when he shimmied his way through the Manchester City defence for the winner, was voted the greatest FA Cup final goal of all time last year. Ibrahimovic has scored some other astonishing goals himself for both club and country, including a remarkable solo effort for Ajax Amsterdam against NAC Breda in which he turned virtually the entire opposing defence inside out. But even that cannot compare to the goal George Weah scored for AC Milan against Verona in 1996 when the Liberian collected the ball in his own penalty area, ran 90 metres with it, evaded or beat six opponents, and lashed it home from inside the other penalty area.
Get the best of News18 delivered to your inbox - subscribe to News18 Daybreak. Follow News18.com on Twitter, Instagram, Facebook, Telegram, TikTok and on YouTube, and stay in the know with what's happening in the world around you – in real time.
Read full article