Juventus face Napoli, Roma visit relegation-threatened Sassuolo in Serie A
League leader Juventus travel to third-place Napoli this weekend looking to maintain their charge to a third successive title.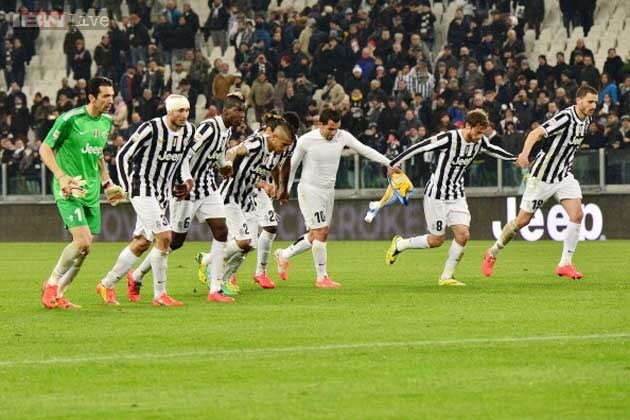 League leader Juventus travel to third-place Napoli this weekend looking to maintain their charge to a third successive title.
Milan: League leader Juventus travel to third-place Napoli this weekend looking to maintain their charge to a third successive title. Second-place Roma visit relegation-threatened Sassuolo earlier on Sunday and will be hoping to put some pressure on the Bianconeri and cut the gap to 11 points.
Here are five things to know about the Italian league this weekend:
RECORD-BREAKING JUVE
Having broken one record midweek, Juventus remain firmly on course for another.
Juventus beat Parma 2-1 to record a 15th successive home victory. A third straight Serie A title is already all but a certainty and the Bianconeri could break the 100-point mark in the process.
"We are taking important steps forward," coach Antonio Conte said. "We're on seven successive wins and I don't have any more words with which to praise the boys. Many of them have played eight consecutive matches and they are giving their maximum even if I don't have the chance to let them breathe again. They are incredible and they manage to surprise even me. We have got 81 points, despite playing every three days, despite a lot of injuries and tiredness."
TEVEZ OUT
Juventus travel to Napoli on Sunday without the league's top scorer Carlos Tevez.
Tevez, who scored twice against Parma to take his tally for the season to 18, also picked up a booking and will be suspended for the match.
"I am sad about that, because I won't be with my teammates," Tevez said. "And to think that Conte wanted to replace me just before I picked up that yellow card. ... I always want to play and score in every match but at least I'll be able to rest and prepare for Thursday's (Europa League game).
"I am certain it will be a great match, Napoli is playing good football and the atmosphere will be heated."
NAPOLI TARGETS SECOND
Napoli beat Catania 4-2 on Wednesday to reassert their claim for third spot and the final Champions League spot after the disappointing loss to Fiorentina at the weekend.
They moved 10 points above fourth-place Fiorentina who fell to a surprise defeat at home to AC Milan.
Coach Rafa Benitez says Roma is in now in his team's sights, despite a six-point gap to the capital club, which have played a game less.
"I was an important win, our aim remains second place," Benitez said. "Our target continues to be Roma, but it depends on them too. We will try to give our all and we can close the season brilliantly. We should have confidence because there are still 24 points available."
PERFECT FIVE FOR ATALANTA
Atalanta also broke a record midweek as they set a new club best of five successive victories with a 2-0 win over Livorno. That run has allowed the fans to start dreaming of the Europa League as they are four points off sixth spot.
Atalanta visit another relegation-threatened side on Saturday as they travel to Bologna.
"I'm happy with the record of five wins but I'm above all happy with our performance," coach Stefano Colantuono said. "It's confirmation that the team is growing. We know our limits but also our qualities. We shouldn't look at the fact we're four points from the Europa League. Now we have to think about Bologna, then about Sassuolo. Not for whatever target, but to continue to do well as we have done until now."
SEEDORF REPRIEVE
All the talk last week was that AC Milan coach Clarence Seedorf was heading for the sack and everything depended on his next two games against Lazio and Fiorentina.
Milan picked up four points in those two games and Seedorf has blasted his critics.
"Many false things were said," he said. "I am open to criticism as long as it is constructive, but what I see here is the intention to create controversy by spreading falsehoods disguised as fact. The people who wrote certain things have to deal with their own conscience, because mine is clear. I tried to keep the players focused on the game, but it was impossible not to be aware of what was being said outside."
Milan host relegation-threatened Chievo Verona on Saturday.
Read full article