Lionel Messi: The Beautiful Game's Favourite Child
Lionel Messi is utterly unique in that he is both creator and finisher. He's a composer and soloist, director and actor. Everything that is wonderful, and has been, about Barcelona in the last decade flows from him.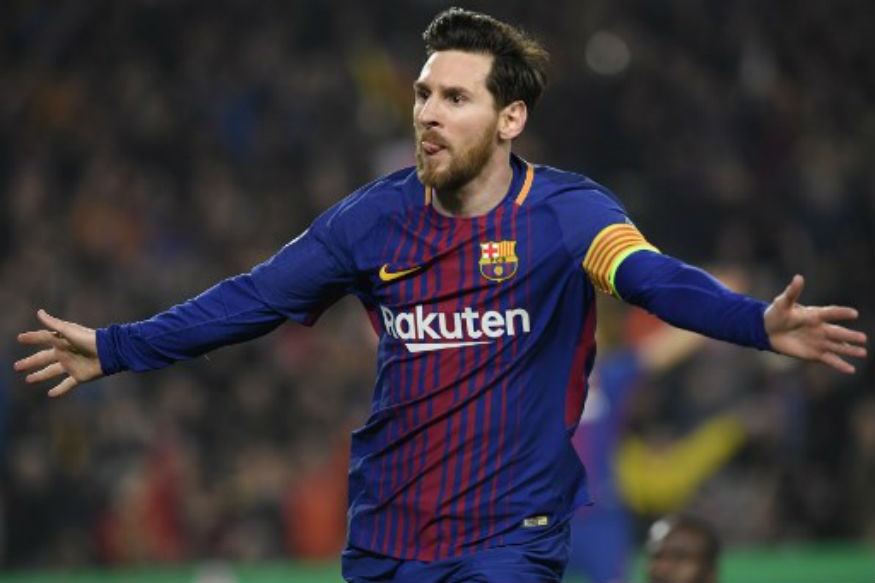 (Image: AFP)
"With feet as sensitive as a pick-pocket's hands, his control of the ball under the most violent pressure was hypnotic. The bewildering repertoire of feints and swerves, sudden stops and demoralising spurts, exploited a freakish elasticity of limb and torso, tremendous physical strength and resilience for so slight a figure and balance that would have made Isaac Newton decide he might as well have eaten the apple."
Those words were written by Hugh McIlvanney more than two decades after a disillusioned George Best walked out on football. For those from my generation and younger, Best is a mythical figure from the highlights reels, as much a cautionary tale of sporting excess as he was a Manchester United talisman. And more than 12 years after his death, and a day after United's Champions League exit, it was once again time to appreciate the man who is his true successor.
Paddy Crerand, Best's United teammate, spoke of how he would give defenders 'twisted blood'. To understand what he meant, you only had to watch Lionel Messi against Chelsea on Wednesday night. He scored two, making Thibaut Courtois look like the Eiffel Tower on both occasions, but it was the one he created that was straight out of the Best manual on how to play football.
Once he stole possession in midfield, Messi's acceleration was just scary. Like the Road Runner, he hurtled past two challenges. But that turn of speed is just one aspect of the Messi oeuvre. Even more intimidating for opposing defenders is the screeching halt and sudden change of direction, all with the ball seemingly glued to his instep.
At the Camp Nou on Wednesday night, his pause attracted Chelsea players like a magnet does pins. And with Luis Suarez also making a decoy run in front of Messi, the far side of the penalty area opened up like the parting Red Sea for Ousmane Dembélé. Under huge pressure as the replacement signing for Neymar, and having struggled with injury, it was just the sort of opening a young player with quality couldn't miss. A deflection helped it past Courtois, but there was sufficient venom in the shot for it to almost burst through the netting.
For long periods of the game, Chelsea controlled possession, leaving Barcelona, once the ball-hoggers of Europe, to feed on scraps. But whether it was Olivier Giroud or Alvaro Morata late on, Chelsea didn't have the cutting edge. Barcelona didn't need to. They have Messi, and as an admiring Antonio Conte said later, such players come along once every half-century.
In my lifetime, there hasn't been a player like him. Peak Diego Maradona was as good as anyone to lace up a pair of boots, but he was also a diva who hit the high notes only when he chose to. Zinedine Zidane in his prime was touched by magic too. Among the goalscorers, Marco van Basten, before the injuries took their toll, was the complete package.
But Messi is utterly unique in that he is both creator and finisher. He's a composer and soloist, director and actor. Everything that is wonderful, and has been, about Barcelona in the last decade flows from him. Yes, there have been others, but he is the common thread. Just look at the goals he's scored. This is the tenth straight season in which he has netted at least 40 times for Barcelona.
At least 40 times. Let that sink in. Over in England, there are frissons of excitement over whether Mohamed Salah or the now-injured Harry Kane can hit 40 for the season. Two wonderful players, but one season. Messi's been doing it for a decade. And the hundreds of assists aside, you can't even begin to quantify what he does for his teammates. Once he gets the ball and sets off on one of those slalom runs, he draws so much attention that his more astute colleagues, like Suarez, have oceans of space to exploit.
Neymar allegedly left Barcelona for Paris St. Germain to get out of Messi's shadow. PSG once again fell at the first knockout hurdle, while Barca are on course for a fourth Big Cup of the Messi era. Messi came to Barcelona as a teenager partly because they promised help with growth-hormone treatment. And as long as he continues to play, Neymar and everyone else will just have to accept that Messi will always dwarf those around him.
Get the best of News18 delivered to your inbox - subscribe to News18 Daybreak. Follow News18.com on Twitter, Instagram, Facebook, Telegram, TikTok and on YouTube, and stay in the know with what's happening in the world around you – in real time.
| Edited by: Abhimanyu Sen
Read full article