Liverpool beat Stoke on penalties, reach League Cup final
Liverpool beat Stoke 6-5 on penalties to reach the English League Cup final on Tuesday, ensuring Klopp a shot at silverware in his first season at Anfield.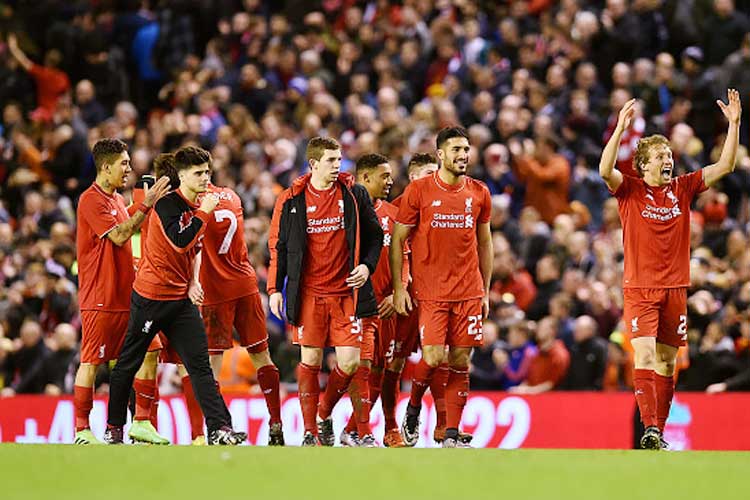 Image Credit: Getty Images.
Juergen Klopp sat behind a wall of Liverpool players and coaching staff, using the reaction of fans to gauge the ebb and flow of the penalty shootout.
In the end, the eruption inside Anfield told him everything he needed to know: Liverpool was heading to Wembley Stadium.
Liverpool beat Stoke 6-5 on penalties to reach the English League Cup final on Tuesday, ensuring Klopp a shot at silverware in his first season at Anfield. Joe Allen was the match-winner in the second leg, curling the decisive spot kick into the top right-hand corner — not that Klopp knew it.
The German coach didn't see a single attempt in the shootout. He just watched the cheers and groans of the fans.
"Usually I want to see them, but then the first row in the crowd can't see anything. I'm tall, you know," Klopp said. "So I said, 'Come on then. I can't spend 15 minutes on my knees' ... I sat on a chair and I saw nothing. Felt good, only watching the crowd. In the end, we won without me watching."
Stoke won the match 1-0 after extra time thanks to Marko Arnautovic's goal in first-half injury time, taking the match to penalties at 1-1 on aggregate.
Both sides failed to convert one of their first five penalties — Peter Crouch for Stoke and Emre Can for Liverpool — and shootout went to sudden death. Stoke defender Marc Muniesa saw his effort saved by Simon Mignolet, and Allen was given an opportunity to win it that he didn't waste. He was mobbed by his teammates.
"I was nervous," Allen said. "There was confusion about who would take the seventh penalty but I picked the right corner."
Liverpool will play either Everton — their Merseyside neighbor — or Manchester City in the Feb. 28 final at Wembley. Everton leads 2-1 heading into the second leg on Wednesday.
"I hear it would be the biggest thing — but only if we beat them," said Klopp, when asked about the possibility of an all-Merseyside final against Everton. "It would be a cool thing."
Stoke won at Anfield after 90 minutes for the first time since 1959 but the victory proved in vain for the Midlands club, which was looking to reach its third final in this competition.
"I thought we were the better team, the dominant team, more likely to score," Hughes said, "but we aren't the ones going to Wembley."
Instead, that honor goes to Liverpool, the most successful team in League Cup history with eight titles. Klopp will be back at Wembley for the first time since he led Borussia Dortmund there in the all-German Champions League final in 2013, won by Bayern Munich.
Liverpool beat Norwich 5-4 in a Premier League classic on Saturday but its inconsistency under Klopp resurfaced here.
Stoke signaled its intent to make life uncomfortable for Liverpool by starting with the tall Crouch and a hard-working fellow frontman in Jon Walters. The team has refined its playing style under Hughes to make it more pleasing on the eye, but this was the Stoke of the Tony Pulis years.
The switch paid off.
Crouch was a constant menace and Liverpool's ball-playing midfielders were harried into basic mistakes. The distribution from both sides was very poor.
Arnautovic's goal was out of keeping with what went on previously in the first half. Bojan Krkic was played in behind isolated center back Mamadou Sakho, and the forward crossed for Arnautovic — arriving from an offside position — to sweep home a low finish.
Klopp sent on Christian Benteke to replace captain Jordan Henderson early in the second half to give Liverpool more presence up front but it made little difference, and Stoke continued to look more dangerous, especially when Arnautovic got the ball, and from set-pieces using Crouch's height.
Liverpool repelled late pressing to reach extra time, at the end of which away goals would take effect. And Stoke almost got its second when Marco van Ginkel struck a low shot against the post.
Get the best of News18 delivered to your inbox - subscribe to News18 Daybreak. Follow News18.com on Twitter, Instagram, Facebook, Telegram, TikTok and on YouTube, and stay in the know with what's happening in the world around you – in real time.
Read full article