Liverpool vs Manchester United: Top 10 Encounters Since 2000
Liverpool and Manchester United have played out some heart-stopping encounters over the years, so lets take a look at some of the best matches between the two rivals since the turn of the century.
(Getty Images)
When one thinks of a footballing rivalry, multiple match-ups spring up in the mind, but there are not many match-ups in club football that rivals the intense atmosphere of that of a Manchester United versus Liverpool blockbuster.
The two teams will once again collide in the Premier League on Saturday at Anfield — the home of the Reds. Manchester United are currently sitting pretty at the second spot of the table, only behind cross-town rivals Manchester City on goal-difference. While as for Liverpool, they are currently seventh on the list. However, make no mistake, form and rankings go out of the window when these two teams come face to face.
"Some people think football is a matter of life and death. I assure you, it's much more serious than that," legendary Liverpool manager Bill Shankly was quoted as saying in late 1980's and this quote fits the bill perfectly as far as a match between the two most successful club in England is concerned.
These two teams have been at loggerheads against each other even before the days of former Manchester United manager Sir Alex Ferguson, who once infamously said," My greatest challenge is knocking Liverpool right off their ******* perch. And you can print that."
Liverpool and Manchester United have played out some heart-stopping encounters over the years, so lets take a look at some of the best matches between the two rivals since the turn of the century.
Liverpool 3 : Manchester United 1 - Anfield (4 Nov 2001)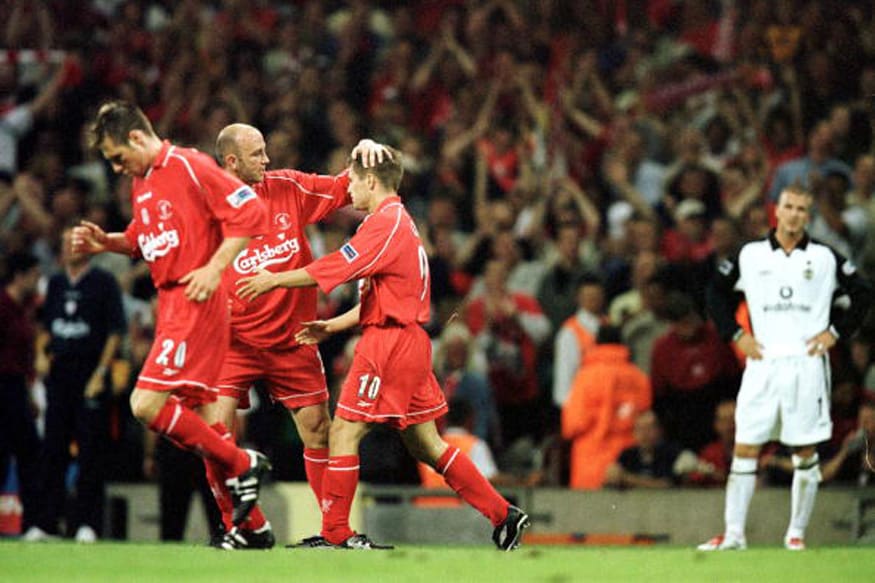 Michael Owen of Liverpool .(Getty Images)
It was one of those times for Liverpool when everything went in their favour on the pitch against their arch-rivals.
A Michael Owen brace, a blunder in the goal from Fabian Barthez and an unstoppable John Arne Risse free-kick meant the Reds made it four wins on the trot against United. David Beckham pulled one back for Manchester United but the Reds took home all three points.
Manchester United 4 : Liverpool 0 - Old Trafford (5 Apr 2003)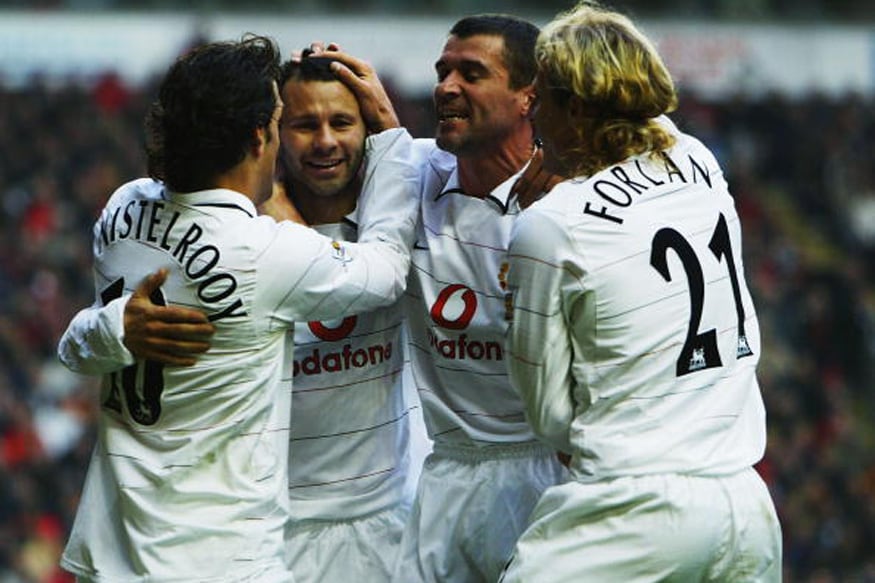 Ryan Giggs celebrates with Manchester United teammates. (Getty Images)
Liverpool imploded as early as the fifth minute of the match itself and were given a massive drubbing at the hands of Sir Alex Ferguson's troops at Old Trafford.
Defender Sami Hyppia gave away a penalty and was also sent off as 10-men Liverpool were no match for the Manchester Juggernaut from there on. A penalty brace from Ruud Van Nistelrooy and one goal apiece from Ryan Giggs and Ole Gunnar Solksjaer inflicted one of the heaviest defeats on Liverpool against United.
Liverpool 1 : Manchester United 2 - Anfield (9 Nov 2003)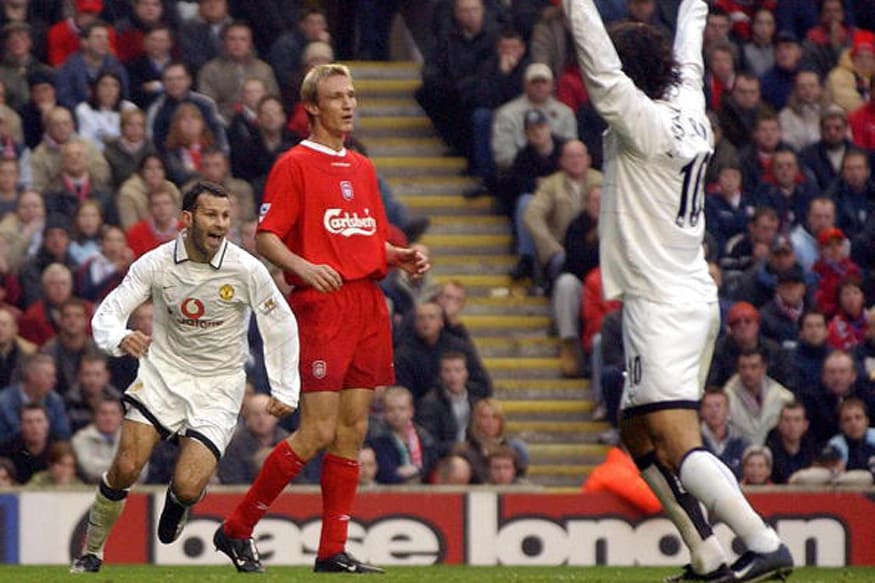 Ryan Giggs celebrates his second goal. (Getty Images)
Former Manchester United winger Ryan Giggs single-handedly won this particular clash at Anfield. The Welsh Wizard gave United the lead through a freak goal, which in reality was a cross for striker Ruud Van Nistelrooy.
While the second goal was a case of being at the right place at the right time as the ball found Giggs near the edge of the six-yard box, which he slotted home in a very composed manner.
Manchester United 1 : Liverpool 4 - Old Trafford (14 Mar 2009)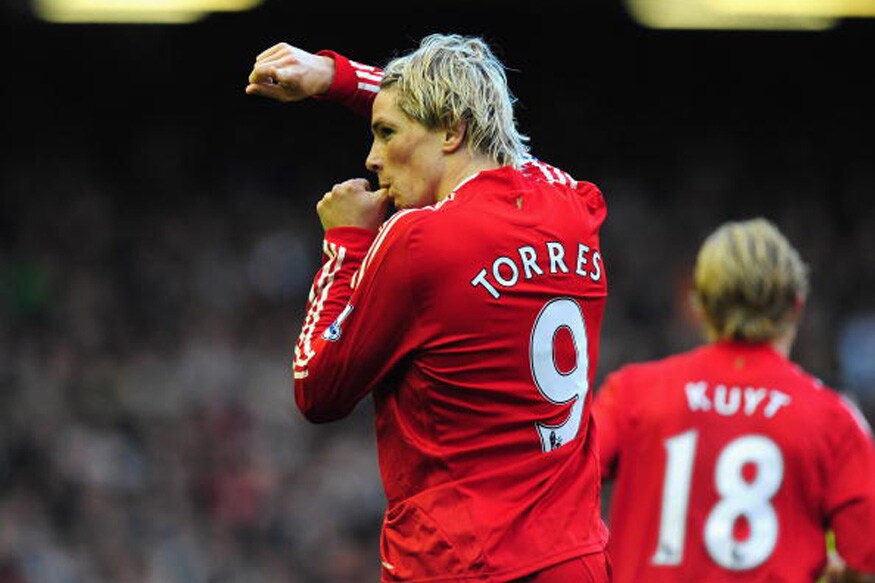 Fernando Torres of Liverpool celebrates scoring a goal. (Getty Images)
Liverpool's Spanish striker Fernando Torres ensured Old Trafford became The Theater of 'Nightmare' for the home side — he was in that kind of a form that day. Torres became Nemanja Vidic's kryptonite as Manchester United were drubbed 1-4 at the hands of their fiercest rivals.
An early Cristiano Ronaldo penalty was cancelled by Torres while a brace from captain Steven Gerrard sealed the deal for Liverpool. Vidic was one of the contenders for the player of the season title but he had a horror game against the Reds as he gave away a penalty and was also sent off.
Manchester United 3 : Liverpool 2 - Old Trafford (19 Sept 2010)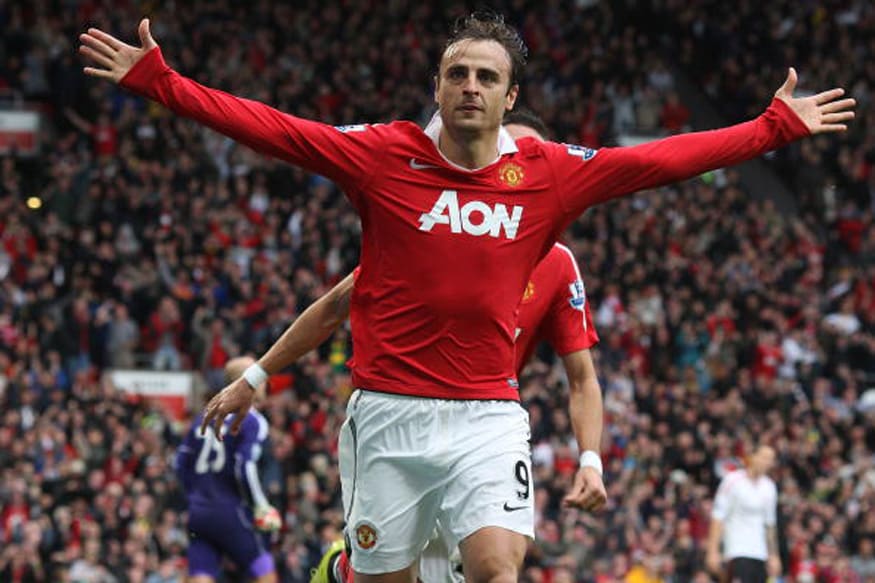 Hat-trick hero Dimitar Berbatov. (Getty Images)
Similar to the Ashes series of 1981, which is popularly known as Botham's Ashes, this particular match was won with the magic of Berbatov.
Manchester United's Bulgarian striker Dimitar Berbatov scored a scintillating hat-trick to inflict more misery on their rivals. United first went 2-0 up but Liverpool — riding on a brace from skipper Steve Gerard — had the tenacity to storm back into the match.
But Berba's touch of genius — a sublime overhead kick — won the game for the Red Devils.
Liverpool 3 : Manchester United 1 - Anfield (6 Mar 2011)
Dirk Kuyt of Liverpool celebrates his goal. (Getty Images)
Liverpool were not part of a title race then, but they ensured table topper Manchester United had a torrid time winning the league themselves as the Reds inflicted one of the heaviest defeats of the season on them. The United defenders were busy marking the newly-signed hotshot striker Luis Suarez, but Dirk Kyut put on a fantastic three goal display to blow open the title race.
However the headline-grabbing incident came right on the half-time mark when Nani was fouled by Carragher that eventually required the Portuguese winger to be stretchered off. In an angry aftermath of the incident, players from both sides almost went to blows as the match lived up to its billing.
Liverpool 1 : Manchester United 0 - Anfield (1 Sept 2013)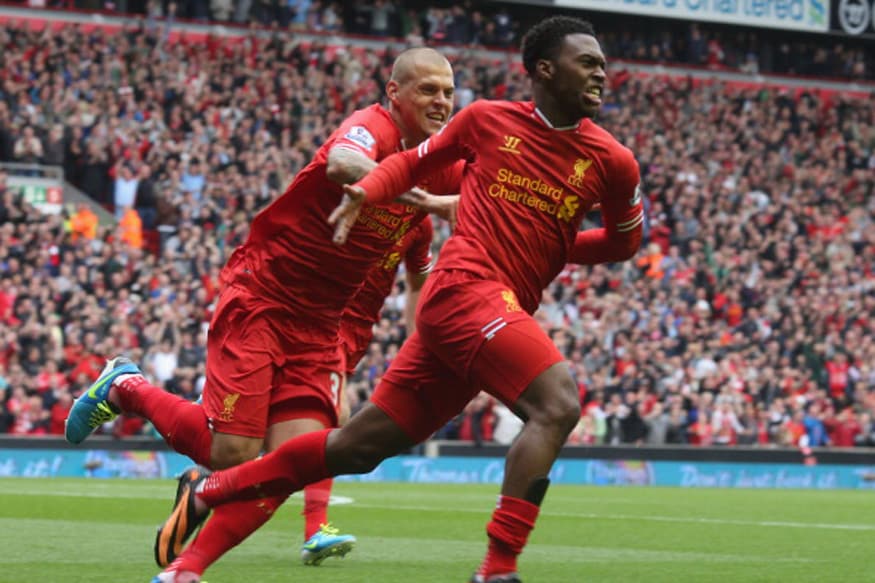 Daniel Sturridge of Liverpool (L) celebrates scoring their first goal with Martin Skrtel. (Getty Images)
Liverpool celebrated the 100th birth anniversary of club legend Bill Shankly by beating Manchester United 1-0 at home. Daniel Sturridge's third minute goal proved to be the winner over the toothless Red Devils who were playing in this fixture under new manager David Moyes for the first time ever.
By blanking their arch-rivals, Liverpool also became the first team since Chelsea on 2010-11 to win their opening three league games without conceding a goal.
Manchester United 0 : Liverpool 3 - Old Trafford (16 March 2014)
Liverpool's Steven Gerrard celebrates after scoring. (Getty Images)
Liverpool did the double of over Manchester United as they backed the 1-0 home win with a resounding 3-0 win at Old Trafford, inflicting further misery on David Moyes.
In the 2014 season, the Reds brimming with confidence as they were moving all guns blazing towards their first Premier League title since 1990 and unfortunately the sorry Manchester United side fell right in the middle of it.
Nemanja Vidic was sent off for the fourth time in this fixture and coupled with a Steven Gerrard brace, the Merseysiders ran riot in the heart of Manchester.
Daniel Sturridge added a goal late on to make the scoreline even more embarrassing for the Stretford End and it further pushed Moyes towards getting the boot.
Liverpool 1 : Manchester United 2 - Anfield (21 March 2015)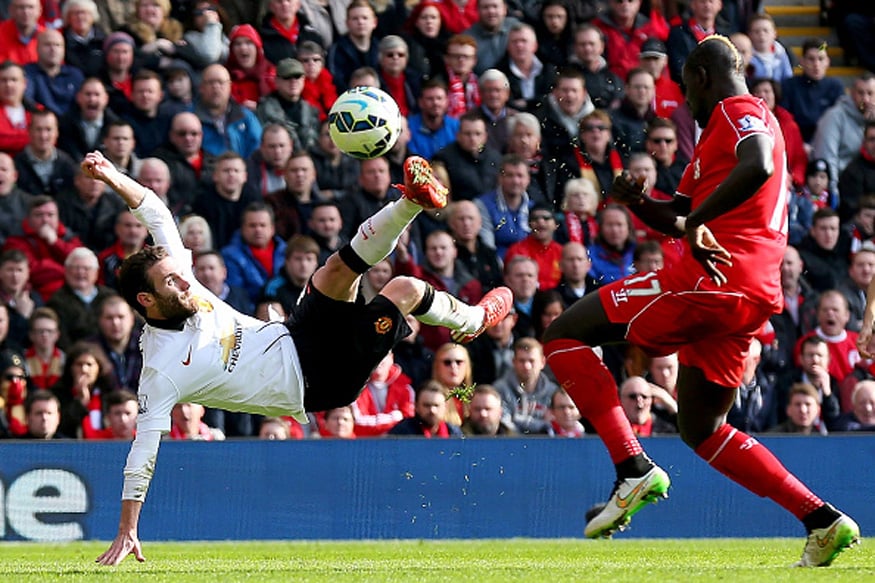 Juan Mata of Manchester United scores an overhead goal. (Getty Images)
Liverpool legend Steven Gerard's final appearance in this fixture was scuppered by a Juan Mata brace and a 38-second red card. Mata gave United the lead after a sublime through ball in the first half itself.
Gerard was introduced as a second half substitute for Adam Lallana but his time on the pitch lasted just half a minute as he was sent off for stomping on midfielder Ander Herera.
Mata doubled the visitors' lead with a brilliant overhead kick after beating the off-side trap in front of the Kop. Daniel Sturridge pulled one back but the homes side never threatened United's lead further. Wayne Rooney also missed one penalty late into the second half in an eventful day at the Merseyside.
Manchester United 3 : Liverpool 1 - Old Trafford (12 Sept 2015)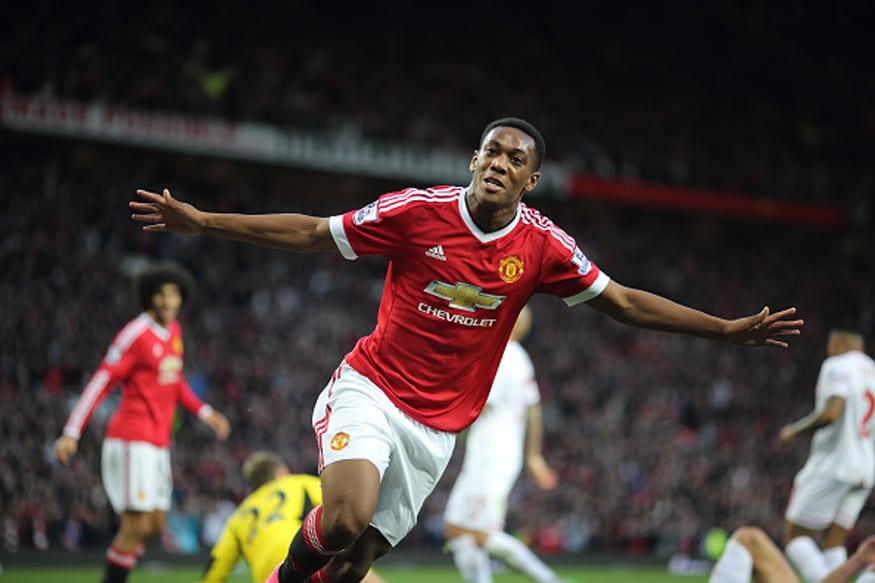 Anthony Martial of Manchester United celebrates after scoring his first United goal. (Getty Images)
This match announced 58 million pounds teenage sensation Anthony Martial on the biggest stage, as he ran past three defenders to slot home a Henry-esque debut goal for Manchester United. Liverpool had fallen behind two goals courtesy of a Daley Blind crisp finish and an Ander Herrera penalty.
Belgian striker Christian Benteke handed Liverpool a lifeline with a goal of the season contender overhead kick. But 19-year old Martial put an end to any kind of a comeback by scoring a brilliant solo goal and endearing himself to the Old Trafford faithfuls straightaway.
Get the best of News18 delivered to your inbox - subscribe to News18 Daybreak. Follow News18.com on Twitter, Instagram, Facebook, Telegram, TikTok and on YouTube, and stay in the know with what's happening in the world around you – in real time.
| Edited by: Abhimanyu Sen
Read full article