Pragmatic Jose Mourinho Passes Chelsea & Liverpool Test But Crunch Games Await Manchester United
Arguably, the most hated guy in modern day football, Jose Mourinho has one particular trait that seems to come to the fore, time and time again — effectiveness!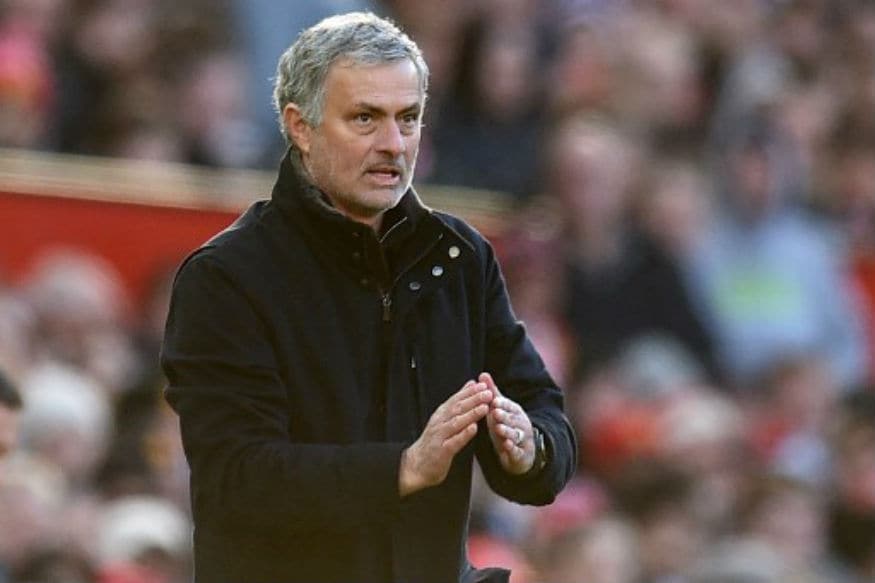 Manchester United coach Jose Mourinho (Image: AFP)
'A cold killer' (Luciano Spalletti), 'Rude and Uneducated' (Franz Beckenbauer) and 'The enemy of football' (Volker Roth) - these are some of the names that current Manchester United manager Jose Mourinho has been called as over the years. Arguably, the most hated guy in modern day football, Mourinho has one particular trait that seems to come to the fore, time and time again — effectiveness!
Manchester United's stunning win against Liverpool was the perfect example of Mourinho's pragmatism, coupled with his team's effectiveness in front of the goal. The formidable troika of Mohammad Salah, Sadio Mane and Roberto Firmino were found wanting against the might of Mourinho, who set up his team in such a way that it negated the high-flying Liverpool side, who had scored a whopping 67 goals in 29 matches, prior to this blockbuster clash at Old Trafford.
"We can split the halves - United first half and Liverpool second but in my opinion our first half was a half with goals and danger. In the second half - in my opinion it was Liverpool controlling with the ball and United controlling without the ball. Our team was always in control. Even in set pieces, corners, dangerous situations - we were in control so I think we deserved it," Mourinho said after the victory.
Control — a word that might rank at the top of the list if the Portuguese is asked to pick his favourites from the English dictionary and he likes his teams to play in the same fashion whenever they get onto the field. And those who come in his way, often tend to learn it the hard-way, be it anyone. Ask the most expensive player in the history of Manchester United and he will tell you that one shouldn't cross Mourinho path ever!
But in this particular match against Liverpool, Mourinho had complete control over his counterpart Jurgen Klopp, whom he had never beaten in the Premier League before Saturday. In the previous two outings, Mourinho had set up his team in such a way that they snatched 0-0 draws from the jaws of defeat on both the occasions. Pundits and experts always tend to lash out at Mourinho for his pragmatic approach in big games but what they seem to ignore is that it is because of this style of play, Manchester United are sitting pretty at second on the table and teams who are playing 'good, attacking and beautiful football' are at third and fourth, respectively.
So far, Mourinho has a good record against the so-called 'top six' in the league, which has improved drastically after United managed to beat the likes of Chelsea and Liverpool at home in a matter of just few weeks. Apart from run-away league leaders Manchester City, the Red Devils have now beaten their direct top six rivals at least once this term — scoring 9 and conceding 8. His methods many not appeal to everyone but it sure brings him results more often than not.
But as far as the season is concerned, there is still a lot of work left for Mourinho to do, if he is to take United to 'where they belong', something which he emphatically promised when he replaced Louis Van Gaal at helm.
Mourinho may have passed a couple of hurdles and thrown the monkey off his back by beating the likes of Chelsea and Liverpool in quick succession to consolidate the team's position at second spot in the league, but he is yet to deliver in Cup tournaments, which will be due in the coming days. With Sevilla and Brighton reaching the shores of Manchester for their respective matches in UEFA Champions League and FA Cup, the Portuguese knows this week might very well go onto define his entire season. No one will remember which teams Manchester United beat if the bulging cabinet at Old Trafford doesn't see new additions this term.
Get the best of News18 delivered to your inbox - subscribe to News18 Daybreak. Follow News18.com on Twitter, Instagram, Facebook, Telegram, TikTok and on YouTube, and stay in the know with what's happening in the world around you – in real time.
| Edited by: Abhimanyu Sen
Read full article