From living in the slums and losing his father at a young age to a desire to excel in football, the journey of Pratik Shinde is a gut-wrenching tale of determination that got through all the hardships until a world class footballer walked out of a chawl in the slums of Chembur in Mumbai.
At the time Pratik played with his friends in a small make-shift ground, little did he or his mates know that one day he will be sharing the dressing room with greats of the game, which makes his story a stuff of fairytales.
After his father's death, Pratik, who was then in the seventh standard, struggled to take his dream forward. With responsibility of two little sisters on his young shoulders, Pratik was the only hope for his mother.
Livelihood became difficult, studies fell by the wayside, but all that didn't kill Pratik's hunger of becoming a footballer.
"It was quite hard to live after his [father's] demise. Thank god we survived! Life was so difficult. My mother used to give tuitions to neighbourhood children to take care of us. Even I used to do petty jobs. I was keen to go to school but couldn't manage that," Pratik told News18.com in an exclusive interview.
But the young man doesn't want to look back.
"My mother still takes tuition, but now it's not for money but to keep herself engaged," he said. "I have just two things in my life – football and family. I don't want to look into my past. I just want to look into future."
Chasing His Dream
Once a ball-boy in 2008 during the I-League, Pratik became the youngest Indian footballer to get an overseas contract abroad four years later when the US soccer club Galveston Pirates SC came calling.
Further four years from that day, he is now ready for his second stint abroad as he has been offered another contract from the Houston Hurricanes.
"I was playing for the Andheri Football Academy in the Gothia Cup Youth Football Tournament in Sweden. Teams from other European countries also participated in the tournament. I was the highest scorer for my team.
"Brandon Keyes, the head coach of Galveston Pirates SC, came to me and said he is impressed the way I have played and offered me the contract. I was extremely happy because it was a major turn in my career. It was a big platform and I just wanted to give my best" Pratik said.
Keyes has played a vital role in building Pratik's career. It reflects in the fact that when Keyes moved from Galveston to the Hurricanes, he ensured that the young Indian player comes with him.
"Keyes has been very supportive. He just wanted me to do well and perform. Apart from football, he taught me what life is. I lost my father at a young age. He is like a father figure."
Pratik couldn't have asked for more when Keyes, besides shaping up the Indian's football career, also helped him complete his studies in the US.
"Yes, I did complete my schooling. I got admitted in Clear Brook High School in the US. Keyes sponsored everything. He supported my studies, books, stay and everything."
Feet on Ground
The 21-year-old has now moved from that chawl in Chembur to a plush apartment in the Nerul area of Mumbai, just a small distance away from the DY Patil stadium.
"Football has changed my life. I have everything, even more than that what I struggled for. I am thankful to god that he showed me the way. I am happy that I am supporting my family well and have become a proud son and brother too. I have no complaints from life," he said with sense of proud and relief.
But he hasn't forgotten from where he comes, and that's why he hasn't sold his old house. It helps him keep is feet firmly on the ground.
"Whenever I drive through [the Chembur chawl], I see my old house in that slum. I have strictly told my mother that we will never sell that. I want to keep that forever in my life," Pratik said. "It is totally different and special for me. Not only did I learn football there but life too. I had to leave my family back. I had to quit my school. I was in ninth grade when I went to US."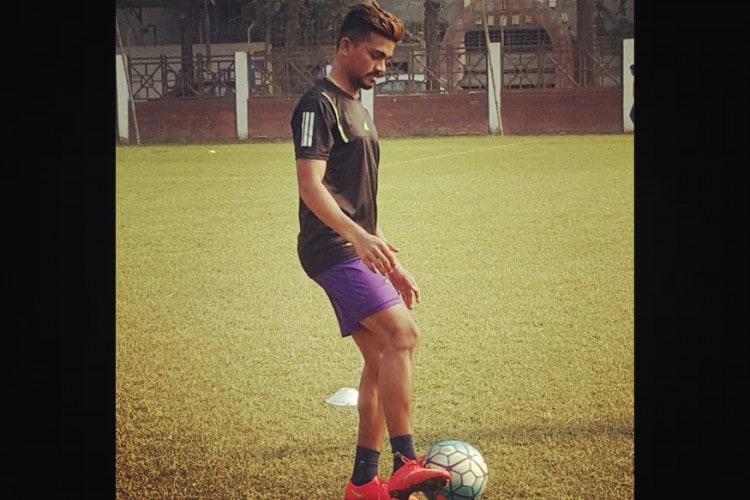 When football came
Describing how football came into his life, the Mumbaikar said,: "I wasn't into this game in childhood. I didn't know anything about football. Football just came into my life.
"I used to go everyday to pick my sister from school. I was in seventh standard. I used to wait for her; and in the meanwhile, I used to watch a group of boys playing football in a playground. It was my everyday routine to watch them play. Those people used to see my excitement. I wanted to join them but I didn't have the kit and jersey. One day, Vaibhav Gawle, their coach, came to me and asked me to join them. I was glad and rushed to the field.
"That is how it started," Pratik said.
Gawle provided Pratik kit, jersey and everything else to ignite his interest further.
"If there is one person who groomed me since I opted for football, it is Vaibhav Gawle. He is my first coach. Whatever I am today, it is all due to him. He is never happy with my performance. Even if I score, he takes out the negatives of my performance," Pratik said.
"He was a football coach and used to charge from each of the players except me. He never took a single penny from me. After the coaching classes, he used to bring the required diet for me. I owe him for my entire life," he added.
The ISL, and India Dream
Pratik has also represented FC Pune City in the Indian Super League (ISL).
"ISL was another learning for me. I got to play with star players all around the world. One of those was David Trezeguet. He is a World Cup winner for France in 1998. He shared his experiences with me," he said.
But like every footballer and sportsperson, Pratik has only one dream – that is to play for his country.
"Yes, of course. If I ever get a chance to play for my country, I will grab the opportunity from both hands. It is every footballer's dream to play for his country someday. So I won't stop until I get there," he signed off.