Real Madrid sack Rafa Benitez, appoint Zinedine Zidane as coach
Real Madrid have fired coach Rafa Benitez after only seven months and replaced him with former player Zinedine Zidane.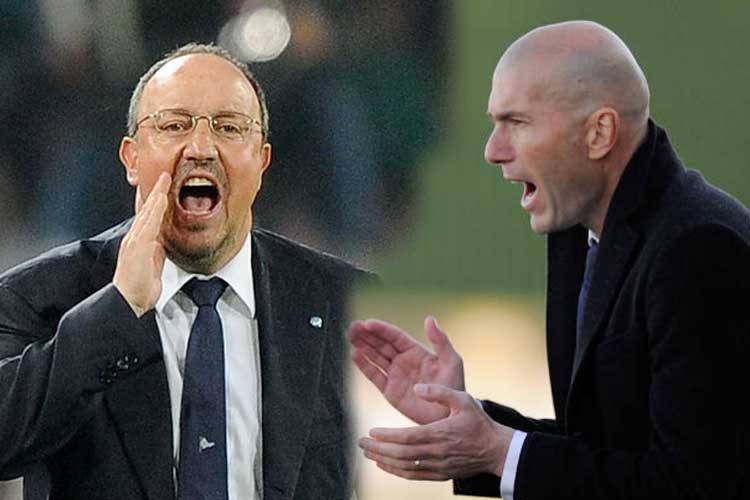 Image Credit: Getty Images.
Madrid: Real Madrid have fired coach Rafa Benitez after only seven months and replaced him with former player Zinedine Zidane.
Club president Florentino Perez announced the decision at the Santiago Bernabeu stadium on Monday, a day after Madrid's 2-2 draw at Valencia deepened a crisis that started with an embarrassing 4-0 home loss to rival Barcelona in November.
Madrid won seven of nine matches since that demoralising defeat but fans continued to demand the departure of Benitez, whose Liverpool side won the Champions League in 2005.
Real Madrid are third in the Spanish league, four points behind leader Atletico Madrid and two behind Barcelona, who have a game in hand.
France soccer great Zidane, who was Carlo Ancelotti's assistant in 2014 when Real Madrid won the Champions League, has been coaching Madrid's "B'' team in the third division.
Zidane was at the Bernabeu with his wife and four kids.
"I'm more emotional now than when I signed as a player," said Zidane, who ended his career at Real Madrid in 2006.
It will be the first major coaching job for the former playmaker, whose career was marked by greatness on the field but also by his head-butting of an Italian defender in the 2006 World Cup final.
"He is clearly conscious of how tough this job is," Perez said. "Zidane doesn't know the word impossible."
Zidane leaves Real Madrid Castilla in second place in the third division, with 37 points from 19 games.
Perez had supported Benitez since the Barcelona loss, saying the Spaniard "was the solution, not the problem," to Madrid's crisis. But fans kept showing their discontentment even in an 8-0 win over Malmo in the Champions League and a 10-2 rout of Rayo Vallecano in the Spanish league. They also were not happy with the team's embarrassing elimination from the Copa del Rey for using an ineligible player.
Zidane's name was mentioned by Spanish media every time Real Madrid struggled. The 43-year-old former playmaker kept dismissing the possibility of taking over Benitez, but always made it clear that his ultimate goal was to coach the main team. Perez recently praised Zidane and said that naturally he would become Madrid's coach one day.
There had been speculation about former Chelsea coach Jose Mourinho taking over at Madrid, but Perez said the Portuguese coach's return wasn't in the team's plans for now.
Madrid's next match is at Granada on Sunday in the 22nd round of the Spanish league.
Get the best of News18 delivered to your inbox - subscribe to News18 Daybreak. Follow News18.com on Twitter, Instagram, Facebook, Telegram, TikTok and on YouTube, and stay in the know with what's happening in the world around you – in real time.
Read full article