Spain vs Morocco, FIFA World Cup 2018, Highlights: As it Happened
Catch all the live updates from the Group B encounter between Spain and Morocco on News18Sports.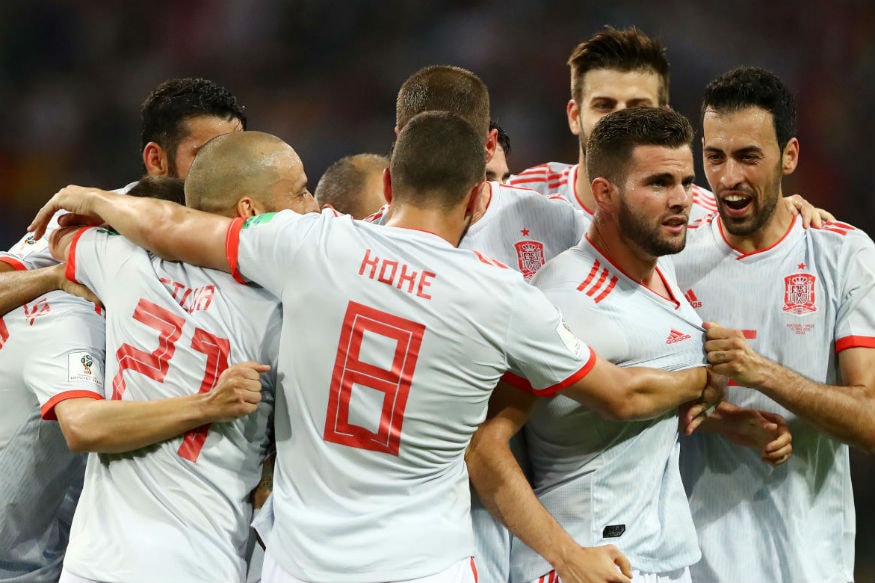 File image of Spanish National team. (FIFA Image)
Catch all the live updates from the Group B encounter between Spain and Morocco on News18Sports.
Commentary:
90:Spain could now finish top of the group.
90:Achraf Hakimi receives a yellow card for his actions after the goal was scored.
90:After discussion with the video officials through his earpiece, Referee Ravshan Irmatov gives Spain the goal! Iago Aspas from close range! Spain guaranteed to go through!
90:Spain play a corner short and Dani Carvajal sends in the cross but Iago Aspas is called for offside.
90:Four minutes injury time added.
90:Achraf Hakimi (Morocco)
90:Iago Aspas. Assist by Dani Carvajal (Spain)
89:El Kajoui is booked for wasting time before a goal kick.
88:El Kajoui (Morocco)
87:Andres Iniesta finds Iago Aspas on the left side who cuts it back but Marco Asensio cannot get the header toward the goal.
86:Isco has a free kick from the right side following a Hakim Ziyach foul but no one can rise to meet it.
85:Aziz Bouhaddouz enters for Hakim Ziyach.
85:Aziz Bouhaddouz (on). Hakim Ziyach (off). (Morocco)
84:Rodrigo enters for David Silva.
84:Rodrigo (on). David Silva (off). (Spain)
83:Nervous moments now for Spain as they will be hoping the result holds in Iran-Portugal.
81:After a Hakim Ziyach effort deflects off Gerard Pique for a right corner kick the ball swing out to the center of the box. Youseff En-Nesyri rises over Sergio Ramos to slam the header past a flat-footed David De Gea!
81:Youseff En-Nesyri. Assist by Nabil Dirar (Morocco)
78:Sergio Ramos fires from 40 yards away and it goes well high of the goal.
76:On the right wing Isco fouls Noureddine Amrabat. Hakim Ziyach sends in a free kick but it is cleared away outside the box.
75:Gerard Pique and Sergio Ramos are positioned beyond the center circle as Spain cycle the ball around the Moroccan half.
74:Marco Asensio enters for Thiago.
74:Iago Aspas enters for Diego Costa.
74:Marco Asensio (on). Thiago (off). (Spain)
74:Iago Aspas (on). Diego Costa (off). (Spain)
73:Spain are safe to advance to the knockout round if the current scores hold.
72:Youseff En-Nesyri (on). Khalid Boutaib (off). (Morocco)
71:Youseff En-Nesyri enters for Khalid Boutaib.
70:After a first half with multiple confrontations and four yellow cards for Morocco, the second half has seen fewer feisty moments.
69:Thiago makes a run and Diego Costa finds him outside the box but the midfielder shoots high over the goal.
68:Newly entered Faycal Fajr runs down Andres Iniesta along the left wing.
67:On the end of the right side of the box short passes are exchanged twice between the two creative midfielders but they cannot turn it into a shot.
65:After Isco loses the ball, Morocco turns upfield but Sergio Ramos makes a timely intervention to send the ball out for a throw. Ramos was 10 yards inside the Morocco half but was the last man back on that side of the field.
63:Faycal Fajr enters for Younes Belhanda.
63:Isco swings out the corner from the right side but Gerard Pique does not get enough on the ball to send it on goal.
63:Faycal Fajr (on). Younes Belhanda (off). (Morocco)
61:Dani Carvajal crosses to the far side, Isco rises to put the header back the other way but Romain Saiss clears it off the line and out for a Spain corner.
60:After an Noureddine Amrabat foul, Isco takes a free kick from the left side that is intercepted before it reaches the near post.
59:David Silva and Thiago combine on the right side and Thiago leaps into a volley that goes wide.
56:Gerard Pique has a shot from a great distance away that goes high into the end.
55:A strong swerving strike from Noureddine Amrabat hits the top left corner of the goal and bounces out. David De Gea was nowhere near saving it.
55:David Silva swings it in but El Kajoui intervenes.
54:Spain have a set piece from the right corner.
53:David Silva works it into the right side of the box and finds Isco at the top of the box but when he controls and the defense closes down before he can shoot.
52:Gerard Pique and Sergio Ramos are well inside the Morocco half as Spain press for another goal.
50:Mbark Boussoufa has position in front of the goalkeeper but David De Gea sprints forward and clears the ball before the Moroccan midfielder can put a head on it.
48:4-5-1 rarely looks tigher than it does right now with Spain looking for edges and seams around the Moroccan defense.
47:Morocco try to send it into the box but the ball comes off Gerard Pique. Referee Ravshan Irmatov does not make a ruling and play continues.
47:Real Madrid teammates Dani Carvajal and Achraf Hakimi square up in the left corner. Hakimi drops the ball back but a cross goes out for a goal kick.
46:Isco shuffles to the center but cannot find David Silva making a run down the right channel.
46:No changes for either team yet.
45:Andres Iniesta has another great idea, sliding a pass across the 6-yard box for Diego Costa who cannot get a foot on it. Spain still look the favorites to advance but they have work to do in the second half. Portugal scoring in the other game helps the cause.
45:Noureddine Amrabat fouls Sergio Busquets, ending a rare moment of possession deep in the Spain end.
45:Two minutes injury time added.
45:Isco and Jordi Alba exchange short passes in the left corner but Isco cannot find Alba looking to cross.
43:Hakim Ziyach does not have much space outside the left side of the box but he gets his boot on it and the ball flies a few feet over the goal.
42:Gerard Pique tries to find Isco in his familiar spot on the left side but Nabil Dirar heads it back to his goalkeeper.
40:Isco curls the free kick to the back post and Sergio Busquets dives it but cannot get anything on it and Morocco clears up the right.
38:Finding teammates and stepping into channels to intercept Moroccan passes, Andres Iniesta is guiding the Spain attack. It was his confusion with Sergio Ramos that led to the goal but the Barcelona legend has nearly made up for it with his steady offensive play.
37:Isco curls in the right-footed cross from the left corner. Sergio Busquets rises but catches the ball on the top of his head and it goes over and out.
36:Jordi Alba controls a long pass but Noureddine Amrabat clears it long for a corner.
35:David Silva hits the corner from the right side but El Kajoui catches it without trouble.
34:David Silva rolls it across the box but it is cleared by the Moroccan defense.
32:Isco sends in a free kick to the top of the box but his effort is too short and cleared easily.
31:After the Da Costa foul Mbark Boussoufa is booked for dissent by Referee Ravshan Irmatov.
31:Manuel Da Costa gets into Isco on the left side and another yellow is issued.
31:Mbark Boussoufa (Morocco)
31:Manuel Da Costa (Morocco)
29:Noureddine Amrabat leaves a foot in on Sergio Ramos and is booked for a yellow card. Not his first physical challenge of the game.
29:Noureddine Amrabat (Morocco)
28:Andres Iniesta, Isco and Jordi Alba continue to rotate around the left corner with Diego Costa shuttling inside.
27:Jordi Alba sends in a cross but it is cleared away.
27:Jordi Alba outraces his defender and centers it Costa who cannot get anything on it.
25:Khalid Boutaib receives another ball deep from a long throw. From the left side he has David De Gea one-on-one but the Manchester United goalkeeper gets his right knee on the shot.
23:Isco sends it in from the left side but Gerard Pique cannot get a head on it.
23:Andres Iniesta tries to find Diego Costa but the pass on the ground is cleared for a corner kick.
22:Isco goes down on the left wing as Spain tries to switch play.
22:Karim El Ahmadi is booked for stomping on Sergio Busquets.
21:Karim El Ahmadi (Morocco)
19:Spain get it right back! Down the inside left Andres Iniesta combines with Diego Costa who finds Isco and then Iniesta again. Iniesta drives in and cuts it back to Isco who roofs it from close range. Tie game!
19:Isco. Assist by Andres Iniesta (Spain)
18:Andres Iniesta is in space on the left and tries a shot from distance but it is nowhere near the goal.
16:Gerard Pique and Sergio Ramos maintain their high position just inside the Moroccan half and every turnover has them racing back.
14:Khalid Boutaib is all alone in the center of the pitch after Sergio Ramos loses possession. He puts it calmly through the legs of David De Gea! Group B is up for grabs!
14:Khalid Boutaib (Morocco)
12:Behind a high press and a high line in the back, Spain have kept the ball in the Moroccan but have lacked quality in the final pass.
11:David Silva cuts it back from the byline but his floated pass is too high for a darting Andres Iniesta.
10:Thiago sends a long diagonal pass to Isco along the left wing. Jordi Alba makes an overlapping run but Isco cannot find the Barcelona left-back with a short through pass.
8:Gerard Pique lunges in on Khalid Boutaib but is not charged with a foul. Play continues but soon stops for Boutaib to receive treatment. The move from the Barcelona center-back could have been a booking or at least a foul.
7:Noureddine Amrabat stops Isco and then Sergio Ramos and the Spain players have words with the physical Moroccan winger.
6:David Silva swings it to the back post but Morocco clears away.
5:Thiago sends Dani Carvajal into space and his centering effort is cleared for a corner.
4:Diego Costa finds Andres Iniesta who slides it to Isco cutting in from the left but his cross is controlled by El Kajoui.
3:The first of what could be many fouls comes in on Diego Costa to disrupt the attack.
2:Noureddine Amrabat advances it up the right side but Spain slows his progress.
2:Achraf Hakimi get forward but his cross floats over the goal.
1:Spain begins from the left in the traditional red shirt, blue shorts, black socks. Morocco are in all white with red trim on the shirt.
0:Spain hears its anthem first, Morocco second.
0:Morocco (4-2-3-1) make one change from the XI that faced Portugal in Moscow last Wednesday with Matchday 1 starter Romain Saiss returning to replace Mehdi Benatia in central defense: El Kajoui – Dirar, Da Costa, Saiss, Hakimi – El Ahmadi, Boussoufa – N. Amrabat, Belhanda, Ziyach – Boutaib
Bench: Bounou, Mendyl, Benatia, Harit, Fajr, S. Amrabat, Carcela-Gonzalez, El Kaabi, Bouhaddouz, En-Nesyri
0:Spain (4-2-3-1) start the same XI that faced Iran five days ago: De Gea – Carvajal, Pique, Ramos, Alba – Busquets, Iniesta – Silva, Thiago, Isco – Costa
Bench: Reina, Arrizabalaga, Odriozola, Monreal, Nacho, Azpilicueta, Saul, Koke, Asensio, Vazquez, Aspas, Rodrigo
0:Ten days ago Spain played Portugal in the match of the tournament so far. Only a brilliant Cristiano Ronaldo free kick blighted a second half that showed the larger of the Iberian neighbors in fine form behind their beastly striker Diego Costa. That 3-3 thriller contained as many goals scored in either half as the rest of the Group B matches combined. Morocco (and Iran) have generally sat deeper and done their best to frustrate attacks while not creating many chances of their own.
Spain will have to break down that stout Moroccan defense to earn a winning result today, a task that proved difficult against the Iran team that held the Spanish attack to one goal and only 5 shots on target. Iran did not have a single shot on goal and the winner from Costa was a fortunate deflection from an attempted Iranian clearance as the Atletico Madrid player was turning with the ball. David Silva also missed chances as 14 fouls from Iran stopped Spain from finding any consistent rhythm in midfield to create attacking chances.
Morocco have lost both of their matches in the tournament by scores of 1-0 and should have earned at least one point for their defensive effort against first opponent Iran. Instead, Morocco forward Aziz Bouhaddouz had his free kick clearing header find the back of the net for an own goal in the 95th minute. It was the opposite against Portugal, as Ronaldo scored early in the opening half and Portugal held on from there for the three points to maintain a tie at the top of the group with Spain.
Spain are guaranteed to advance with a win. Morocco have already been eliminated from the group. Depending on what happens in the other simultaneous Group B match Morocco could play spoiler by winning or holding the 2010 World Cup winners to a low-scoring draw. In the other Group B game Iran control their own destiny and a win over Portugal would advance them to the knockout stages. Three teams have a chance to advance and a Morocco squad with nothing to lose will surely have their say in that important matter.
Get the best of News18 delivered to your inbox - subscribe to News18 Daybreak. Follow News18.com on Twitter, Instagram, Facebook, Telegram, TikTok and on YouTube, and stay in the know with what's happening in the world around you – in real time.
| Edited by: Abhimanyu Sen
Read full article