There Were The Beatles And There Is Steven Gerrard
Gerrard's was a career full of stoic heroism and heart-wrenching disappointments. It is very rare to see a man make a career out of inspiring mediocre teams both at the club and international level.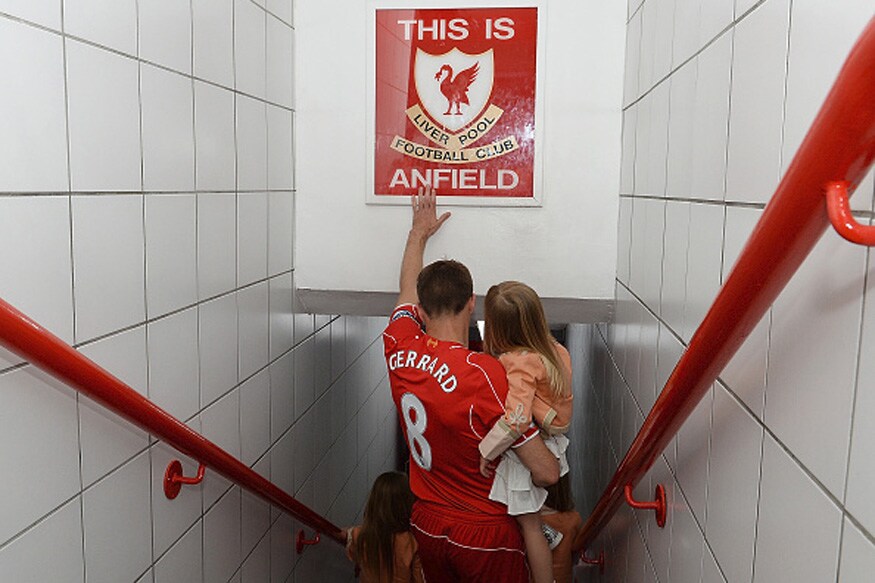 File Image of Steven Gerrard. (Getty Images)
"Let me take you down, 'cause I'm going to Strawberry Fields...," this timeless Beatles song, penned by John Lennon about his childhood is as much Liverpudlian as are the "You Will Never Walk Alone..." chants which resonate inside The Anfield; everytime the Reds take to the greens.
And if there's one man who has walked the talk for Liverpool, the football club and the city, it is Steven Gerrard. Some men become synonymous with the spirit of a city, some players represent the hunger, the desire and the ambition of a club. Steven Gerrard did all that for Liverpool.
So as the man hangs those glorious boots, there is one thing which all Steven Gerrard fans in Liverpool and world over must be saying, "If only..."
Well yes, Gerrard's was a career full of stoic heroism and heart-wrenching disappointments. It is very rare to see a man make a career out of inspiring mediocre teams both at the club and international level. Gerrard did just that for the majority of his 18 years at Liverpool and for almost his entire international career for England.
For Gerrard, who lost his cousin at the Hillsborough tragedy where 96 Liverpool fans lost their lives, wearing the red shirt was both aspirational and inspirational. And Stevie G did just that, making his transition from the junior level to the senior team as an 18-year old.
For a boy who grew up hearing stories about Liverpool's dominance of English football, it was difficult to start his career at a time when not only had the midas touch deserted the team, the club in itself was a far cry from the lofty standards of the past. All this, while arch-rivals Manchester United were ruling the roost.
But Gerrard was not one who would lose hope. Under the tutelage of French coach Gerrard Houllier, Gerrard along with a band of newcomers inspired Liverpool to the treble of the League Cup, The FA Cup and the UEFA Cup (predecessor of the Europa League) in the 2000-01 season.
He would then go on to win the UEFA Super Cup the following season and also help the Reds finish second in the league.
Gerrard's developement as mid-field general coincided with his maturity as a leader, something that eventually landed him the captain's armband in 2003.
In the following years, Gerrard was to strut around the park in a Liverpool shirt, calling the shots from the mid-field. He would also occasionally land the ball in the back of the net with pile-drivers from 30 to 40 yards out, which was followed by his signature celebratory slide.
But his finest performance in a Liverpool shirt was to come on a balmy night in Istanbul, after his team had been outplayed in the first 45 minutes of the 2005 UEFA Champions League Final by a superior AC Milan side, boasting of some of the world's best players.
Trailing 0-3 after a first-half blitz by the Rossoneri, Gerrard pulled one back for the Reds with a pinpoint header. He then made a heroic run into the Milan penalty box before being hacked down to win the penalty that would give Liverpool the improbable equaliser and eventually a historic win via penalty-shootout.
Liverpool survived that night because some men have an immortal spirit, which can't be burned down. Gerrard had that spirit, which he showcased yet again in the 2006 FA Cup final. His long range strike deep in second-half injury time gave Liverpool the much needed equaliser against West Ham. The Reds again prevailed on penalties. Gerrard was Liverpool's 'Miracle Man'.
But just like the great Achilles, Gerrard faltered when no one expected him to. With a league title in sight for the first time in 24 long years, Gerrard slipped in front of his home crowd against rivals Chelsea and that slip eventually led to a goal. It not only resulted in a defeat but also halted Liverpool's title march as they lost out on the 2014 EPL title to Manchester City by 2 points.
Weeks later England were knocked out of the 2016 FIFA World Cup under Gerrard's captaincy, in what remains one of their worst Cup performances till date.
The top prize might have eluded him, but Gerrard's greatness lies in his decision to stick to his childhood club even when he had astronomical offers from clubs like Chelsea and Real Madrid. Had he signed for either, Gerrard would have gone on to win more major trophies and made more money too. His ability to say 'no' at a time when football is all about money somehow makes him a man from a generation bygone.
So, is Steven Gerrard the best Liverpool has ever had? His achievements don't really prove that. Kenny Dalglish might have won more laurels for Liverpool, but he was part of a great team and great era when the club could do no wrong.
Steven Gerrard on the other hand was pretty much the club and the team himself. He was in many ways an embodiment of Liverpool's defiance in the face of defeat and despair.
Zinedine Zidane once famously reflected that Gerrard might not get the attention that Messi or Ronaldo do, but he could have been the best player of this generation.
Best or not, 'He' sure was a fine act.
Thank You for the memories Stevie G!
@media only screen and (max-width:740px) {
.quote-box{font-size:18px; line-height:30px; color:#505050; margin-top:30px; padding:22px 20px 20px 70px; position:relative; font-style:italic; font-weight:bold}
.special-text{font-size:24px; line-height:32px; color:#505050; margin:20px 40px 20px 20px; border-left:8px solid #ee1b24; padding:10px 10px 10px 15px; font-style:italic; font-weight:bold}
.quote-box img{width:60px; left:6px}
.quote-box .quote-nam{font-size:16px; color:#5f5f5f; padding-top:30px; text-align:right; font-weight:normal}
.quote-box .quote-nam span{font-weight:bold; color:#ee1b24}
}
| Edited by: Pratik Sagar
Read full article
Countdown To
Elections Results
To Assembly Elections 2018 Results