World Cup 2014: France benefit from raging Benzema's return to form
Goalkeeper Hugo Lloris said Benzema in top form would help France overcome Ribery's absence.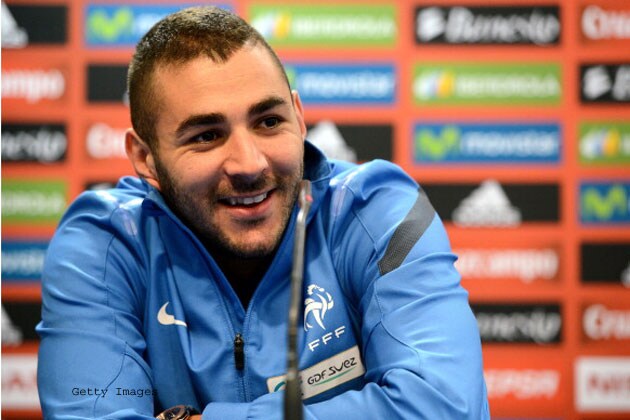 Goalkeeper Hugo Lloris said Benzema in top form would help France overcome Ribery's absence.
With the weight of France's attacking options resting largely on his shoulders in the absence of the injured Franck Ribery, Karim Benzema has made a fine start to the World Cup.
Benzema, who last month helped Real Madrid win their 10th European Cup, came close to a hat-trick in France's 3-0 Group E win over Honduras on Sunday, scoring twice and causing goalkeeper Noel Valladares to give away an own goal.
The picture was very different, though, before France secured their place at the finals with a playoff second-leg win at home to Ukraine in November, Benzema scoring as the French went through 3-2 on aggregate.
Coach Didier Deschamps had dropped Benzema in September with France struggling in the qualifiers and he came back as a substitute and scored the last goal in a 6-0 friendly rout of Australia in October to end a 16-month international goal drought.
"The important moment for him was when he came on and scored. The crowd made fun of him but he reacted very well. That changed a lot of things," Deschamps said at France's Ribeirao Preto tournament base in quotes published by the French sports daily L'Equipe on Tuesday.
Benzema has since scored eight goals in seven France matches.
"It's his merit," Deschamps said. "He dug deep inside himself to find that inner strength, that rage which makes him so important (for us)."
However, Deschamps said comparisons with great former French players like Zinedine Zidane and Michel Platini in terms of Benzema's importance to his country were far-fetched.
"You're talking about players who made it possible for France to win titles. Today, that's not the case, Karim is a player of a very high standard who is more than just a goalscorer," he said.
"He also likes to be involved in the build-up (but) I don't want him to feel like he has a special mission, let him stick to what he's good at, without feeling the obligation of being decisive," Deschamps said.
"Some judge me on the number of goals I score but for me the way I play counts for a lot," Benzema told reporters after receiving the man of the match award against Honduras.
Goalkeeper Hugo Lloris said Benzema in top form would help France overcome Ribery's absence.
"He's come from a fine season with (Real) Madrid. He's a great player... With Franck pulling out, he has more responsibilities but he's a player who loves that," said Lloris, who had little work to do as France dominated 10-man Honduras.
Benzema put France ahead with a penalty and scored a brilliant third in the second half.
Then his shot came off the post and was turned over the line by Valladares, who pulled the ball back into play but could not prevent the goal being confirmed by goalline technology.
Get the best of News18 delivered to your inbox - subscribe to News18 Daybreak. Follow News18.com on Twitter, Instagram, Facebook, Telegram, TikTok and on YouTube, and stay in the know with what's happening in the world around you – in real time.
Read full article