News18
»
Formula One
3-min read
EXCLUSIVE: I've proved what I'm capable of, says Daniel Ricciardo
Talking to IBNLive Sports, the Australian said that while his Red Bull has been improved a lot, Mercedes will remain the team to beat this season.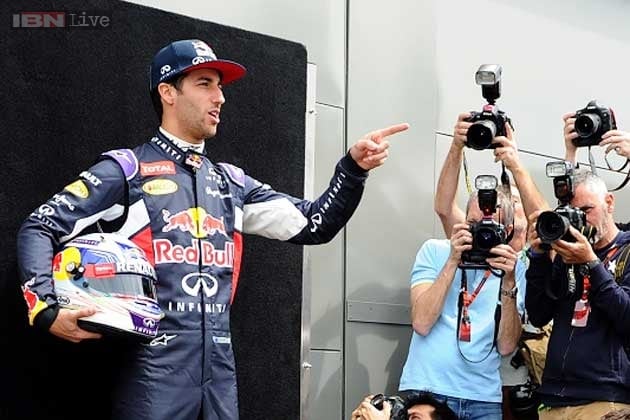 Talking to IBNLive Sports, the Australian said that while his Red Bull has been improved a lot, Mercedes will remain the team to beat this season.
After a magnificent 2014 season, Daniel Ricciardo is all set to hit the Albert Park circuit with his new Red Bull at the season opening Australian Grand Prix.
Ricciardo, who won three races last year and five other podium finishes, will be in action in front of his home crowd and is ready to entertain at the season opener.
"I'm just excited to finally go racing again, and for me it's fun. Obviously I'm really privileged having it at home, but in any case, it means it's a start to a new year. There is always new motivation and I think it's exciting," Ricciardo said.
"I love going home and the fresh air really gives me that home feeling. I spend so much time now away from Australia that anywhere in Oz feels like home really," he added.
Ricciardo and newly-signed Daniil Kvyat, who has replaced four-time world champion Sebastian Vettel, will race for the Red Bull racing this year. Vettel moved to Ferrari after the end of 2014 season.
Ricciardo is going into Sunday's race at Albert Park in Melbourne as No. 1 driver for the team after the four-time world champion Vettel moved to Ferrari at the end of 2014 season. Ricciardo had replaced Mark Webber at Red Bull at the start of the 2014 season and is confident to hit the track in Vettel's absence.
"Coming into a top team, everyone was asking questions of me. Can I be up to Vettel's pace? Can I get on the podium? I feel like I answered a lot of those questions. I think I've proved what I'm capable of and it's just a matter of hoping we've got the equipment," he said.
On being asked about his pre-season testing sessions, Ricciardo said: "Testing has been relatively good for us. We had a few reliability issues but we racked up a lot of miles and learned a lot. I still feel that we have a bit more to go. But there is no better place to do this than going racing. I'm ready to go."
Though Ricciardo is happy the way his Red Bull performed in testing, he also admits that Mercedes' drivers Lewis Hamilton and Nico Rosberg, who dominated the last season from the start, will remain the drivers to beat this year too due to the massive improvement in their cars' chassis and engine.
"For sure, [my car] is an improvement, but the thing is everyone improves. It's really a question of how much have we improved and if we've improved enough to close the gap on Mercedes. Testing has shown us that Mercedes are still really strong. I don't want to be pessimistic at all, but they seem to be the team to beat at the moment."
Ricciardo's new Red Bull partner Kvyat has switched from Toro Rosso and the Aussie loved the way the fans welcomed him last year and expected the same cheerfulness from his home crowd.
"They [fans] are not shy. They'll go out and cheer and will be loud and flamboyant. They are pretty passionate about sports in general. It's great to see Formula One growing a lot in Australia. It's becoming quite a popular sport, which is really cool to see," he said.
"The whole vibe and atmosphere [in Melbourne] is just amazing. It's busy and there is always something going on. The track is fun. I've always liked street circuits. I think it's a great and fast-flowing circuit," he added.
After surrendering the driver and the 2014 driver and constructors' championship, Red Bull will aim to put their campaign back on the track. They have launched RB11 car for this season.
Get the best of News18 delivered to your inbox - subscribe to News18 Daybreak. Follow News18.com on Twitter, Instagram, Facebook, Telegram, TikTok and on YouTube, and stay in the know with what's happening in the world around you – in real time.
Read full article