News18
»
Formula One
2-min read
Lewis Hamilton rejects claims he has asked for No 1 status
Hamilton claimed he and team-mate Rosberg are reunited 'without any issues' in this weekend's Bahrain Grand Prix.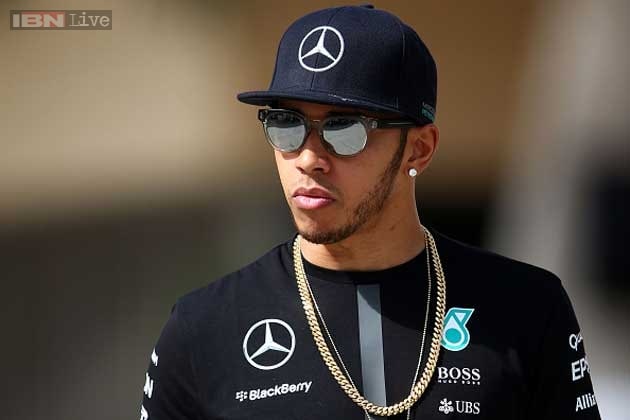 Hamilton claimed he and team-mate Rosberg are reunited 'without any issues' in this weekend's Bahrain Grand Prix.
Manama: World champion Lewis Hamilton vehemently denied that he has requested 'number one' driver status in the Mercedes team and claimed he and team-mate Nico Rosberg are reunited 'without any issues' in this weekend's Bahrain Grand Prix.
Five days after beating Rosberg at the Chinese Grand Prix to extend his lead in the drivers' championship, Hamilton was the chief attraction at a routine pre-race news conference in which he was asked also about his champagne-spraying celebrations.
It was reported, earlier this week, that Hamilton had upset and embarrassed a podium ceremony hostess by squirting champagne into her face after winning last Sunday's race, but this was denied by her on Thursday before Hamilton commented.
The 22-year-old model who was sprayed in champagne, Liu Siying, told the local Shanghai Daily newspaper that it had not bothered her.
"It lasted for only one or two seconds and I didn't think too much about it," she was quoted saying. "I think some foreign media are more sensitive about the topic than local media!"
She added: "I can't control other people's behaviour when I'm working. I hope the public doesn't make too much of it, or that it affects my personal life."
Hamilton said he had not been aware of the alleged controversy until he was told of it on arrival in Bahrain.
"My actions were all part of my excitement after winning," he explained, adding that he had no intention of showing disrespect or to embarrass anyone.
Asked about his contract negotiations and a particular suggestion that one reason why his new contract had not been agreed and signed was his request for number one status, he said he had never in his career asked for any kind of preferential treatment.
"Never, never have I asked for that," he said. "I just want to beat my team-mate out on the track and prove myself that way and not by my team-mate having his hands tied behind his back."
He said there was 'no issue' about his partnership with Rosberg and no strain in their relationship despite the German's claims last weekend that he had been 'backed into' the clutches of third-placed German Sebastian Vettel of Ferrari.
"It's something we spoke about after the race, I don't particularly want to go back into it, but obviously we heard the comments after the race and some people have spun those words in whichever way they wanted to spin them."
"Moving forwards, we are reunited as a team this week, and we'll try and do a great job. There is no issue between myself and Nico. We saw each other this morning and everything is good."
"There are going to be times when people are unhappy about things, but, you know, we're grown-ups and we have moved past it."
Get the best of News18 delivered to your inbox - subscribe to News18 Daybreak. Follow News18.com on Twitter, Instagram, Facebook, Telegram, TikTok and on YouTube, and stay in the know with what's happening in the world around you – in real time.
Read full article