India blast Pakistan 6-2 with Harmanpreet show to lift junior men's hockey Asia Cup
Drag-flicker Harmanpreet Singh's four goals took life out of Pakistan in the summit clash to give India the trophy.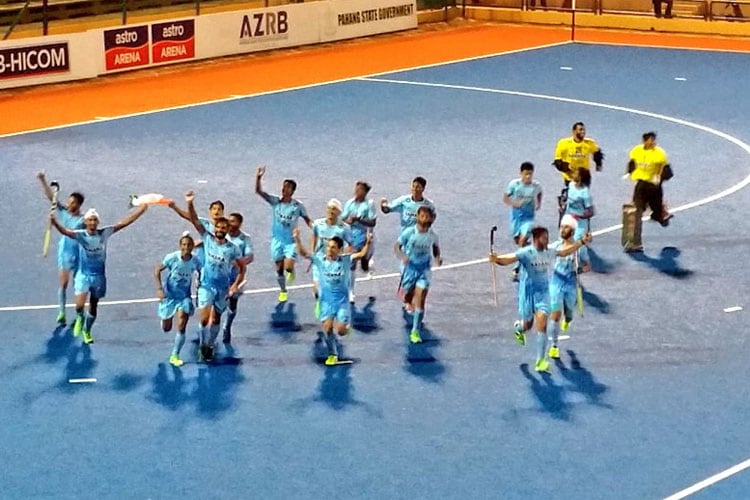 Credit: Hockey Malaysia
A dominant show by India embarrassed Pakistan 6-2 in a one-sided final in Kuantan, Malaysia, on Sunday as drag-flicker Harmanpreet Singh's four goals took life out of India's archrivals on their way to lifting the 8th Junior Men's Asia Cup.
Harmanpreet scored in the 10th, 15th, 30th and 53rd min to seal Pakistan's fate, who could score only two goals that were never enough to erase India's mammoth lead.
Mohammad Yaqoob (28th) and Muhammad Dilber (68th) were on the mark for Pakistan while India's two other goals were scored via field efforts from the sticks of Armaan Qureshi (46th) and Manpreet Singh Jr (50th).
The champions led 3-1 at half-time.
Harmanpreet's top show continued in the final as he ended up with 14 goals in the event, which put him right at top of the tournament's goal-scoring charts with one field goal, 12 off penalty corners and one off a penalty stroke.
India started the match on a positive note pressing hard since the opening minute of the first half and were soon awarded with a penalty corner (PC). Harmanpreet converted from top of the striking circle, which was followed by India earning two back-to-back PCs in the 13th and 15th minute. Harmanpreet scored off the second one to take India 2-0 up within 15 minutes of the game.
Pakistan fought back in the 28th minute with a successful penalty corner from Yaqoob. But soon after, in the 30th minute, Harmanpreet completed his hat-trick - once again off a PC.
The second half India's domination continuing with Qureshi scoring in the 44th minute to take the score to 4-1 in India's favour. Manpreet Singh Jr then put the game firmly beyond Pakistan's reach with India's fifth goal, followed by another penalty-corner goal by Harmanpreet to make it 6-1.
Pakistan scored a consolation goal in the 68th minute through Dilber before the referee sounded the full-time whistle.
Harendra Singh, India coach, said, "It was an exciting final and the boys displayed immaculate passion and calmness on the field. We ended up as runners-up in the 5th Sultan of Johor Cup which made it an even bigger win as we were hungry for the podium position. The support was immense and we felt we were playing in our own backyard. We only have to look forward from here and keep giving such excellent performances."
With inputs from Hockey India Press Release
Get the best of News18 delivered to your inbox - subscribe to News18 Daybreak. Follow News18.com on Twitter, Instagram, Facebook, Telegram, TikTok and on YouTube, and stay in the know with what's happening in the world around you – in real time.
Read full article