By Suhas Munshi

---
Babri Masjid demolition, the most significant social event in post-Independent India, was also the toughest assignment for media in this country.
Journalists had to report from the field -- from Ayodhya and from several other cities where mass anti-Muslim riots broke out following the Babri demolition -- at great risks to their safety.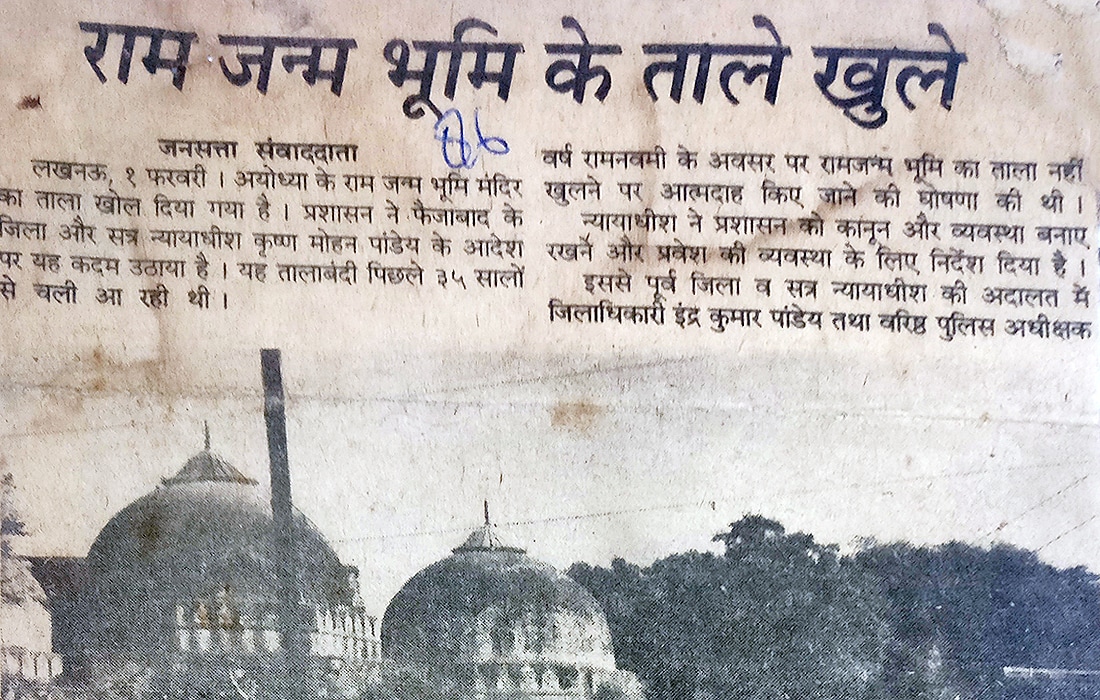 Several newspapers reported the assault on Babri Masjid with horror and anguish.
And they had to report on political developments as they started unfolding well before December 6, 1992 – in February '86 for instance, when the gates to Babri Masjid were opened – to well after the demolition as political national politics was recovering from deaths of thousands of people in communal riots.
In this sense the coverage of the movement has been in itself a huge story. This is why the role of media in reporting the demolition and its aftermath is scruitinised till today and needs to be recalled once more as we approach the Babri demolition's 25th anniversary.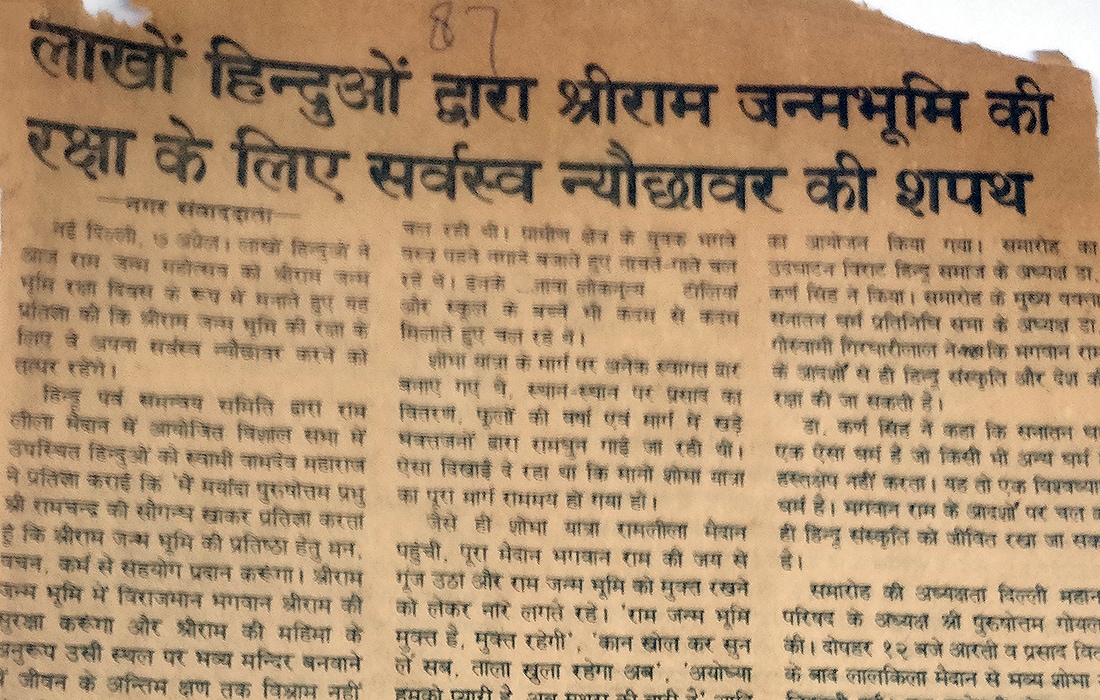 All sorts of formulae were being tested while the call to demolish Babri mosque was rising to feverish pitch.
Some have criticised the then prevalent media for fanning communal flames, and this includes the Press Council of India and several senior journalists, while others have lauded the bravery of those journalists who stood their ground in Ayodhya while being under constant, mortal attack.
In these pictures we take you through some of the newspaper clippings of that time. These newspaper clippings help not just in understanding the violence as it unfolded over time, but also in recalling the role that media played at a time when the idea of India, as conceived by its founding fathers, was under greatest threat.
As news reports of a court ordering Babri Masjid gates to be opened, in February 1986 start coming in, one paper compares the unlocking of Babri Masjid gates to the return of Ram from his 14 year fabled exile to Ayodhya.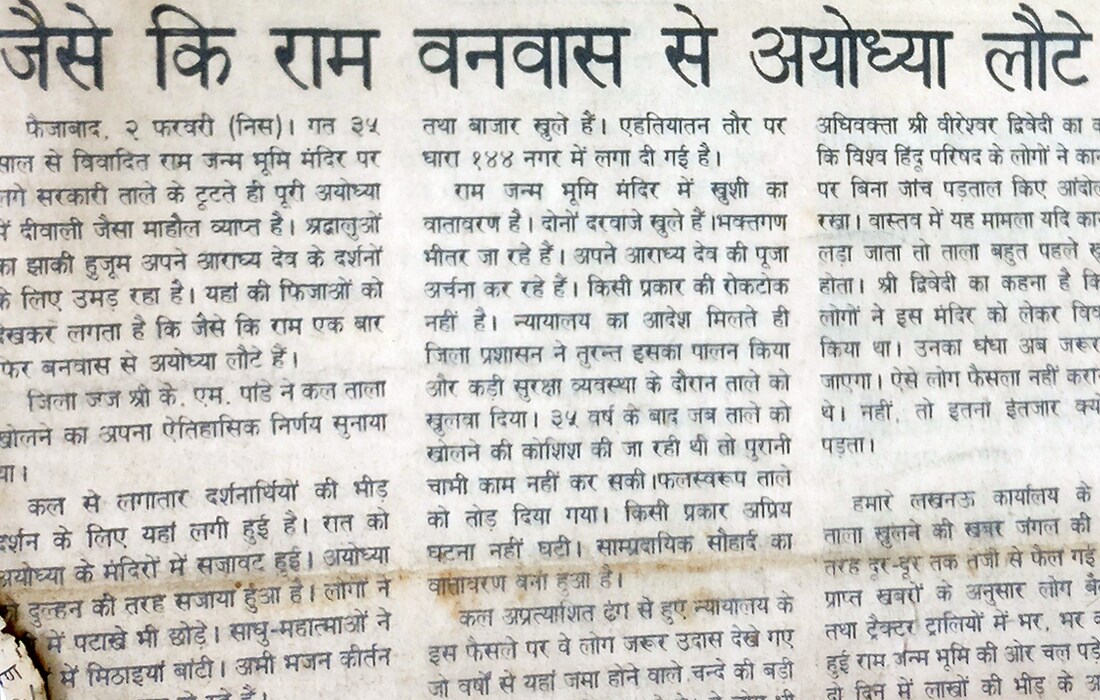 While militant Hindu outfits were wreacking havoc, groups of activists and intellectuals were carrying parellel marches appealing for peace and calm.
Another edit piece published at the same time says, 'the black shadows of the past still linger on the pure land of Ram Janmabhoomi…The huge cracks in the structure are the signs that the structure can't bear criticism against it anymore.'
Yet another edit piece hails the unlocking of Babri gates as a 'big relief'. It goes on to state – '[Just as in the case of Ayodhya] There are disputes on religious sites in Varanasi and Mathura also. These sites are not as important for Muslims as they are for Hindus, so it should be easy for Muslims to give up their claims on these lands.'
Following riots and arson in Delhi, with the news of gates unlocking spreading out, in an interview with a Hindi newspaper the then Shahi Imam of Jama Masjid is quoted saying that opening of locks of Jama Masjid has sparked fire across the country. "If gates aren't locked, God forbid, anything can happen in the country."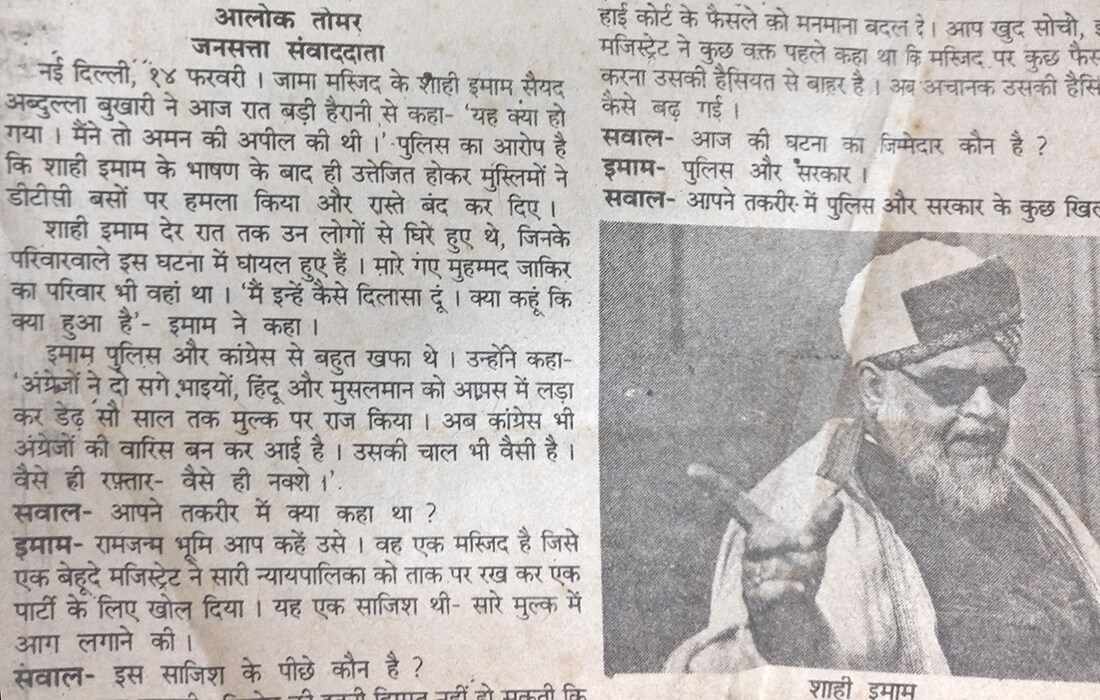 "If gates aren't locked, God forbid, anything can happen in the country." – Shahi Imam
One news item, dated March 21, 1987, reports that Hindu religious gurus are travelling in Punjab appealing Hindus to take up arms for Ram Mandir. But the report also goes on to state that people there didn't really show any warmth to these ideas.
An edit piece in a Hindi newspaper names outfits like 'Bajrang Dal' and 'Shiv Sena' and holds them responsible for spewing 'a certain type of hatred in society.' In the article titled 'Hindutva ko samajhna zaruri hai,' published on September 5, 1986, the writer says that these outfits 'have neither studied Hindutva, nor Islam nor Humanism nor any other type of thought.'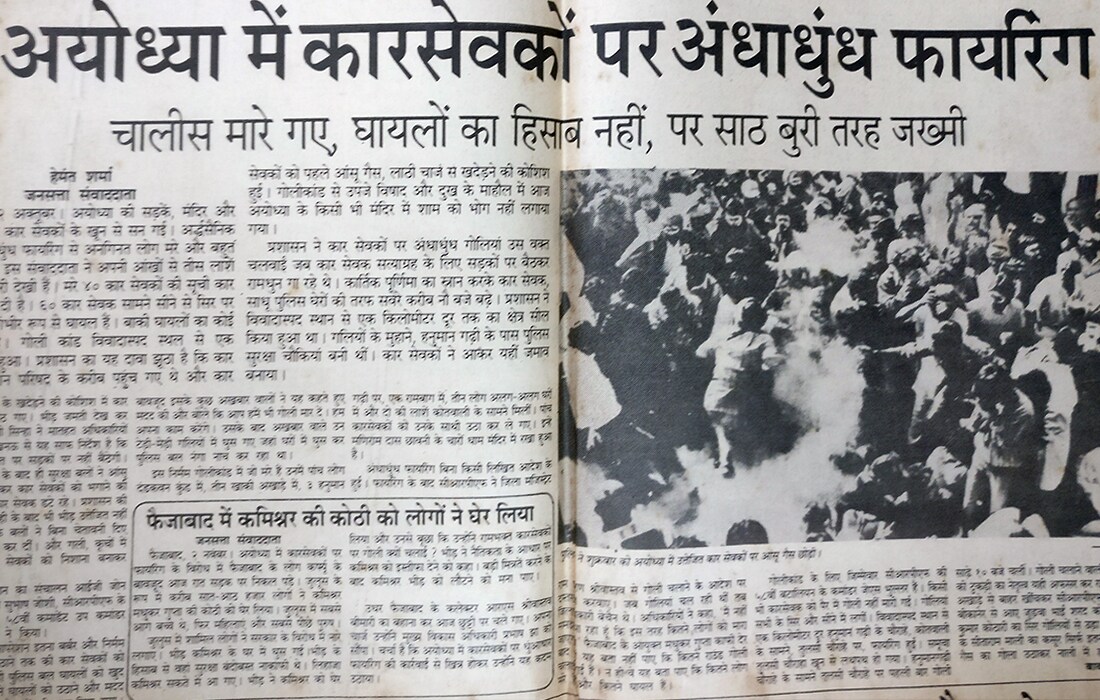 The run up to the actual demolition of Babri Masjid was full itself full of violence and UP among all the states was the worst affected.
The current BJP vice-president and Minister of State (MoS) for Parliamentary Affairs, Mukhtar Abbas Naqvi is quoted in a news item from '86 appealing Muslims to give up their claim on the disputed site. "Muslims should think about Ram Mandir with an open mind and give up the land to Hindus," he's quoted as saying.
The movement also received a lot of criticism. A strongly worded edit piece, published in April 1986, titled 'Andhere mein laut te kadam', calls out the strife caused by opening of Babri gates as a return for our country to a path leading to darkness.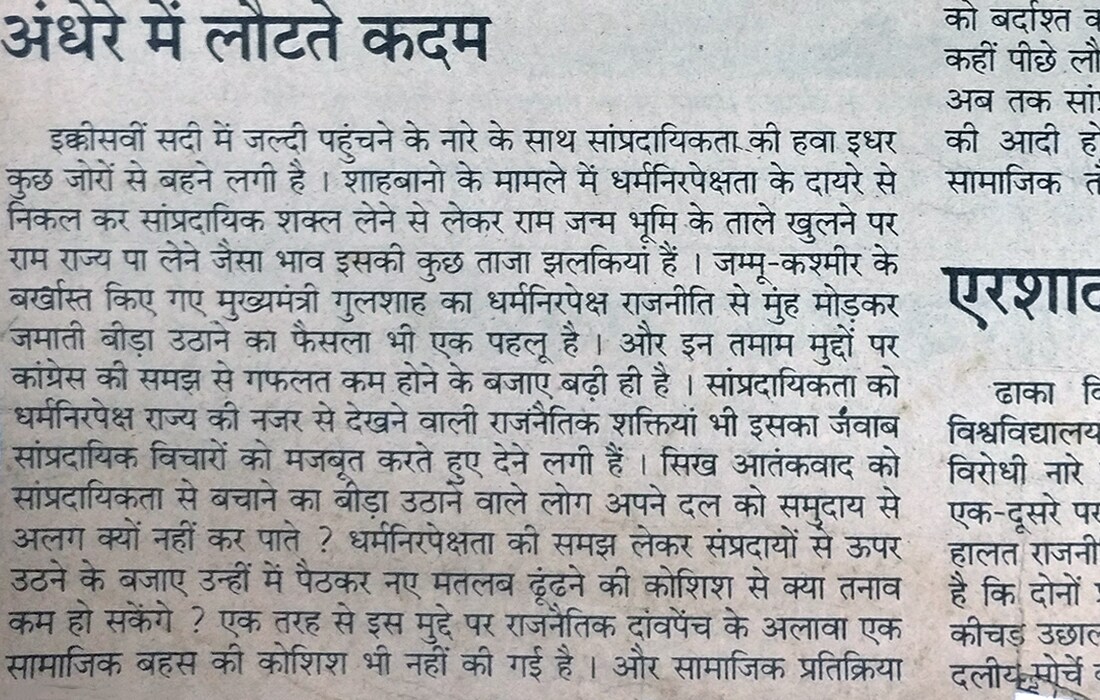 'Instead of combating polarisation, national parties have been watering this diseased plant.'
'The disease that has taken umbrage in form of a plant needs to be plucked out along with its roots...Instead of combating polarisation, national parties have been watering this diseased plant that is yielding nothing but communal strife.'
There are reports of BJP withdrawing support from the VP Singh led union government after LK Advani's arrest in Bihar in October 1990. Advani's arrest sparks off violence in several places including UP. A news item talks about army conducting flag marches in 26 districts of UP. The entire state is put on red alert.
There are several other strongly worded edit pieces and columns decrying the violence led by the VHP. But none is perhaps as strongly worded as this piece published on the front page of Times of India, on October 31, '90, when Kar Sevaks had stormed through the mosque for the first time.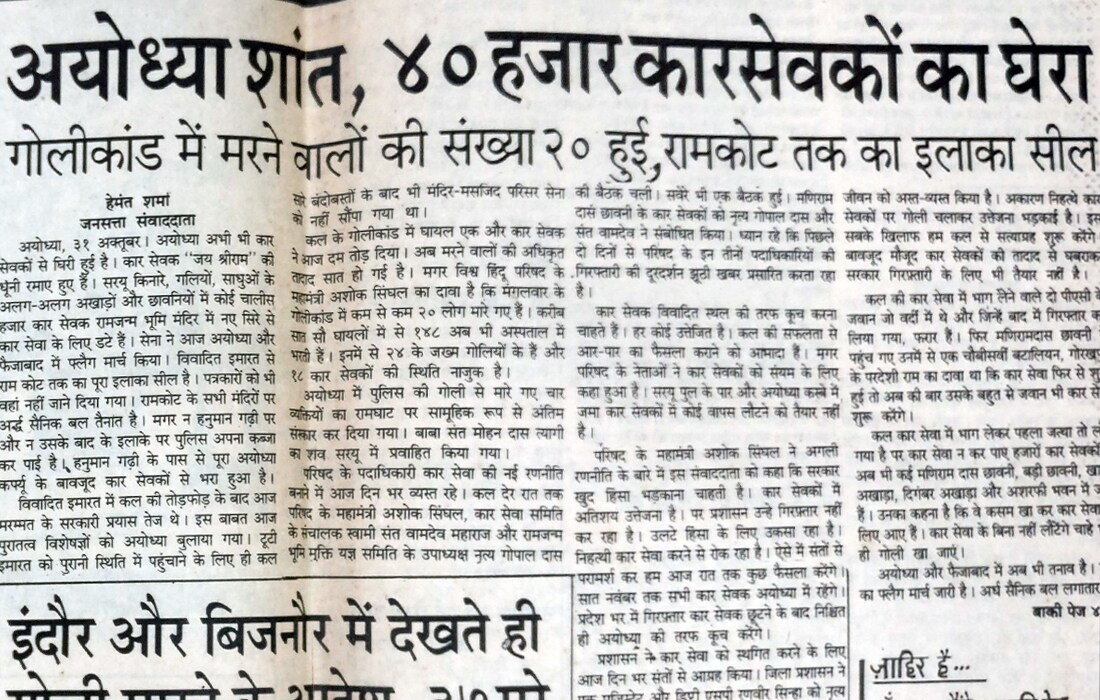 The BJP and the VHP clearly failed to realise that whipping up atavistic passions for political gain would give them at best a pyrrhic victory.
'Even if the government's claim that no Kar Seva was performed on Tuesday is accepted for argument's sake, the developments on the disputed site vividly expose the nation's abject failure on several counts. The most obvious failure is that of the law and order machinery which, judging from various independent reports, was in no position to cope with the thousands of frenzied Kar Sevaks.
The very fact that hundreds of VHP volunteers succeeded in entering the area and in hoisting their flag atop the mosque even while causing some damage to its structure leaves no room for doubt on this score. But the large failure surely is of those, who unleashed the Hindutva wave and also of those, who had neither the ability nor perhaps even the will to shoulder their responsibility to counter it.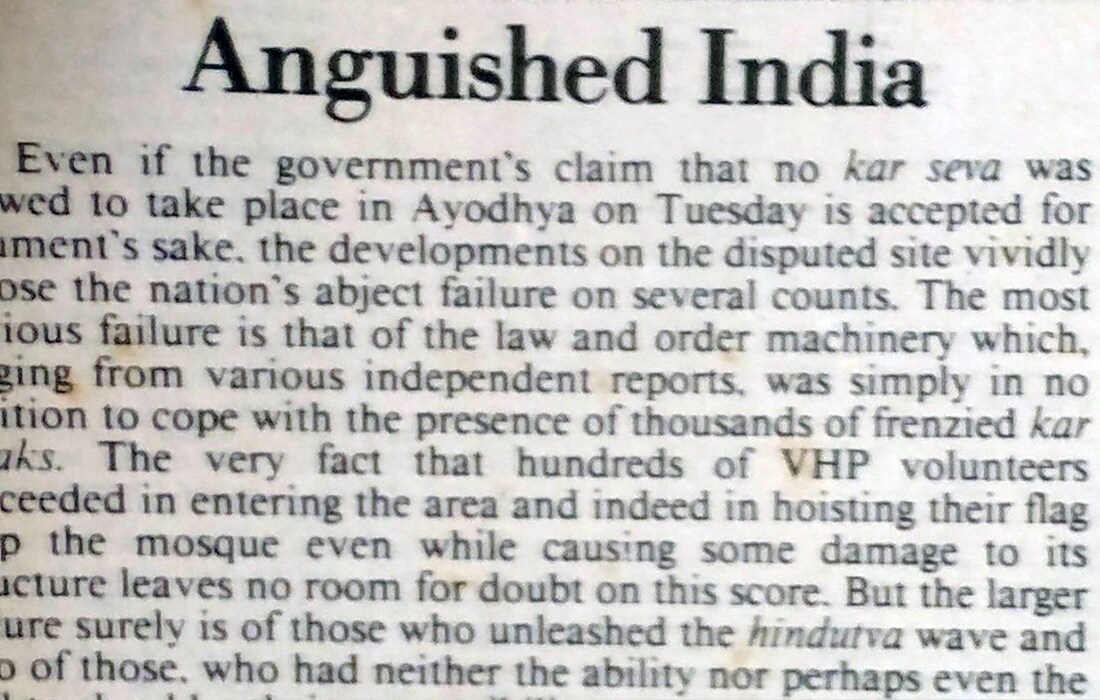 'Confrontationist causes championed by the BJP and by an assortment of militant organisations appear to a vast majority of Indians to be the very antithesis of Hinduism.''
The BJP and the VHP clearly failed to realise that whipping up atavistic passions for political gain would give them at best a pyrrhic victory. For their "achievement", such as it is, will create intense bitterness in the minority community as well as general feelings of acute embarrassment, not to speak of shame, among an overwhelming majority of Hindus.
Against this backdrop the narrow, self serving, confrontationist causes championed by the BJP and by an assortment of militant organisations appear to a vast majority of Indians to be the very antithesis of Hinduism.'