By Sumit Pande

---
Meghnath Oram had travelled to Ayodhya with a small jattha of karsewaks from South Bihar's Chota Nagpur division. Led by a Vishwa Hindu Parishad (VHP) functionary in Gaya region, the group had camped about a mile off the disputed site.
Oram since his arrival had shown signs of unrest. He had vowed to lay the foundation stone for a grand Ram temple at the site where Babri masjid stood. Else, he would not return to his village.
To avoid any untoward incident, Kameshwar Chaupal, the VHP joint general secretary in-charge of tribal-dominated districts in Bihar, was asked to keep a close watch on Oram.
9 November, 1989 was the 'auspicious' day chosen by top Rashtriya Swayamsevak Sangh (RSS) and VHP leaders to performs shilanyas and lay the foundation for the 'proposed grand temple' at Ayodhya. It was to be the culmination of decade long campaign led by the VHP and nurtured by the RSS.
Early that Wednesday morning, VHP leader Ashok Singhal's close aide Rameshwar came looking for Chaupal.
"Singhal ji has asked for you. Leave everything and come along," the 34-year-old fulltime RSS pracharak was told.
At the shilanyas site—very close to the disputed structure—Chaupal was accorded the coveted seat beside Singhal.
Swami Chinmayananda, who would go on to become a minister in the Atal Bihari Vajpayee government, was the master of the ceremony. With Rajmata Vijayaraje Scindia, seers and saints in attendance, the puja began.
"I could hardly comprehend what was happening. I was an ordinary worker, sitting with who's who of the Hindu religious leadership," says Chaupal, recalling the events 25 years later.
In a powerful political statement, from a bevy of gurus lined up for the event, the VHP had chosen a Dalit boy from Saharasa in Bihar to lay the foundation stone of the Ram temple in Ayodhya, and of the BJP in national politics.
MAKING OF THE TEMPLE MOVEMENT
It all started in the early nineties, when Meenakshipuram near Tenkasi, a non-descript town in Tamil Nadu, suddenly made it to the national newspapers. In February 1981, a spontaneous rebellion against the upper caste oppression took place when 200 Dalit families converted to Islam.
The then RSS chief Madhukar Dattatraya Deoras decided to reactivate one of the several organs of the Sangh to rally an anti-proselytization campaign in the country. The RSS arm was formed in mid-sixties by the second RSS chief M S Golwalkar and several full-time pracharaks were sent on deputation to the VHP for this purpose.
The list included an engineer from Banaras Hindu University and then prant pracharak of Delhi — Ashok Singhal.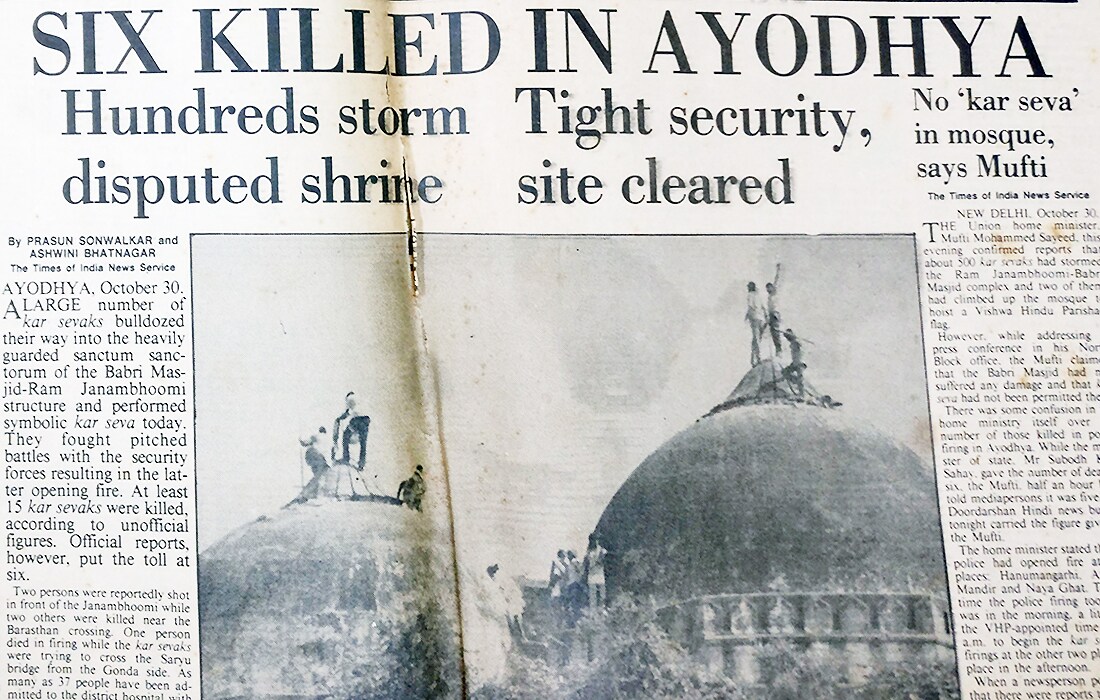 Several newspapers reported the assault on Babri Masjid with horror and anguish.
Onkar Bhave, another senior full-timer from Eastern UP, was also deputed for the task. So was Kameshwar Chaupal, a lesser known pracharak from north Bihar.
On 12 July, 1981, the RSS national executive (Akhil Bharatiya Karyakari Mandal) passed a resolution against religious conversions. The same year, VHP took up the first program aimed to check proselytization. It was called Sanskriti Raksha Nidhi Yojna.
A senior RSS pracharak and a master strategist—Moreshwar Nilkanth Pingle who went by the name Moropant Pingle in the RSS circles—conceptualized and organized the campaign against religious conversions. An alias perhaps inspired by the first peshwa to Shivaji. He was the brain behind VHP's Ekatama Yatra aimed to blunt caste compartmentalization within Hindus.
It was also the time when Indira Gandhi was firmly saddled in power after the Emergency. In 1983, some senior Congressmen sidelined in the new Congress set up held a meeting at Muzaffarnagar in Western UP. An RSS leader—Prof Rajendra Singh or Rajju Bhaiyya—who would later go on to don the Sangh leadership—participated in the deliberations.
VHP cadres like Kameshwar Chaupal were asked to mobilise people for the Ram Temple movement.
In a follow up action, veteran UP Congressman and former minister Dayu Dayal Khanna wrote to Indira Gandhi for restoration of three places of worships for the Hindus—Mathura, Kashi and Ayodhya. The then Prime Minister chose to ignore the missive.
Nearly a year later, VHP organized a grand Hindu Sammelan at Delhi's Vigyan Bhavan. Ram Janmabhoomi Mukti Sangharsh Samiti was formed under the leadership of Gorakhnath Temple chief priest Mahant Avaidyanath, whose successor Yogi Adityanath would become UP chief minister 25 years down the line.
VHP cadres like Kameshwar Chaupal were asked to mobilise people for the Ram Temple movement. A series of yatras were organized to drum up support.
"One of the yatras I distinctly remember participating in was the Ram-Janaki yatra from Sitamarhi in Bihar to Ayodhya, connecting birth place of Ram and Sita," recalls Chaupal.
In October 1983, the assassination of Indira Gandhi and subsequent riots changed the entire political narrative. Next year, Rajiv Gandhi won a thumping two-thirds majority in the Lok Sabha elections.
The BJP was reduced to a mere two seats in the house of 545 MPs.
SHAH BANO CASE, A WATERSHED MOMENT
A year later, VHP got its big chance to reignite the temple movement. Some political historians say the Rajiv Gandhi government gave it on a platter.
Under pressure from the Muslim clergy, the Congress government legislated in conformity with Shriat to abolish alimony provision, thereby overruling a civil court ruling in the Shah Bano Case.
Accused of Muslim appeasement, the Congress Party worked to assuage the Hindu sentiment. Umesh Chandra Pandey, a lawyer practicing in Faizabad, moved a petition before munsif-sadar on 25January, 1985 with a prayer that gates of the Babri Masjid be opened.
As VHP mounted its movement for further concessions, a year later, at its famous Palampur national executive, the BJP passed a resolution, formally embracing Ram Temple as its political agenda.
Appearing before the Liberhan Commission—which probed the demolition of Babri Masjid—many years later, L K Advani listed three factors which led the BJP to take up the temple movement.
Advani, then the Deputy-PM in the Vajpayee government, told the Commission: "If the Shah Bano episode had not taken place, if the government had not actively participated or facilitated the shilanyas or opened the Ram temple gates, may be this would not have weighed with us when we were thinking of the Ayodhya Resolution in 1989."
WHEN A BRAHMIN FAMILY TOUCHED A DALIT'S FEET
Once Shilanyas was done, Kameshswar Chaupal left Ayodhya for his village in Bihar.
On his arrival, Chaupal was told Baldev Jha, head of a prosperous Brahmin family had sent a message and wished to see him. "We had lived under centuries of subjugation, and I was reluctant. But my father coaxed me to go and meet Baldev Babu," Chaupal recalled.
For a person who had never entered an Upper Caste household in his village, Chaupal was unsure of the reception he would receive. "To my shock, Baldev Babu held my hand, made me sit beside him and asked everyone in the family, young and old, to touch my feet. They had read about me in the newspapers," recalls Chaupal.
A Dalit visiting an Upper Caste household was expected to wash the utensils he used. Such were the stringent norms guiding social behavior. "To my surprise, Baldev Babu took the glass in which I drank tea from my hands."
"It was as if centuries of barriers had been broken. That day I cried like a child".
RAJIV GANDHI CALLED FOR RAM RAJYA BEFORE ADVANI
Facing the Bofors heat and accusations of minority appeasement, the Congress party started to prepare for the next big electoral test. Veteran leader N D Tiwari replaced Vir Bahadur Singh as the Chief Minister of Uttar Pradesh.
In the meantime, both the VHP and the BJP continued to mobilise support for the Ram Temple in Ayodhya.
As Tiwari and the then Union Home Minister Buta Singh engaged the Sangh Parivar and its affiliates for a détente, Rajiv Gandhi recommended dissolution of the Lok Sabha calling for a fresh mandate.
A week ahead of the shilanyas, in November 1989, Rajiv Gandhi launched his election campaign from Ayodhya, promising to usher in Ram Rajya in his next stint.
The genie is out of the bottle.
His Ayodhya gambit only strengthened and provided a firm toehold to the RSS and its various affiliates in the country, an opportunity they had been waiting for since Independence.
MEETING CHAUPAL IN A PAHARGANJ LODGE
Many politicians over the years have made a career out of the Ram Temple movement.
Kameshwar Chaupal is now 65 years old, suffering from a nephrological disorder. He is in Delhi to see a doctor at AIIMS and is staying at a cheap lodge in labyrinthine dark alleys at Paharganj, opposite New Delhi Railway Station. "The shilanyas had made me famous overnight. Soon, I was asked to start working in politics," says Chaupal. He contested 1991 Lok Sabha elections from Rosada on BJP ticket, but lost. Chaupal tried his luck for the second time in 1995 Assembly polls. Five years later, he was nominated to the Bihar Legislative Council, where he served for two terms.
In 2009 general elections, he pointed out to the BJP top brass that 'Roti aur Ram' should be the political campaign. "There are many in the BJP now who were active leaders of the socialist movement in Bihar and Delhi. One such leader in mid-eighties threw an open challenge and sought to know if 'your Guru Deoras will agree to debate with me'. I had gone to meet him to mobilise support for the Ram Temple movement," Chaupal reminisces.
The same person, he says, is now a member of Lok Sabha.
Ahead of the 2014 general elections, JD(U) had broken its poll pact with the BJP. It asked him to contest from a general seat. Chaupal lost to Pappu Yadav's wife and Congress candidate Ranjeet Ranjan.
After all these years of association with the RSS and then with the VHP and BJP, Chaupal says he aspires for nothing more. Someone with courage, he says, will construct the temple whose first foundation stone he had laid.
"Koi na koi kulhadi chalegi aur lakdi kat jaegi".