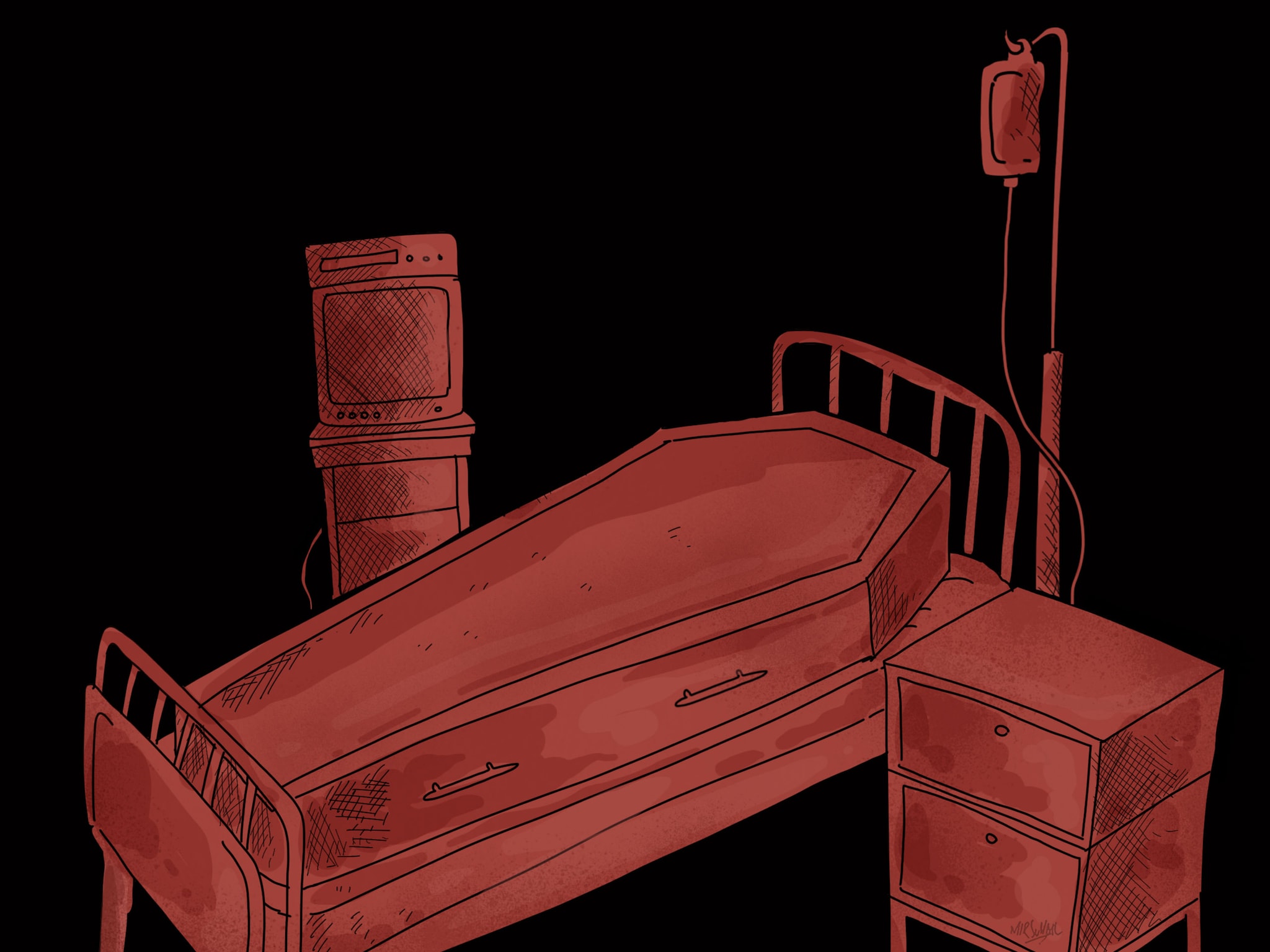 MOTHER,
THEY ARE NOT COUNTING
THE SMALLEST COFFINS
Gorakhpur remains on sick list as the body blows keep coming.
News18 Immersive
Mother, They Are Not Counting The Smallest Coffins
Despite the government's claims, children continue to die at Gorakhpur.
BY ANIRUDDHA GHOSAL
She remembers her six-year-old son's body stiffening in her arms. She remembers the practised ease with which his death certificate was filled out. But 25-year-old Shayra Begum doesn't remember if she cried that afternoon.
The death certificate summarises the final 49 hours and 48 minutes of Mohammad Kaif's life, concluding that his heart stopped beating due to "Acute Encephalitis Shock (AES)". For the remaining hours and minutes, she has only her memories.
That was eight months after 71 children had died at Gorakhpur's Baba Raghav Das (BRD) Medical College in 10 days. The, then, six-month old Uttar Pradesh government with five-time MP from the district, Yogi Adityanath, at its helm found itself on the back foot. The inevitable rigmarole of probes, arrests and deflection followed and, in January, the chief minister announced his intention to "eradicate" AES and Japanese Encephalitis (JE), responsible for the death of 25,000 children since 1978.
The Action Plan 2018 was rolled out and in August the government claimed that deaths had dipped. But when News18.com visited Gorakhpur, doctors, patients, experts and grieving families painted a different picture.
Since October last year, the hospital has been shrouded in secrecy. The daily bulletin of cases, along the lines of what agencies in Delhi and Kerala release routinely, for vector-borne diseases was discontinued. Administrators were told explicitly to not speak of the cases or deaths while healthcare activists and a section of doctors alleged that numbers were being "manipulated" and, perhaps most damningly, mothers like Shayra Begum still have no idea about how to protect their children.
"I don't even remember crying. All I wanted was to understand why, to understand if I could have done anything to help my son. I had never even heard of this disease," she said.
A comparison of AES cases and JE cases in 2018 and 2017 from the National Vector Borne Disease Control Programme
The deaths have persisted and while data from private hospitals isn't available, two children, on average, died every day from 2016 to 2017. The past year, the government claimed, has seen unprecedented results through its efforts – a vaccination drive, an awareness and sanitation campaign and upgrading the infrastructure at BRD Medical College – has yielded "success".
But that is where things get murky.
These claims are based on a written response to the UP assembly in August, claiming 111 deaths and 1,427 cases due to AESand JE at the hospital. While this doesn't take into account the fact that cases, annually, soar after the monsoons, it also is at odds with data released by the National Vector Borne Disease Control Programme (NVBDCP). Until the end of July, the central government agency reported that the total number of deaths in Uttar Pradesh due to AES and JE was 124, with AES accounting for 118 deaths. But the data released in September pegged the total deaths so far in the state at 113, of which 110 were due to AES and 3 due to JE. Data released in November, till October 31, pegged a total of 130 deaths, with AES accounting for 123 deaths. In other words, without cases from November, Uttar Pradesh still accounted for 32% of all AES cases in India, compared to 34% of all cases in 2017.
NVBDCP director Dr PK Sen didn't respond to queries from News18.com.
Rajesh Mani, whose non-profit Manav Seva Sansthan has been working for the prevention of AES in Gorakhpur for decades, said, "This in itself proves the way in which the numbers are being fudged. What pressure is there, that has promoted them to now say that there are 110 cases…this numbers game has always been there…But the bigger truth is that even these numbers don't account for the cases in private hospitals; so there is just no point going by the data."
Anant Bhan, researcher, global health, policy and bioethics, explained that data had multiple use, ranging from learning trends and outcomes and argued that "transparency" was the best policy. "Especially for institutes, where there had been past controversy," he said.
While laying down the foundation stone for the hospital in 1969, former chief minister and Congress leader CB Gupta had promised that the tertiary centre would be key in improving healthcare in Gorakhpur. Last month, Adityanath made identical promises as he laid down foundation stones for, not one, but 36 schemes. Gorakhpur has changed, and so has the hospital. A new multiplex, a high-rise apartment next to the sprawling hospital campus where work is underway for eighty new speciality wards, and an upcoming All India Institute of Medical Sciences (AIIMS).
But with the state still spending Rs 655 per person on healthcare – roughly the price of eight litres of petrol, around half the nation's average – daily scenes at the hospital haven't changed much. Patients negotiate serpentine queues, families wait gloomily for loved ones, and overworked doctors do what they can.
Away from the hospital, at his office, Dr Ganesh Kumar, the principal and dean of the institute, said he isn't authorised to speak regarding AES and JE cases and denied allegations of data manipulation. Underscoring that the hospital was a "tertiary centre" he explained that preventive measures were the purview of other departments, ranging from education to irrigation. "As a tertiary centre, when the patients come to us, they are usually at a serious stage. We have to give them better treatment and ensure that maximum patients survive," he said.
Bhan concurred. "The data needs to be contextualised. In a tertiary centre, extreme cases come and mortality is usually higher. But if the data isn't transparent, then people will stop trusting the institute and not come to the hospital at all," he added. Despite repeated attempts, Prashant Trivedi, principal secretary (health) of the Uttar Pradesh government, couldn't be contacted for comment.
Outside the AES ward at the hospital, families wait with an air of knowing finality. Many camp through the night, mosquito nets and paltry blankets providing little protection from the elements. Some cradle prescriptions, others hold on to each other. There is little comfort in either. A security guard scans constantly, quick to stop anyone "behaving like an outsider".
Sources at the ward maintained that from January till October 1, there have been a total of 218 deaths due to AES and JE, while 766 patients were admitted. Gorakhpur and Deoria accounted for more than half of the cases, while Gorakhpur has seen, at least, 36 deaths. A doctor, who didn't wish to be named, said, "What is most worrying is that the mortality rate is very high at over 28 per cent. Last year, where there were a lot more deaths, this hovered at around 21 per cent."
The reason, a doctor claimed, was partly diagnosis. "This year, a lot of patients are being entered into the government's records as suffering from Acute Febrile Illness (AFI), which, simply put, is high fever. So even if the patient dies of what is later found to be AES, the records don't show that they had AES. This is a factor in the skewed numbers."
Though the hospital denied officially commenting on the allegations, a former doctor from BRD Medical College added, "AFI is not a disease. It is the medical term used to describe a sudden increase in temperature. So in the case of AES, it happens when the body is trying to fight off the pathogen. But when you enter a patient's records as suffering from AES, you don't have to enter it into your records. The numbers look fine."
In this murky picture of healthcare at Gorakhpur, there is one incontestable fact: of every five children that die in the world, one dies in India, and Uttar Pradesh, according to a 2017 study mapping neonatal health in India by Manipal University, accounts for over half of these. Gorakhpur is among the worst districts.
The numbers at the BRD Medical College are grim. As of September 1, the combined death toll of the neonatal intensive care unit (NICU) and the paediatric intensive care unit (PICU) was 1,637, with deaths at NICU accounting for 1,006 of these, said sources. Last year, for the same time period, this was at 1,812, with deaths at the NICU accounting for 1,101, said sources. In other words, the situation has improved from roughly 22 children dying every three days to 20 children dying every three days.
A comparison Deaths in Neonatal Intensive Care Unit (NICU) and Pediatric Intensive Care Unit (PICU) at BRD Medical College in 2018 and 2017
"It is an unfortunate reality. These children are dying of a number of reasons ranging from malnutrition to breathing difficulties. But last year, after the death of the children in August, the government has consistently made claims that children are not dying in Gorakhpur. That doesn't serve any purpose. Just creates an atmosphere of fear and confusion," said a junior doctor, who didn't wish to be named.
At the AES ward and the rest of Gorakhpur, posters and banners reiterate the government's claims of vaccinating every single child for JE under its Dastak campaign. But sources in the paediatric and pathology departments pointed to a worrying trend: there have been 110 cases of JE till September, of which 23 were from Bihar. During the same period in 2017 this was at 83. Though the hospital officially denied this, sources said this indicated an increase of 24 per cent in the caseload.
"If you look at the situation right now, the number of cases of JE have increased. How is that possible if the vaccination programme is going as well as the government is claiming? What has changed right now is that officers are now taking this up as a priority – something that should have been done decades ago. But a lot still needs to be done," Mani said.
The junior doctor concurred. "A lot needs to be done. But right now the situation is such that we dare not speak out. You might be fired," he said, adding, after a pause, "Ya phir encounter kar denge.""
More Stories