A
t about 1:46 am on 11 June 2018, the cops of River Front West Police Station received a distress call from the control room and were asked to hurry near Ellis bridge on the River Front, where two women had reportedly committed suicide with a child. By the time they reached, the fire brigade had already fished out bodies of these women and the child from the Sabarmati River. The women were already dead, but they suspected that the child may still be alive and therefore, rushed her to a nearby hospital. However, she too was declared dead at the hospital. After going through the belongings of the deceased, police discovered one of the women's Aadhaar card, in which her residential address was listed as Bavla, Gujarat. They intimated the Bavla
thana
to locate the family of the deceased and inform them. The other woman was identified as a resident of Rajoda. In the next few hours that followed, before the families of both the women arrived, and reporters began to flock, police also found two suicide notes -- one scribbled on a plastic plate and the other written under the railing of the riverfront with red lipstick. In the reported suicide notes that these two women left behind first came a disclaimer—"We did not have any men with us". Perhaps this was their way of 'protecting their families' honor' by letting the world know that they had not run away with men. Both the women belonged to the Thakor community, a socially and economically backward class in Gujarat, which is deeply patriarchal and conservative.
However, what followed the disclaimer was a declaration of their love for one another. One of the suicide notes read, "We had distanced ourselves from the world so that we could unite, but the world did not let us live." Although it cannot be said for certain if the two women were lesbians or bisexuals, one thing was clear: they had chosen to come out to the world about their homosexual relationship after their deaths, through their suicide notes. Like many other homosexual couples from rural India, they were left with hard choices. They had eloped three days before their deaths (8 June 2018), in the hope to find a safe space for themselves, where they will be accepted. Unfortunately, they never found it. "Generally rural areas are controlled by caste identities and male domination, which is why lesbians or even issues related to gender are marginalized in Gujarat society..." noted sociologist Gaurang Jani. "We cannot create an enabling environment for discussion of such issues, and that's why these incidents happen," he added.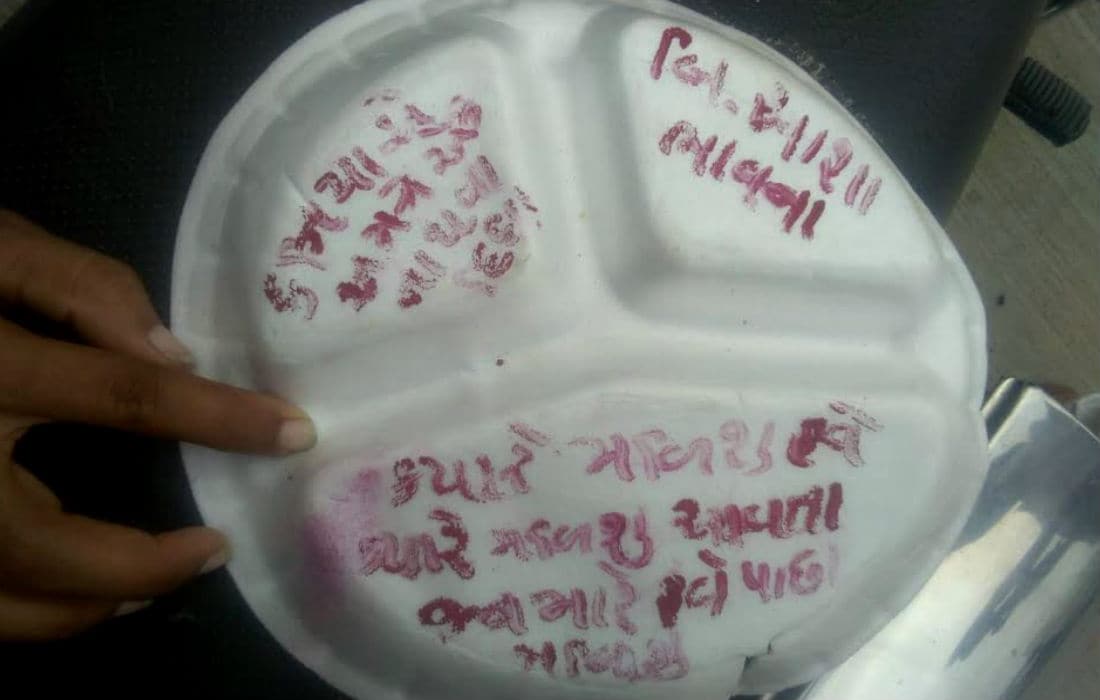 One of the suicide notes which was scribbled on a plastic plate.
Jani pointed out that no one discusses or talks about the LGBT communities even from a social science perspective in Gujarat. "In schools and colleges, there is no sex education...you cannot find a single article or a lesson in the Gujarati textbook from the sixth standard to twelve standards, about homosexuality. So I think there is a culture of silence about it," he said. Despite the growing number of pride parades, Facebook support groups and communities, as well as pride filters on Instagram, things aren't particularly better in urban cities as well. However, in rural areas, the entrenched stigma against homosexuality is so deep that it makes it difficult to even start a dialogue about it. What makes it worse is, there are very few NGOs or social workers who work on queer issues. Ashok Row Kavi, founder of Humsafar Trust pointed out that the divide between rural and urban is in terms of perception to sexuality. "It is because the exposure of female sexuality in urban areas is high. In rural areas, it is not so much," he said.
However, he added, "Men cannot tolerate either in rural or urban areas that women can do without them. There is some sort of bitterness when they see that women can do without them..."
One of the few groups that work closely with the LGBTQ community in rural Gujarat is Vikalp Women's Group. Maya Sharma from the organization pointed out how little has been done, especially for lesbians in rural areas.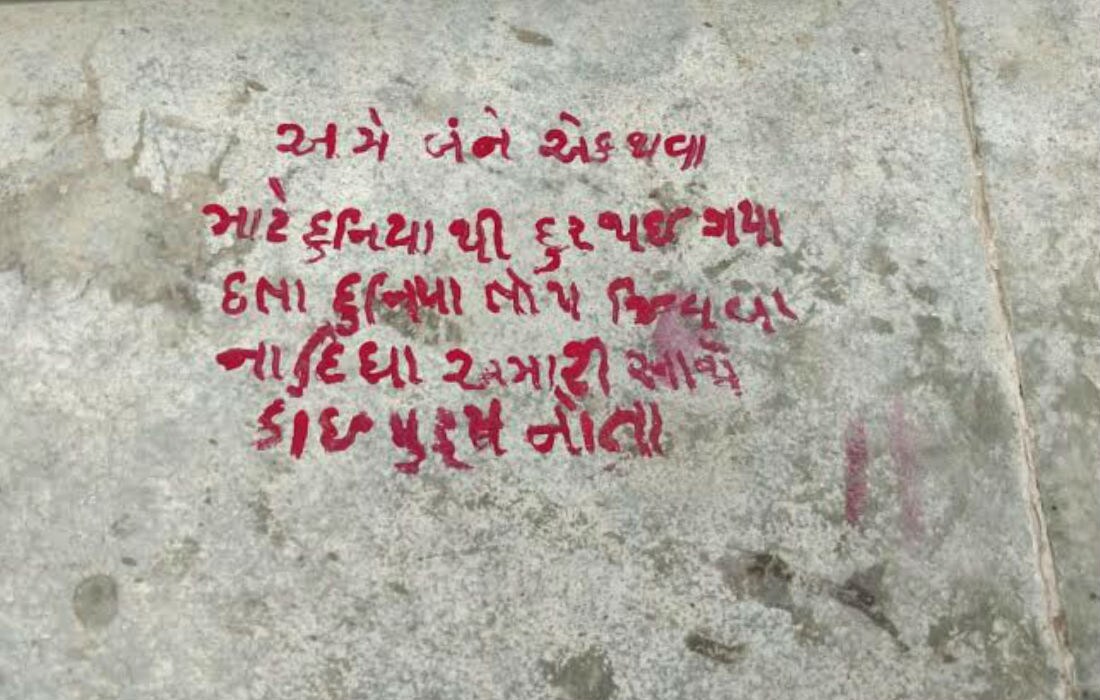 Another suicide note which was written under the railing of the riverfront with red lipstick.
"There are very few people who are reaching out to the rural areas and working on queer issues," she said. Sharma pointed out that because of HIV sensitization, gays and transgender members of the community are quite visible and have some support, but lesbians are stigmatized. "Even those who work on these issues, are likely to stay underground," she said.
However, Maya, who has worked with several queer and transgender couples over the last decade was full of heartening stories from the same rural Gujarat that forced the two women to commit suicide.
Sharma said that she's aware of couples, even in rural areas, who have been accepted by their family. "There's a farmer couple, and they live together and has been accepted into their families," she said.
Although rural communities are generally perceived as anti-homosexuality, it is not always the case, noted LGBTQ activist, Harish Iyer. "When I came out to my house help and told her that I was gay, she just said that 'hamare gaon mein bahaut sare hai aise.' It didn't seem to be an issue at all..." he said.
Unfortunately, though there are these exceptions, they are not the norm. While lesbian suicides in urban cities make headlines every year, the main reason for them being familial opposition and reactions of parents, the reports that sometimes come out of the hinterland of India are horrifying tales of attempted honor killings and/or corrective rapes.
Most LGBTQ activists believe that even among homosexuals, lesbians are marginalized. "I personally believe that women even within the LGBT community face discrimination, one because of their gender and second because of their sexuality," said Harish Iyer.
"Even when we speak about the LGBT community, it is not a monolith. It is not that all of us are all loving and all kind. If there is patriarchy, if there is misogyny in the general world, there is misogyny in the LGBT world as well," he added.
There are very few people who are reaching out to the rural areas and working on queer issues

- Maya Sharma
Sadly, most of the times, crimes against lesbian women are not even reported, and media too pays very little attention to such news.
The reports that media do pick up, for example, is the recent suicide of the two women in Gujarat. With sensational headlines like "Lesbian couple commits suicide, throwing baby in the water" which are clickbait at best, they pay no heed to the impact that these headlines might have on popular perception about homosexuality.
Vidya, a member of LGBTQ community from Ahmedabad says, "The moment you say that 'lesbian mother' throws the baby in water, it implies that a lesbian mother is capable of killing her child, a lesbian mother is a bad mother. You cannot put it out there without contextualizing how she must have been forced by the society to take such an extreme step." But, what is more problematic is, she pointed out, despite good intentions, media doesn't know how to report queer news with the sensitivity it requires.
While reporting this particular suicide case, some channels resorted to a re-enactment of lesbian relationship by showing two models canoodling, others took sensual representative images of two women. However, no one bothered to ask the most obvious and simple question: What drove these two women to take such an extreme step?
Police inspector of River Front West, MA Singh told this reporter that she suspected that the families knew about their relationship, which may have been a big reason for several clashes and showdowns in their respective households.
The relatives of both the women did not take back their corpses to their respective hometowns and completed the last rites in Ahmedabad itself, she informed.
Both the families considered this incident to be a public embarrassment and wanted to be done with it as soon as possible. When I called one of the family members in Jalalpur, asking when I should visit him, I was told,
"mat aayiye madam, aap ayenge toh gaon wale sab jama ho jayenge, hamari badnami hogi"
(Please don't come madam. If you come, the villagers will all gather here, and we will be shamed publically)