Lest We Forget: Lessons from Three Epidemics
September 02, 2020
BY SUMIT PANDE
In the second week of January this year, Beijing reported the first death in an outbreak of a pneumonia-like disease caused by an unknown virus in the central Chinese city of Wuhan.
The highly contagious pathogen has already infected over 25 million people across continents, claiming more than 840,000 lives. The Covid-19 pandemic is now being called the worst global crisis since World War II.
The speed of the spread and the concomitant economic meltdown engendered by the novel coronavirus has triggered many a debate. How soon will we have a vaccine for the disease? Do masks mitigate exposure to the virus? When should nations end lockdowns?
The answers to some of these questions are embedded in the trajectory of three major epidemics that have afflicted the human race in the last two centuries.
The Spanish Flu
Spanish Flu left behind empirical evidence on how short-term behavioral changes can save lives in influenza epidemics. A full century later, benefits of wearing masks are contested even in most developing countries.
THE FIRST SIGNS
Six months before the armistice was signed between warring sides to bring down the curtains on World War I in 1918, an 'unusually fatal' respiratory disease caught the attention of physicians at a British training camp in Eaples in France.
Nearly half of those showing influenza-like clinical symptoms were succumbing to the infections.
So the Spanish Flu started in France? Some research seem to suggest that.
Spain remained neutral through the entire conflict. When the war ended, Portuguese soldiers who were exposed to the virus in France infected others as they passed through the Basque territory on their way home. The public health outbreak was widely reported in the Spanish media when King Alfonso XIII was afflicted by the disease or illness. The disease thus acquired a name: the Spanish Flu.
By the fall of 1918, soldiers from other allied nations had carried the pathogen to nearly all continents to trigger one of the deadliest pandemics in the recorded history of humans.
LESSONS FROM THE SPANISH PANDEMIC
Spanish Flu in India
First cases of the Spanish Flu in India were reported in Bombay, the port of arrival for soldiers from Europe after WW I.
Over the next two years the virus would slowly spread to other provinces killing between 12.5 to 20 million people consuming nearly 4% of the population. Every second infected person succumbed to the disease.
Lessons from Spanish Flu
"In scenarios resembling the 1918 pandemic as it unfolded in India, locations close to an entry point will have extremely short windows of time to deal with a virulent pathogen, placing emphasis on the emergency management of a short and severe wave of illness. While locations that are distant from the entry point will have longer windows of time to prepare for and deal with less lethal variants of the disease, their task will be prolonged by the more gradual build-up and subsidence of the epidemic wave." (The Evolution Of Pandemic Influenza: Evidence From India 1918-19 by Siddharth Chandra and Eva Kassens-Noor)
Like 1919 Spanish Flu, most of the cases in the first wave of Covid-19 are being reported from major ports of entry.
Story from US
The Spanish Flu swept through vast swathes of the United States in three waves between 1918 and 1919, claiming more than 650,000 victims.
Major cities and towns in the US sought to implement short-term social behavioural changes to restrict the spread of the disease. Schools and religious places were closed. Some cities restricted mass gathering while others mandated wearing of mask in public places.
PHILADELPHIA
748 Deaths per 100,000 after 24 weeks of pandemic
Philadelphia waited eight days after their death rate began to take off before banning gatherings and closing schools. They endured the highest peak death rate of all cities studied.
SAN FRANCISCO
673 Deaths per 100,000 after 24 weeks of pandemic
After relaxing social distancing measures, San Francisco faced a long second wave of deaths
ST. LOUIS
358 Deaths per 100,000 after 24 weeks of pandemic
St. Louis had strong social distancing measures and a low total death rate. The city successfully delayed its peak in deaths, but faced a sharp increase when restrictions were temporarily relaxed
NEW YORK
452 Deaths per 100,000 after 24 weeks of pandemic
New York City began quarantine measures very early—11 days before the death rate spiked. The city had the lowest death rate on the Eastern Seaboard
How delaying isolation measures meant higher peaks
Weekly deaths per 100,000 from 1918 pandemic above the expected rate
Duration of social distancing measures
PHILADELPHIA
SAN FRANCISCO
NEW YORK
ST. LOUIS
A recent study shows San Francisco, St Louis, Milwaukee and Kansas City, which introduced these measures early, reduced transmission rates by up to 30% to 50% and saved millions of lives.
New York City, which is the worst-hit by the current Covid-19 crisis, was quick to adopt preventive measures in 1919. The state rigidly enforced social distancing and staggered business hours.
Pittsburgh reacted very late to the raging pandemic. It registered the highest mortality in the whole of US.
Lessons from Spanish Flu
In absence of pharma intervention, short-term behavioural changes are key to restrict the spread of a global pandemic. Those who were quick to adapt and adopt could successfully navigate the crisis in 1919. While others had to pay a heavy price for inaction and ineptitude.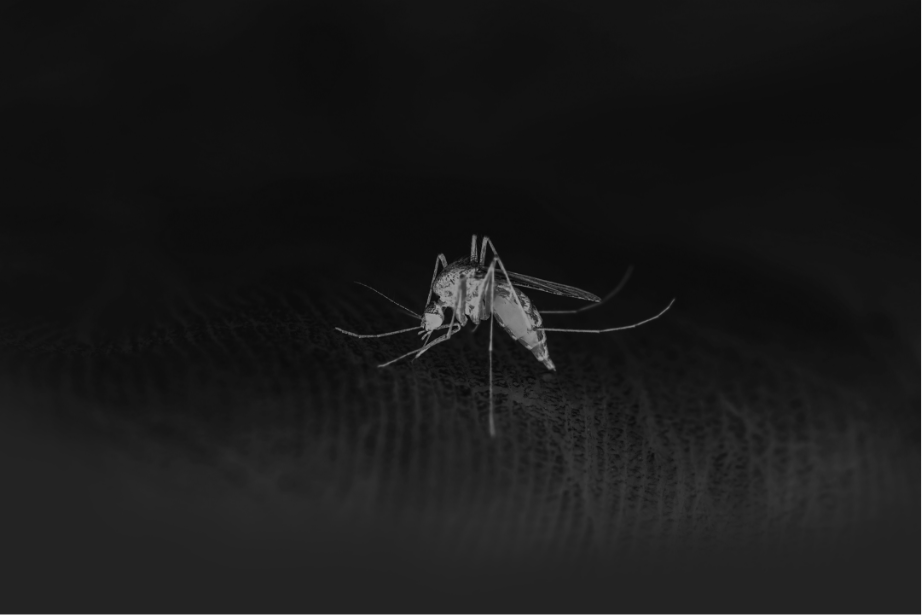 THE LOUISIANA PURCHASE
The United States doubled its territorial sovereignty over North America by effecting the Louisiana Purchase in 1803 for a sum of $15 million. Opinions vary on why Napoleon Bonaparte agreed to return 830,000 square miles of land across the Mississippi Valley to President Jefferson Thomson for a song.
A Distress Sale?
Some historians believe the sale deed was signed in haste after French colonisers registered high mortality rates amongst its soldiers from a hitherto unknown disease in parts of Alabama, Louisiana, Mississippi, and Texas.
GREAT MIGRATION AND THE AMERICAN DREAM
Between 1803 and 1860 more than 550,000 whites migrated to New Orleans from Germany, Ireland and Northern States within the US. The American dream lured in migrants to the Mississippi valley. Domestic slave trade flourished. So did sugar and cotton plantations.
PROGRESS AND PANDEMIC
With progress came the pandemic.
The burgeoning population turned into a death trap in cities with little or no public health infrastructure. The contagion flourished in high population density neighbourhoods. Up to 50 percent of newcomers died violent deaths from yellow fever, oozing blood from nose and mouth due to multiple internal haemorrhages.
In multiple waves, this contagion would ravage these tropical and sub-tropical plains for the next 100 years, killing about eight percent of the region's urban population, and as many as 30 percent of recent migrants. In 1853, the year of New Orleans' worst epidemic, about one-tenth of the city's population succumbed to the Yellow Fever.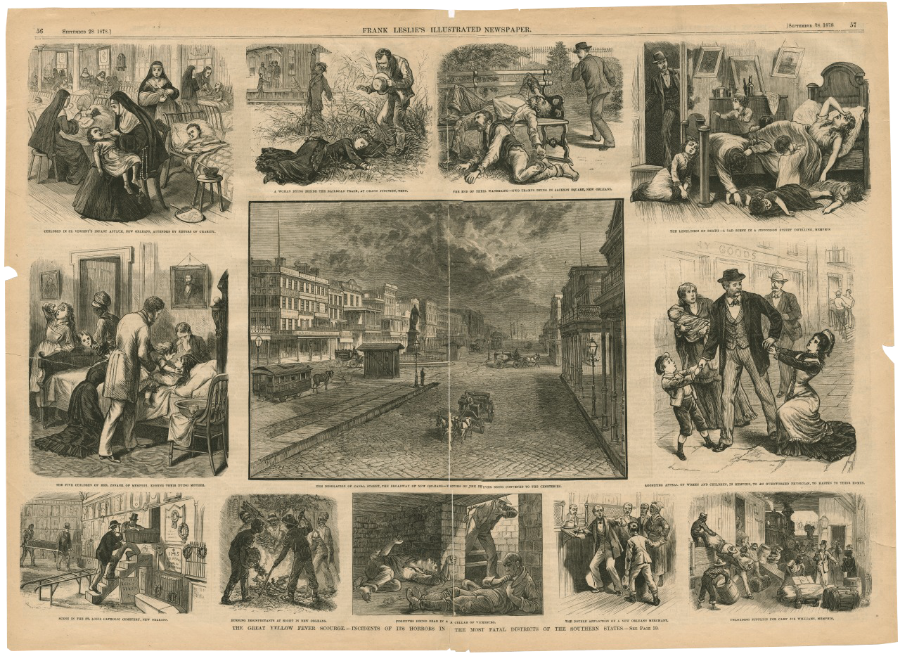 This tableau shows horrific scenes from the epidemic, when yellow fever engulfed not just New Orleans but the entire region—stretching as far north as Memphis, Tennessee. The central image shows Canal Street, normally the city's busiest thoroughfare, desolate except for hearses. The image above it shows two homeless men ailing on a park bench as a wealthy man walks briskly away. Many of these scenes show that yellow fever impacted people differently according to ethnicity, gender, race, and class. "The Great Yellow Fever Scourge. — Incidents of Its Horrors in the Most Fatal Districts of the Southern States," wood engraving from Frank Leslie's Illustrated Newspaper, September 28, 1878.
A PERVERSE CAPITALISM
Co-mingled with racism and slavery, the Yellow Fever engendered a perverse form of capitalism in Deep South. This new social order celebrated those who survived the disease and thus acquired long-term immunity from the virus.
Survival from the Yellow fever was a certificate of greater life expectancy. Natural inoculation catapulted a section of white population to the higher echelons of social and economic hierarchy. Banks offered them loans.
Their businesses flourished. "Immunocapital" soon became the most sought-after currency.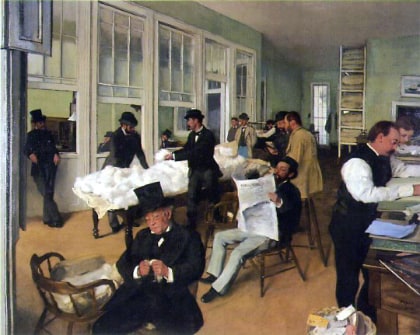 The scene shows both capitalist energy and climate-induced lethargy: while some of the men grade cotton and keep books, others read the Picayune and languish in the subtropical heat. This was the first painting Degas sold to a museum. Edgar Degas, A Cotton Office in New Orleans, 1873.
PERILS OF IMMUNITY PASSPORTS FOR COVID-19
WHO has warned against the perils of adopting any such measures in an attempt to reboot the economy in haste.
At this point in the pandemic, there is not enough evidence about the effectiveness of antibody-mediated immunity to guarantee the accuracy of an "immunity passport" or "risk-free certificate." People who assume that they are immune to a second infection because they have received a positive test result may ignore public health advice. The use of such certificates may therefore increase the risks of continued transmission.
WHO: "Immunity passports" in the context of COVID-19; April 24, 2020
Firstly, there is little empirical evidence to confirm people who get infected are immune to Covid-19. South Korea has reported multiple cases of re-infection.
Studies show up to 20% of the Covid-19 patients have small or weak anti-bodies. There is little research on how long the acquired immunity to the virus may last.
Secondly, most sensitive pathological investigations can give negative false tests. So there is no guarantee that a person who has tested negative has not been exposed to the virus. (RT PCR Tests in China from lower respiratory organs have shown 75% accuracy)
Variation in False-Negative Rate of RT-PCR–Based SARS-CoV-2 Tests by Time Since Exposure
PROBABILITY OF A FALSE-NEGATIVE RESULT IN AN INFECTED PERSON
And finally, immunity passport may usher in a system which would reward and promote those who survive the infection. Likewise, a Covid-19 immunity passport may incentivise exposure to the virus putting at risk the poor and the marginalised; and those who have been the worst affected by economic downturn.
From the paper:
NECROPOLIS: YELLOW FEVER, IMMUNITY, AND CAPITALISM IN THE DEEP SOUTH, 1800-1860 , Kathryn Meyer McAllister Olivarius History Wolfson College University of Oxford
Yellow fever proved highly lethal in Gibraltar, Cádiz, and the Caribbean. Arriving on mainland North America as early as 1699, it periodically struck with staggering violence. It killed about 5,000 people in Philadelphia in 1793 (one-tenth of the city's population; a further 17,000 fled the city), 5,000 more in 1798 in both Boston and New York, and about 1,000 in Baltimore in 1800.
The first yellow fever epidemic on the Gulf Coast occurred in 1796, coinciding with Louisiana's first successful sugar harvest.
An 1803 census suggests New Orleans inherited by the United States counted a population of 8,050 residents, inclusive of all races and 700 people "not domiciled."
New Orleans' population doubled in size in 1809 with the influx of asylum-seekers from St. Domingue to 18,000, and continued to grow, swelling from 46,000 in 1830 to 102,000 in 1840 through European, American, and forced black migration.
In 1860, the city's population surpassed 168,000, mostly through the addition of tens of thousands of Irish people escaping famine and Germans fleeing the upheaval of 1848.
Mobile, Alabama, a port city about 140 miles to the west of New Orleans, suffered an especially fatal yellow fever season in 1819. As many as 274 people died out of 1,300 inhabitants, amounting to 21 percent of the population.
Historian K. David Patterson estimated that between 1817 and 1905, yellow fever killed 40,171 people in New Orleans – ten times more than the next most-afflicted city, Charleston.
My own estimate (author of the paper) is that yellow fever killed at least 150,000 Orleanians between 1803 and the Civil War, and probably many more.
In 1833, Maria Inskeep stood at her window in New Orleans and counted 10 funeral processions in one hour.
The Charity Hospital, the primary repository for New Orleans' poor and indigent, admitted at least 122,317 patients during the 1830s and 40s, the majority during the fever months.
As world eagerly awaits a pharmaceutical intervention to contain Covid-19, a vaccine for AIDS remains a work in progress.
Between October, 1980 and May, 1981 Los Angeles School of Medicine reported deaths of five healthy males from a fungal pneumonia. In a paper published in the first week of June, the authors noted that patients were "all homosexuals suggest an association between some aspect of a homosexual lifestyle or disease acquired through sexual contact."
The same day, another doctor reported a clusters of aggressive cancer cases among "gay men in New York and California".
In the next six months, United States had 337 cases of an unknown immune deficiency disease. Of these, 131 had died by the end of the year.
The pathogen causing this disease was identified 21 months later as Human Immunodeficiency Virus or HIV.
Unbeknownst to all, the etiologic agent to Acquired Human Immunodeficiency Syndrome had silently spread its tentacles in the US to epidemic proportion. The virus proved to be a silent killer which debilitated immunity firewalls in humans and severely mitigated the ability to fight infections and diseases.
The Ravages of HIV and AIDS
AND THE FACES THAT CAME TO DEFINE IT
The Ravages of HIV and AIDS
FEARS AND STIGMA
The New York Times hints AIDS may be transmitted through saliva. A story which will be proved wrong in the next two years.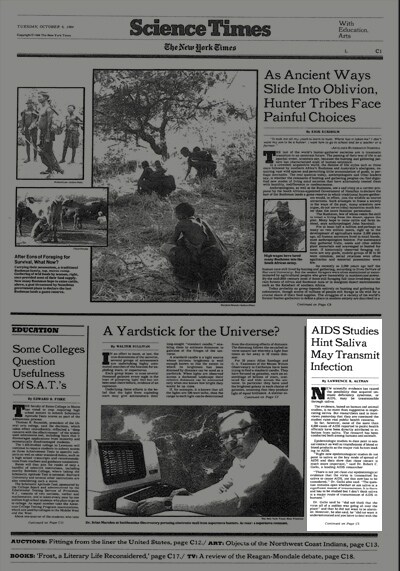 The October 9, 1984 National edition of The New York Times Section C, Page 1 with the headline: AIDS STUDIES HINT SALIVA MAY TRANSMIT INFECTION.
The fear of the disease had set in by mid-80s. Patients were ostracised. Awareness campaigns like the Grim Reaper television commercial is Australia further fuelled misinformation on the pandemic.
AIDS Hysteria
FROM THE CHICAGO TRIBUNE ( APRIL 2, 1986)
According to a poll published in December by the Los Angeles Times, of the adults surveyed
In 1987, Princess Diana shook hands without wearing gloves with an AIDS patient at London Middlesex Hospital challenging the belief that the disease could be transmitted through contact. (Photo: John Redman/AP)
IN SEARCH OF A VACCINE
In the first week of February this year, as micro-biologists and researchers scrambled to find an effective vaccine to Covid1-19, a 10-year-long clinical trial to find an antidote to AIDS was shelved for good.
UNAIDS Press Statement
GENEVA, 4 February 2020
The United States National Institutes of Health has announced that its HVTN 702 clinical trial of an HIV vaccine has been stopped. While no safety concerns were found during the trial, the independent data and safety monitoring board found that the vaccine was ineffective in preventing HIV transmission.
The trial, conducted at 14 sites across South Africa, followed more than 5400 HIV-negative 18–35-year-olds over 18 months. The participants received six injections during the six-month period, either the vaccine or a placebo. An analysis undertaken after at least 60% of the participants had been in the study for more than 18 months showed that there were 129 HIV infections among the people who had the vaccine, while 123 people who had the placebo became infected.
The 100 million-dollar HVTN 702 was billed as one of the most promising projects to prevent contraction of the disease in a healthy individual.
The trials were part of three potential vaccine development program for AIDS being coordinated by HIV Vaccine Trial Network.
That's where the world stands 26 years after U.S. Health and Human Services Secretary Margaret Heckler's 1984 promised "a vaccine ready for testing in about two years."
WHY HAS AN AIDS VACCINE ELUDED RESEARCHERS?
No one completely recovers from HIV. Which is why, unlike other diseases, it is difficult to find effective immunity response to the disease.
The virus mutates. It has many sub-types. To discover a one-size-fits-all vaccine to fight the infection is an arduous task.
Though there is no known preventive vaccine to check the spread of HIV, a combination of anti-viral drugs are prescribed to reduce viral load in blood and body fluids of the infected patients.
DESIGN : TRIPARNA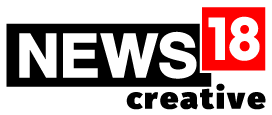 DEVELOPMENT: SAKET