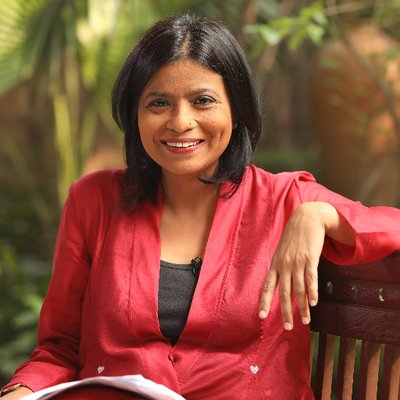 Anuradha SenGupta | News18.com
anuradhasays
Published: January 9, 2018
Mumbai is a hard city. If you are a child, old or infirm it's a minefield; a single misstep can result in calamity. The overwhelming colour is grey. Not the myriad mysterious greys of a monsoon sky, or the delicious ambivalence of a grey area, but the relentless hopeless grey of cement.
In a cement coloured city it's not surprising to see streetlights and plastic plants masquerade as trees. Always work in progress, these days, Mumbai is one mammoth construction site. Personally I feel it's like a rotting carcass, entrails on display, with maggots feasting.
As unforgiving as all this sounds, I don't hate Mumbai. I love it. So much it hurts. And yet two years ago, after living my entire life here, I grabbed the chance to move out. At the time I felt like a rat deserting a sinking ship. Today I am a lapsed Mumbaikar who visits every month. Each time I am here, I feel the relief that comes with knowing, I got away. Got away before the city killed me.
'In a cement coloured city it's not surprising to see streetlights and plastic plants masquerade as trees. Always work in progress, these days, Mumbai is one mammoth construction site.'' (Photo: PTI)
If that sounds like extreme hyperbole, let me assure you it isn't. Mumbai is dangerous to life and limb. The proof, 14 dead bodies asphyxiated by the Kamala Mills restaurant fire; 22 dead bodies broken in the Elphinstone station stampede; and one eminent doctor killed by falling into a manhole in the August flood – we have a body of evidence that's piled up in less than four months. I am not even accounting for the people seriously injured and permanently traumatized surviving these tragedies.
Not even a week into the new year and four people have died cleaning a manhole at Powai. All these dead people were murdered by the city. Their deaths the direct result of the collusion between venal politicians, impotent or corrupt and equally venal bureaucrats and greedy businessmen who know their wealth insures them against the law.
Kamala Mills and Elphinstone Road station are less than half a kilometre from each other. To get to Kamala Mills chances are you would take the train to Elphinstone. The two locations are smack bang in the middle of Mumbai's famous mill lands that spread across 600 acres in the centre of the island city.
Shut for the most since the great textile strike of 1982, the land the defunct mills were sitting on became the focus of development about 20 years later. By then they had closed the door on the past, and between the government owned NTC mills and private mill owners everyone was making a dash to get the best price for the land. Over time the mills have become malls, high-rise apartment blocks, and offices with glass facades. Restaurants, pubs and places to hang out inhave mushroomed around them. Tens of thousands of crores of rupees have changed hands.
Passengers caught in a stampede at Elphinstone railway station's foot overbridge, in Mumbai on Friday. An inquiry committee has blamed heavy rain, crowd and confusion for the tragedy that killed at least 23 people. (Photo: PTI)
If you visit Kamala Mills or Todi Mills right across the street from it, or any of the mills here, it's like stepping into a maze. Entry and exit points are ill defined, the layout haphazard and, and there's a makeshift feel to most of the establishments. After the Kamala Mills fire the BMC went on a demolition drive, inspecting over 600 restaurants and pubs across the city. Over 300 had illegal constructions and alterations. Basic norms flouted openly and with impunity. Many offices in Lower Parel would have found themselves in the same boat had the BMC widened the net.
The reason for this unsafe, 'anything goes' kind of redevelopment is pure greed. But it's not just the greed of the current tenants – people like the Sanghvis who own 1Above where 14 people died or Yug Pathak and his partners who own Mojo Bistro where the fire started. Nor is it just the collusive greed of BMC babus and the politicians. The greed that has made Mumbai's mill land area a deathtrap, has deeper roots.
The owners of Kamala Mills, and many other mill owners, have repurposed the original mill land in this bizarre way only to be able to keep the lion's share for themselves. So instead of razing the original mill structures and building afresh for a plethora of new end uses, they have built along the existing framework of the old mill. So you have make-do extensions, tarpaulin roofs, wooden staircases, plywood walls, and the other assorted scrap that you saw in the images after the BMC's demolition drive.
Making it possible for the mill owners to get away with this, was an amendment to DC or Development Control rule 58. The original DC58 prescribed that mill land could be reused, provided it was shared in equal thirds between the BMC, housing authority MHADA, and the mill owner. In 2001 the Congress government headed by the late Vilasrao Deshmukh amended DC 58. As a result the mill land to be shared got limited to just open spaces housed in these mills.
Let me get Pankaj Joshi of the Urban Design Research Institute to explain why this altered the face of the city. Joshi says if DC58 hadn't been tinkered with, then, between MHADA and the BMC, we the people, would have got 400 acres of land! What we got instead was about 120 and that too in oddly shaped lots. Instead of a holistic, planned design of the entire area for the greater public good, we got maximum profit for a few.
A fire-damaged rooftop restaurant – part of Kamala Mills building. Fourteen people were killed and many more were injured in the incident. (AP Photo/Rajanish Kakade)
It's not that alert activist groups didn't intervene. The Bombay Environmental Action Group got a favourable verdict from the Bombay High Court. But the final verdict from the Supreme Court in 2006 disfavoured the city and the common man. Experts say that this is the seminal reason for the mess the mill land area is today. A mess made worse by a series of other DCR changes that allowed developers to get maximum FSI.
But it's not just the mill lands is it? The city and the suburbs are a mess and the reason for that -- and this is true for all Indian cities -- is poor planning. Joshi says Mumbai is as much as 50 years behind in planning for its needs, and less than 15% of any city master plan gets implemented!
DP2034, or the twenty years Development Plan for Mumbai, was released in 2014 only to be scrapped, in the face of public protest. Since then Joshi and his team at the UDRI have worked with citizens groups to flag the oversights and flaws and offer corrections. Four years on it's anybody's guess when we will see the revised plan or its implementation.
It's pretty apparent that we are anything but smart about building cities. Given that by 2030 nearly half of India will be city folk our folly is starting to blow up in our face and Mumbai with its Urbs Prima status is leading the way.
But there is a ray of hope. Experts say Mumbai has one last chance at redemption and that's 1826 acres of land, hidden away from both public view and imagination. As you whiz down the Eastern freeway or drive under it, past the occasional drug dealer, you get a sense, just a sense of the vast tracts of land that make Mumbai's eastern seafront.
With port activities shifted to the JNPT at Nhava Sheva, this land that houses freight forwarding agents, warehouses, rail roads and refineries is moldering. There has been talk on and off of opening it up, but urban planners are extremely worried that it could go the mill land way. Which means that instead of all of the land coming to us, large parts of it could get parceled off to private commercial interests. It is believed that large corporations are already buying up tenancies here.
This land belongs to the Mumbai Port Trust and the Union Shipping Ministry will have a big say in how it's developed. Will Nitin Gadkari, the Minister in charge, rise to the occasion? If he does he will have so much to be truly proud of, so much more than the Mumbai flyovers he had sanctioned as Maharashtra's PWD minister.
With its voracious appetite for life and its famous resilience Mumbai needs urgent, special care not just from those who have the power to make policy, but from the people who make it what it is. Even from deserters like me. I know that I may have forsaken Mumbai for the moment, but this city of my birth is most likely to be the city of my death. And that's a choice that I would like to be able to make.