1 Killed, Several Injured in Trinamool-GJM Clash in Darjeeling
Around 8pm, a large contingent of police rushed to the spot and charged tear gas shells to disperse the mob.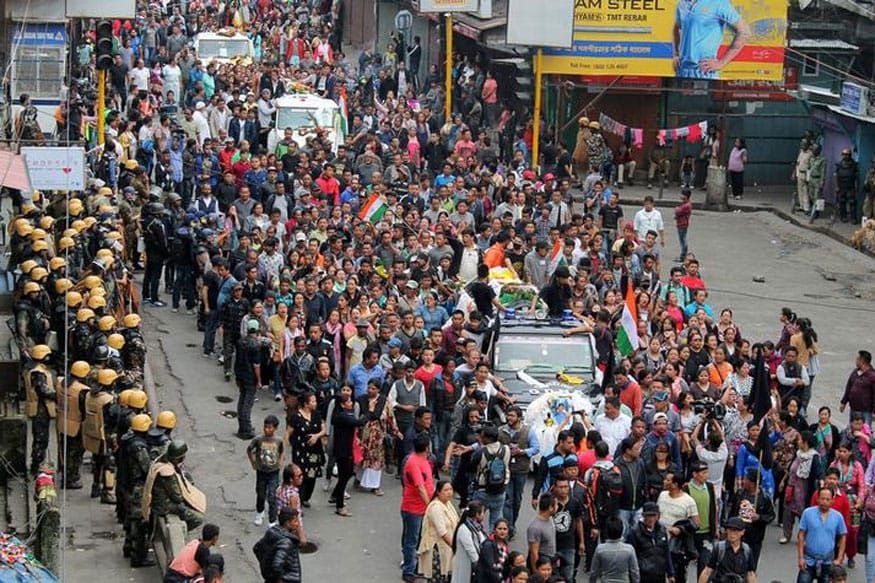 FILE. Supporters of GJM rally as they carry bodies of protesters who were killed in clashes with security forces in Darjeeling. (Image: Reuters)
Kolkata: Tensions escalated in the Darjeeling Hills after a youth's body with multiple stab injuries was found in Mirik town on Monday night.
Ashish Tamang, a resident of Magargunj, is believed to be a Gorkha Janmukti Morcha supporter was actively involved in the Gorkhaland movement.
The local administration denied that he was killed in a police firing. However, GJM spokesperson Binay Tamang said, "Ashish was killed in a police firing on Monday night when a clash broke out between the GJM and Trinamool activists. He was rushed to a local health care unit where he was declared dead."
The GJM spokesperson said the clash broke out after Morcha supporters demanded that the seven Trinamool members of Mirik municipality should immediately resign. "Our activists were attacked and provoked by the TMC supporters. Seven TMC supporters were injured while one of our activists sustained serious injury after being attacked by kukri," Binay Tamang said.
Around 8 pm, a large contingent of police rushed to the spot and charged tear gas shells to disperse the mob. The crowd resorted to stone pelting.
"The police opened fire at our activists near Mirik market, which claimed Ashish's life," Binay said.
"In last one month, nearly eight Gorkhaland supporters have lost their lives in police firing. The local administration is trying to hide the death toll and still claiming that only two people have died. We are going to intensify our agitation from July," the GJM spokesperson added.
The protests in the Hills entered its 34th day today.
On Monday, Trinamool Congress legislator Paresh Pal shouted at three GJM legislators and told them to "go back to Darjeeling" when they went to the West Bengal Assembly to cast their votes in the Presidential elections.
"Why you came here? It is only because of you people so many people are suffering in the Hills. Go back to Darjeeling. You people are maligning our government. Go to Darjeeling and cast your vote there," Pal was seen shouting at three GJM legislators— Saritha Rai, Rohit Sharma and Amar Singh Rai.
Party insiders claimed that Trinamool supremo Mamata Banerjee has expressed her annoyance over Pal's behavior in the assembly. He was warned on behalf of the party to handle such sensitive issue carefully.
Get the best of News18 delivered to your inbox - subscribe to News18 Daybreak. Follow News18.com on Twitter, Instagram, Facebook, Telegram, TikTok and on YouTube, and stay in the know with what's happening in the world around you – in real time.
| Edited by: Swati Sharma
Read full article